MEP Negrescu to Farage: Romania does not take lessons in fairness from man investigated for corruption

Member of the European Parliament Victor Negrescu conveyed in an open letter addressed to Nigel Farage, that the former leader of the UK Independence Party (UKIP) should not talk about corruption since, in his turn, he is investigated for corruption by the European Parliament, and underlined that Romania's membership to the European Union (EU) should not be used as a political theme for winning over votes, according to Agerpres.

"Mr. Nigel Farage, Romania doesn't take democracy lessons from the person guilty for the Brexit! and, much less, lessons in fairness from a man investigated by the European Parliament for corruption and abuse of office!" Victor Negrescu mentioned in a press release. "I'm talking about the investigation in which you are charged, alongside Paul Nuttall and almost half of your party MPs for embezzlement, worth approximately 500,000 GBP. I′m astonished by the courage you have to come out publicly with such attacks, considering you need to give some answers to justice."

According to the quoted source, the Romanian MEP believes that Nigel Farage acted as an enemy of Romania and of Romanian people, after he made several slanderous statements regarding Romanians.

The former leader of the British formation UKIP, Nigel Farage, had on Friday evening a hot dispute with a listener who intervened during his radio talk-show (LBC show), the British politician claiming that Romania should not be allowed in the EU because it hadn′t finished the transition after the communist regime and it is, in his opinion, a county where corruption is 'endemic,' following these assessments the listener in question accused Farage of being racist, the article published by the daily Express points out.

Farage also suggested that the UK exiting the EU occurs in a suitable moment, because he deems 'incredible' for his country to be in a political union with Romania.

---

---

|

Daily Info

Damages to electricity networks caused by severe weather conditions do not increase the distribution tariffs, says ACUE

Lately, Romania confronted with extreme, unpredictable meteorological phenomena that have caused major damages, in large areas, to electricity distribution networks.

Orbis turnover increased to 62 million Euro in Q1

The Orbis Hotel Group turnover increased by 4.4 million Euro in Q1 2017 up to 62 million Euro, a press release shows. Group's EBITDA in the first quarter totalled 8.9 millio...

Deloitte Romania appoints Alexandru Reff as new country managing partner

Alexandru Reff has been appointed country managing partner Deloitte Romania and Moldova, effective June 1, 2017. He will succeed Ahmed Hassan, who takes on a regional leadersh...

Cushman & Wakefield Echinox expands its retail department with new appointment

Cushman & Wakefield Echinox consolidates its retail team by recruiting Dana Radoveneanu, a specialist with six years of experience of the local retail market, a press release ...

Banca Transilvania posts 246 million RON profit in the first quarter of 2017

Banca Transilvania's net profit is 246 million RON (54.6 million Euro) for the first quarter of 2017, whereas Banca Transilvania Financial Group's net profit amounts to 267 mi...
advertising
---
advertising
---
advertising
---
advertising
---
More on News
Iohannis: I explained to EU leaders multi-speed Europe is not a good solution, could end in split-up

President Klaus Iohannis, speaking after the European Council's meeting, said that he explained to EU leaders that a multi-speed Europe is not a good solution and that in e...
BRUA pipeline to operate in 2020 when Exxon, Petrom will extract Black Sea gas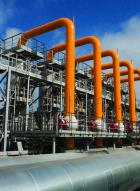 The works at the BRUA (Bulgaria - Romania - Hungary - Austria) pipeline will start at the end of 2017, and the gas pipeline will become operational in 2020, when ExxonMobil...
Ninety-seven per cent of household waste ends up in landfills, says ARBIO

As much as 97 per cent of Romania's household waste ends up in landfills, and Romania could be fined starting in 2020 about 500,000 Euro per day if it fails to bring the nu...
Net investment in national economy, down 3.3 per cent in 2016

Net investment carried out last year in Romania's national economy stood at 70.281 billion RON (15.6 billion Euro, declining 3.3 per cent from 2015, according to data relea...
Romania has significant potential in agriculture, but low productivity, says PwC Romania

Romania is one of the European countries with the highest potential in agriculture with the sixth biggest agricultural use area in the EU, but it has a low productivity due...
Commercial property investments in Romania exceeded 850 million Euro last year, says DTZ

In 2016, the total volume invested in commercial property in Romania exceeded 850 million Euro, a DTZ Echinox report shows. Bucharest attracted 660 million Euro, which repr...
PM Grindeanu: We must back European project strengthening, not multi-speed Europe

Romania's consistent stance - whether expressed by the country's Presidency, government or Parliament - on the future of the EU in the Brexit context is to support the stre...