Cegedim: Pharmaceutical segment in Romania loses 4 per cent in Q1 and reaches 669 million Euro

The pharmaceutical products sales in Romania, reflected in the distribution price decreased by four per cent in Q1 this year compared to the same interval of 2013 and reached a total value of 668.8 million Euro, under expectations, according to Cegedim data.

Petru Craciun, general manager of Cegedim states that the slightly warmer winter is accountable for the results. For 2014, in the context of a yet not updated subsidized medicine product list, the estimates take into account a decrease from 2.7 per cent to -0.3 per cent in local currency for the market. The decrease in lei for the Q1 was estimated at 1.5 per cent, to 3 billion lei.

In Q1, the pharmaceutical retail segment for Rx products reached 471.7 million Euro (2.12 billion lei), 2.2 per cent less while OTCs accounted for 109 million Euro (490 million lei), increased value of 2.4 per cent. The overall retail decreased in Q1 with 3.9 per cent and reached 580.6 million Euro, while other distribution channels such as hospitals increased with 4.9 per cent to 88.2 million Euro.

The company ranking for this market is led by Servier with 673.3 million lei and increase of 5.8 per cent, Pfizer with 600.1 million lei and 5.1 per cent increase, GlaxoSmithKline (510,3 million lei and 4,4 per cent), Ranbaxy (464,6 million lei and 4 per cent), Merck&Co (450,5 million lei and 3,8 per cent), AstraZeneca (440,3 million lei and 3,8 per cent) and Krka (316 million lei and 2,7 per cent).

They are followed by Johnson&Johnson, Antibiotice, Abbvie, Teva, Menarini, Bayer, Bristol Myers Squibb, Alvogen, Actavis and Eli Lilly, with market shares between 2.5 per cent and 1.6 per cent.

---

---

|

Daily Info

Raiffeisen Leasing completes 440 million Euro securitisation transaction

The EIB Group, consisting of the European Investment Bank (EIB) and the European Investment Fund (EIF), has supported a Raiffeisen Leasing securitisation transaction of 440 mi...

British investment fund to develop new residential project in Romania

British Romanian Investment Partnership, part of the British investment fund ARDC (UK) Ltd announces the release of their second residential project developed in Romania, New ...

Airbus Helicopters to create suppliers cluster in Romania

Airbus Helicopters Industries is willing to create in Romania a cluster of suppliers capable of delivering solutions and equipment for Airbus Helicopters, the company announce...

New tenants for Prima Shops Oradea

Oasis Retail Consulting & Development, developer of Prima Shops in Oradea, announces new tenants for the retail park project: Deichmann and Pepco. Both retailers have rented a...

Telekom Romania offers funding to finance winning projects within its CSR programme

More than 100 educational, health, environment, social development, social protection and innovation projects were submitted in Teimplici.ro programme. At its third edition, t...
advertising
---
advertising
---
advertising
---
advertising
---
advertising
---
More on News
Romania takes over rotating presidency of Open Skies Consultative Commission

Romania has taken over the rotating presidency of the Open Skies Consultative Commission (OSCC), and in late September, it chaired the first meeting in a series of four for...
Six companies shortlisted to benefit from state aid for new investment projects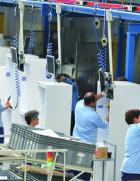 The Finance Ministry has selected six companies out of 36 applicants to grant them state aid for new investment projects that would positively impact the local economy
Providers forced to purchase gas only through the stock exchange
The Romanian Government adopted, in late September, an emergency ordinance governing the obligation of suppliers to purchase gas delivered to domestic customers "on the b...
CTP to invest 250 million Euro in Romania so far
CTP, one of the largest investors and developers of logistics projects in Romania, has invested 250 million Euro on the local market so far, according to a press release is...
The government approved the General Masterplan for transport
The government approved in the meeting on Wednesday the General masterplan for transport of Romania, announced Minister of Transport Sorin Buse
Romania's first residential complex with green energy sold 200 apartments in first phase

Cartierul Solar, the first residential complex with green energy in Romania, located in southern Bucharest and developed by Ad Astra Partners, has completed its first phase...
Gothaer Asigurari Reasigurari: Over 75,000 hectares have been affected this year by hail and storms
Over 75,000 hectares of farmland have been affected this year by hail, storms and floods, compared to 15,000 hectares in the last agricultural year, while the number of cla...