Toro builds micro-irrigation factory in Ploiesti

Turf maintenance equipment and precision irrigation system supplier The Toro Company will build an 11,000 sqm manufacturing plant in industrial park Ploiesti West Park, Prahova county. Construction will start in the first half of 2011 and the facility will include production and assembly, warehouse and office space, employing a staff of 100. Toro's new facility will manufacture micro irrigation products for growers of vegetables, field crops, orchards and vineyards in east Europe, Russia and the Ukraine.



---

---

|

Daily Info

Leroy Merlin acquires the space it operates within Colosseum comercial center

The owner of commercial center Colloseum located in Chitila sold to Leroy Merlin the space the French company was operating within the complex, the company representatives ann...

AmCham: Romanian capital market, one step closer to its upgrade to emerging market status

AmCham welcomes FTSE and its recent announcement to place Romania on the FTSE Watch List in view of upgrading its classification from frontier market to emerging market, accor...

Changing the paradigm from cost to competitive advantage through knowledge and talent, at the 4th ABSL yearly conference

The Association of Business Service Leaders in Romania (ABSL), the leading organization representing the business services industry organized on September 29th, its 4th annual...

Number of employees working in modern offices in Bucharest and large cities expected to reach 300.000 by yearend

According to the latest research conducted by real estate consultant DTZ Echinox, the modern office spaces in Bucharest and large regional Romanian cities accommodate over 250...

Carmen Adamescu, EY Romania: The key of city transportation planning in Bucharest might be a telephone

According to a study conducted by EY, due to the city transformation towards busier and busier transportation services and traffic and population accumulation, now it is a per...
advertising
---
advertising
---
advertising
---
advertising
---
advertising
---
More on News
Four new ministers at Transports, Communications, Education and Relations with Romanians Abroad

July brought novelties in ministerial structure, with Prime Minister Dacian Ciolos discharging four ministers: Dan Costescu (Transports), Marius Bostan (Communications), Ad...
John Griffin, Australia's Ambassador to Romania

"I want to promote Romania as a potential destination for Australian investors"
SAP Romania will reach 500 employees by the end of the year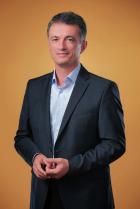 SAP Romania will employ another 100 specialists by the end of the year in its all three centres located in Bucharest, Timisoara and Cluj-Napoca.
Orange launches convergent services in more than 90 cities on the local market

After the launch in Cluj-Napoca, Iasi and Timisoara, Orange expands nationally the range of services for households, targeting more than 90 cities.
Telus International to employ up to 550 specialists in Romania this year

Telus International will increase its headcount in Romania by more than 80 per cent this year.
Transgaz and Transelectrica to sign agreements with specialized companies in Vietnam

During the visit of Dacian Ciolos, Prime Minister of Romania, to Vietnam in mid-July, Transgaz and Transelectrica signed Memoranda with specialized companies, the Energy fi...
Wizz Air invests 100 million Euro in its Bucharest base
In late May, Wizz Air announced the increase of its transport capacity by adding a new aircraft to its Bucharest base. Starting November 2016, the Romanian capital will hav...