Blocks and shopping parades for Iasi
TATARASTI, IASI Real estate developer Red Management will invest 35 million Euro in the construction of a residential complex in Iasi, in the Tatarasti neighbourhood, on Strada Vasile Lupu.
The first of the two phases of the project will be delivered in the first third of 2009. 'Arena Residential', streching over 13,000 sqm, includes seven ten-storey blocks totaling 336 apartments and 309 parking spaces.
The ground floors have space for banks, chemists, cafe and beauty and fitness centres. All the blocks will have an events room for social gatherings on the ground floor. The complex will also include a supermarket affiliated to an international chain. Red Management was set up in 2005 by two investment funds: GED Group (Spain) and Warburg Pincus (USA) to invest in south-eastern Europe.
---
Euro Habitat take on lakeside apartment craze
LACUL PLUMBUITA and PLOIESTI Israeli developers Euro Habitat will start building this year a residential condominium including 11 15-floor blocks with 2,558 housing units on a 230,000 sqm land plot overlooking Lacul Plumbuita.
The 'Planorama Turquoise' project will include a shopping area of 2,100 sqm and three underground parking lots, country manager Euro Habitat Zemer Tov Haim told The Diplomat.
Selling prices for the apartments will start from 1,800 Euro per sqm. This is a project developed in partnership with the Rothschild Group, which last year bought 60 per cent of three projects developed by Euro Habitat in Ploiesti, Brasov and Bucharest. "The overall investment in these three projects reaches 104 million Euro," the country manager adds.
In Ploiesti, Prahova county, the company purchased a 66,000 sqm land plot where it will start this year the construction of a shopping mall, in partnership with the Israeli Land Development company (ILDC Group).
'Seven Star Mall' will be located near Spitalul Judetean with 150 stores, an eight to ten multiplex cinema hall, over ten restaurants, gymnasium, spa, bowling, coffee shops and pool hall for delivery in 2010. Euro Habitat is also targeting cities such as Sibiu, Timisoara and Arad, for future developments.
---
Cypriots in residential drive in northern suburbs
CORBEANCA, BANEASA, UNIRII, GRIVITA, IASI Cypriot real estate companies A Panayides Contracting (APC) and Terra Kapital have acquired eight hectares in budding suburb Corbeanca, Ilfov county, for nine million Euro in order to develop 120 villas and 150 apartments.
The total investments in the construction of 'Paradise Gardens' will cost around 60 million Euro, Andreas Santis, area manager for APC Romania, told The Diplomat. APC Group has another project in Baneasa, behind the National Administration of Meteorology, where it is developing 400 luxury apartments on a 40,000 sqm land plot.
'Baneasa Gardens' is developed in partnership with Cypriot real estate company, Demetra Investments, in a two billion Euro investment.
APC Group is planning to start this year the construction on another two projects in Bucharest. The first project, covering 5,000 sqm is set for the Unirii area in the centre of Bucharest. This development will include 46 apartments over eight floors.
The second project will begin development this June on Lacul Grivita in the north of Bucharest near the plush and expensive Baneasa area.
APC Romania is looking for opportunities to buy up land plots in cities outside Bucharest, such as Cluj-Napoca. A Panayides Contracting will also start development of three apartment projects in the Moldavian city of Iasi, says Andreas Santis.
---
Property of the month
Multipurpose Interwar property revamp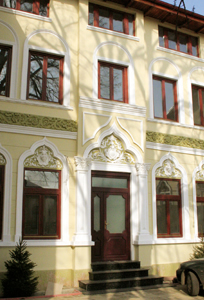 PIATA UNIRII This eclectic 1930s villa with a flexible interior is on sale through real estate agency Niculescu Imobiliare for 1.2 million Euro.
Set over three floors and a total built area of 360 sqm, the property boasts high ceilings and has one common access route through an iron staircase, plus different entrances for each of the floors.
This could allow an owner to divide the villa into separate apartments because each level includes a large living room, bedroom, bathroom and kitchen.
The villa could be used as a residence for one or more families, an office building or a restaurant. Completely refurbished by its third owner, the villa has marble floors and whitewashed interiors. The building has not been yet equipped with burglar alarms or interphone and has no garage, but the 59-sqm garden space offers parking for two cars.
The ground floor retains some elements from the interwar period, while the two upper floors have witnessed redevelopment in a minimalist style. The windows, now double-glazed, have an interesting choice of dark wooden frames.
Meanwhile the exteriors take the eclectic theme to the max. The outside includes a fascinating olive frieze, brancovenesque flourishes, classical pilasters and baroque-style busts of cupid.
For more information call
Carmen Sorescu, Niculescu Imobiliare
on 0766 300 603
Inside facts
• Price: 1.2 million Euro
• Built: 1930
• Built area: 360 sqm
• Floors: three, each with kitchen and bathroom
---
Villa, tennis and golf
complex for north capital
CORBEANCA Romanian developer Asset Management System has started the development works on a mixed-use complex worth 300 million Euro.
This will include 800 villas with areas between 500 and 1,200 sqm, playground areas, a golf course and 16 tennis courts, four swimming pools, a hotel and a private hospital.
Located in Corbeanca village, Ilfov county, Casa Nova Residence covers 80 hectares and targets delivery in three phases by 2013.
Asset Management System will deliver this year another residential project, 'Solaria Residence', in Baneasa forest, in the north of Bucharest, including 15 villas and 64 apartments.
---
Israeli developers start-up in centre
CENTRAL BUCHAREST Israeli real estate and development company Mentor Group will start development in two residential projects in central Bucharest this year.
The first complex will include 300 apartments and will target the middle class market, while the second includes towers with 100 luxury apartments.
The company is looking for plots of land to buy in areas such as Colentina, Lacul Morii, Piata Sudului in Bucharest as well as Arad and Cluj-Napoca for further residential developments, Alon Peled, President of the Mentor Group told The Diplomat.
---
New retail park for south Bucharest
VITAN-BARZESTI Real Estate developer Vivantis will open this September a retail park at the junction of Spaiul Unirii and Soseaua Vitan-Barzesti, in Bucharest. The new shopping centre will host 85 shops, covering 11,000 sqm including a Praktiker, Carrefour and the consumer electronics Techomarket as anchor tenants.
Vivantis is controlled by British investment fund Equest Balkan Properties, that holds ten hectares in Bucharest West Logistic Park, located on Bucuresti-Pitesti highway.
---
UK developer heads for Transylvania
BRASOV COUNTY UK-based company Romland Development will invest around 100 million Euro for the construction of 500 to 600 apartments in several residential projects in Brasov and Poiana Brasov.
The first project called 'Hill View Residence' will comprise 160 apartments included in three four-storey buildings, which will be delivered on the market in June 2010, according to newspaper Ziarul Financiar.
---
Property: Bucharest
BLVD TIMISOARA Hungarian developer Ablon Group is building a 300 million Euro residential complex in west Bucharest, at the junction between Blvd Timisoara and Strada Valea Cascadelor. 'Sunset Residence' includes 2,120 apartments from studios to duplexes, stretching over a total area of 41,000 sqm, to be delivered in three phases by 2014.
TITAN and PARCUL POLITEHNICII Romanian developer Conarg Real Estate is building a 60 million Euro residential project in the Titan area, on Strada Liviu Rebreanu. The construction work on the 988 apartments complex, with flats of between one and four rooms will be completed by 2010. Prices for apartments included in the 'Rasarit de Soare' complex range between 40,700 and 119,000 Euro. The company will start this year the development of 400 apartments on a 12,000 sqm land plot in Parcul Politehnicii.
AVIATIEI Turkish-based Ozer Construction will invest 15 million Euro in a 150 unit residential compound in the Aviatiei area. The complex will stretch over 5,200 sqm and will include one, two, three and four room apartments to be delivered by end-2009 or beginning of 2010, said Ileana Stanciu, deputy general manager of the company.
GHENCEA Romanian stationery supplier Top Birotica has budgeted ten million Euro to develop 84 apartments with one to four rooms and prices ranging between 71,000 and 179,000 Euro. Construction works at 'Champions Residence' in Drumul Taberei-Ghencea area will begin this month for a finish date of the second half of 2009, according to Camelia Bracea, broker at the real estate agency Regatta.
LACUL PIPERA Greek developer Geadel Consulting will deliver 70 apartments on the shores of Pipera Lake, north Bucharest. Located on Strada Emil Garleanu, 'Mediteraneo Ensemble' includes three and four room apartments over 15,000 sqm, with prices from 155,000 Euro per unit, according to real estate agency Coldwell Banker.
Property: Romania
SNAGOV Romanian real estate developer South Pacific is building a four-km racing track in Snagov, Ilfov county for delivery in 2009. The Australian company will pour around 250 million Euro in the construction of a mixed-use complex 'Grand Prix One Romania', developed over 160 hectares, including shops, car showrooms, one hotel and office space.
SINAIA British real estate developer Romnic Investments is building two apartment blocks with 64 units in Sinaia's Izvorului neighbourhood, Prahova county. The construction works on this project, which includes one, two and three room apartments with areas between 34 and 125 sqm, included in the 'Izvorul Dorului' complex, will end this November.
TANCABESTI, ILFOV Irish commercial and residential real estate developer Moritz Group has started works on a mixed use complex including 2,400 living units in Tancabesti village, Ilfov county, on a land plot of 107 hectares, to be completed by 2017. The total value of the investment exceeds 550 million Euro. This is the first residential project the company has made abroad.
VRANCEA Monte Nelly Inns, a branch of the Bucharest based Monte Nelly Hotel, is setting up a chain of motels in conjunction with Russian-based oil and gas group Lukoil. The first motel is planned for Vrancea County, Antoni Kuhnen, manager of the Monte Nelly Hotel, told The Diplomat. The hotels will use a standardised steel structure with modules of 15 rooms and a minimum size of 30 rooms.
ZORILOR, CLUJ-NAPOCA Romanian developers Sigma Center
Development will start this year the construction work on an 160 million Euro project, including two 35-storey towers of apartments expanded on 140 sqm. The buildings will be erected in Zorilor neighourhood in the Transylvanian city of Cluj-Napoca, according to the architect of the project, quoted by Ziarul Financiar.