Pressure on private owners in Historic Centre to revamp buildings
CENTRUL ISTORIC Bucharest's Historic Centre Association is calling for more local political will to force the responsibility of refurbishments onto the area's residents.
Leading luxury brands want to invest in Bucharest, but only if they can showcase their products in an exclusive and pedestrian-friendly environment.
The Historic Centre of Bucharest, specifically the Lipscani area between Blvd Bratianu and Calea Victoriei, is the only area in the capital with this potential.
Lispcani is unique in the city because it combines shopping, entertainment and residential areas in the same space.
Now the district is undergoing a redevelopment of its infrastructure by Spanish firm Sedesa, which has seen three streets paved with new street-lamps.
But plans to refurbish the buildings, which date back to the 18th century, are not scheduled until at least later this year.
Among the buildings that are in a poor shape are many which have been restituted back to their pre-Communist owners. Each owner can decide when to start refurbishment works on his home. But Bucharest City Hall could accelerate the rehabilitation, argue some residents, but does not have the structures in place to authorise such a move. Nor has the City Hall drawn up a coherent plan for the rehabilitation of the centre, argue some local businesses.
Residents now fear refurbishment will take longer than the 2016 date which City Hall has stated will see finalisation of the revamp.
Ten companies located in the Historic Centre created the Association of Investors in the Historic Centre (AICI) in an attempt to find solutions with Bucharest City Hall to invigorate the district.
"Bucharest does not have a quality shopping area," says Teodor Frolu, vice-president of AICI. "The Historic Centre used to have this function."
Some of the owners in the area have no intention to refurbish their homes, because they are waiting for the prices of the buildings to rise and then sell them off.
The argument is between whether local authorities can force a resident to clean up the exterior of his or her building for the greater good of the public space, or whether this is interfering with a home-owner's right to have a dirty house.
"All over the world local authorities find ways to help home-owners in city centre areas refurbish their houses," says Frolu. "If the owner chooses to disregard this support and refuses to start the works, he has to pay a tax."
Rehabilitation on a building can take between two and three years, but if each owner works at his own pace, this could expand to six years, argues Frolu, causing financial losses to the area.
Public buildings in the Historic Centre are now part of a rehabilitation programme and could develop at a faster pace than private buildings. This year the United Nations Development Programme (UNDP) will help fund the redevelopment of four buildings, including the 18th century inn Hanul Gabroveni.
The rehabilitation of Hanul Gabroveni will take four years, but the other three buildings should be ready this October.
"We will invest around 13.5 million Euro in these four projects, with money collected from the Ministry of Culture, Bucharest City Hall and the UNDP," says Florin Banateanu, Head of Socio- Economic Section of UNDP.
Prime Minister Tariceanu launches the UN-sponsored revamp project of the Historic Centre in June 2006. This plan aims to start later this year.
---
New ski resort complexes
due for Predeal
PREDEAL and BUCHAREST Romanian real estate developer Imobiliara will deliver this year two residential projects in Predeal and Bucharest.
Predeal Ski Apartments, at the junction between Strada Tudor Vladimirescu and Strada Vasile Alecsandri in Predeal, will include 30 two to five room apartments covering a total area of 2,136 sqm at prices of 1,200 Euro per sqm.
In Bucharest the company is developing a block of flats with 34 apartments near JW Marriott Hotel. 'Sirenelor Apartments' includes flats stretching over areas between 100 and 350 sqm. This is due for completion by October 2008.
This August Imobiliara will begin the construction works on a ten-holiday apartment complex on Strada Tudor Vladimirescu, in Predeal, to be delivered by 2009. All the apartments in the 'Predeal Snow Houses' complex will have balconies and ski slope view. Imobiliara was set up in 2004 and has delivered so far, besides residential projects, two shopping centres in the sea resorts of Venus and Saturn, Constanta county.
---
Property of the month
Style revival for antique villa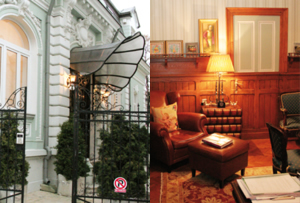 PIATA VICTORIEI This flamboyant furnished villa is now up for sale through real estate agency Perfect Casa for 2.9 million Euro.
A German fashion designer bought the villa four years ago to transform into an office building for her company, which is now moving premises.
In 2004 the villa was fully refurbished preserving the 1910s classic style and some of the original furniture. The villa is partitioned over an underground floor, ground floor and first floor, stretching over a total built area of 530 sqm. The house includes 12 rooms, six bathrooms and an interior courtyard of 325 sqm. The villa is available for use as a residence or office or could be turned into a luxury restaurant.
Antiques and fittings include an original Singer sewing machine, oak-panelled rooms, parquet flooring and a claw-foot bath.
While the basement is used as an office space with a store room for clothes and a small kitchen for employees, the first floor could act as a residence. The generously-sized living room resembles a relaxing lecture room with an impressive black oak bookcase and cosy couch.
The building is equipped with air conditioning, gas heating, burglar alarm, but lacks a garage. On-street parking is available for at least two cars.
Inside facts
• Price: 2.9 million Euro
• Built: 1910
• Built area: 530 sqm
• Floors: underground, ground floor, first floor converted attic.
For more information call
Eliza Dragomir, Perfect Casa
0724 585 604
---
Spanish flats opt for emerging south-centre
PARCUL CAROL Spanish real estate developer Grupo Lar has started building a 215-apartment complex, 'Serena' due for delivery in 2010 in Bucharest's emerging south-central zone.
This follows the opening of the 20 million Euro 'City Center Residence' by the Lithuanian Europa Group in the same area, on Strada Chesarie.
Nearby on Blvd Marasesti, developers Hanner and Bellerive are building 144 apartments in 'Carol Park Residence' due for opening in April 2008.
Located near Parcul Carol on 28 Strada Ing. Dumitru Tacu, 'Serena' includes one, two, three and four-room apartments with surfaces between 39 and 145 sqm.
There will be 240 underground parking spaces and 18 exterior parking spaces, Catalin Stefan Zafiu, project manager for Serena told The Diplomat.
Grupo Lar is present in Spain, Portugal, Poland, Hungary, Mexico and Romania and is one of the developers of 'Natura Residence' complex in Bucharest's Baneasa.
---
French Village returns to previous owner
BANEASA Bucharest City Hall has returned the French Village in Bucharest's north to businessman Costica Costanda.
Costanda received the village in return for Parcul Bordei, a 28,500 sqm plot of land on Blvd Aviatorilor, for the 28,500 sqm French Village (Satul Francez) on Soseaua Nordului.
Once an exclusive leafy suburban zone in Bucharest's north, the French Village has deteriorated recently under the ownership of Bucharest City Hall and management of the Parks and Gardens Administration, according to long-term residents.
Reacting to the news of their new owners, one resident said: "I can only hope they offer better management."
Last year Costanda asked for compensation worth 60 million Euro from Bucharest City Hall, claiming that he was not allowed to use the land in Parcul Bordei for the development of a real estate project and was compelled to keep it as a park.
Costanda previously owned the French Village and had exchanged it with City Hall for Parcul Bordei, in the hope he could develop the area, which sits on prime real estate.
On 17 January 2008 Bucharest City Hall decided to give back to Costanda the French Village. The park will reopen as a green public area.
---
New tower block complex for Iasi
IASI Israeli businessman Moshe Rachmut, through his real estate company Gansorek, will pour around 150 million Euro into the development of 25 tower blocks in west Iasi.
Construction works on the 1,200 apartment complex will start this year, Rachmut told The Diplomat.
Near Strada Dacia and the Pacurari neighbourhood, the apartments will cover areas between 40 and 85 sqm.
This is the second residential project developed by the real estate investors in the same neighbourhood.
'Dream Village', includes 48 apartments in 14 blocks under construction by the American-Israeli real estate company ENG International, represented in Romania by Moshe Rachmut and the US Landmark Group.
---
Property: Bucharest
STRADA DR FELIX Irish-based real estate developer Moritz Group has started construction on a 180 million office with a heliport in north Bucharest on Dr. Felix Street. 'Felix Plaza' will cover 35,000 sqm over 24 floors and will be delivered in two phases by 2012. This will also include exterior elevators, according to Catalin Secareanu, manager, offices & occupiers service at Coldwell Banker Commercial Romania. Irish companies Moritz Group and Mivan are in the process of investing half a million Euro in the development of ten Tiago malls in Romania.
BLVD MIHAI EMINESCU Spanish real estate company Spadevel will invest this year eight million Euro in the development of a residential building in Bucharest city centre, on Blvd Mihai Eminescu. This building will include shopping and apartments with a total built area of 11,000 sqm. The building will have two basement floors, ground floor, mezzanine and seven storeys including underground parking for over 75 vehicles. Spadevel is a private Spanish developer acting on behalf of Spanish investors in real estate in Romania.
LACUL TEI Romanian based company Werland Estate will deliver in December 2008 a residential complex looking over Lacul Tei. About 23 of the 79 two, three and four-room flats have already been sold at prices of 1,600 Euro per sqm. 'Estia Residence' will stretch over 1,941 sqm and 15 levels.
TITAN Romanian real estate developer Kone Invest will start this April the construction on a 30-apartment residential complex near Alexandru Ioan Cuza Park, formerly known as IOR park, in east Bucharest, in an investment worth five million Euro. Prices for the two, three and five-room apartments in 'IOR Park', due for delivery in April 2009, range between 133,000 Euro and 390,000 Euro, according to Mihai Dinu, a Kone Invest representative. The firm has so far developed Bran Residence complex in Brasov county, villa complex Mogosoaia Forest in Ilfov county and residential project Curtea Domneasca on the Bucharest-Pitesti motorway.
Property: Romania
ILFOV This September real estate developer Spirit Wood Romania will finish building its 'Smart Living' complex in Bragadiru village, Ilfov county. This will include 24 terraced houses on a total area of 200 sqm. The firm plans to develop 20 similar complexes, which will cover 5,900 sqm, according to a spokesman for real estate agency GVA Asco Properties.
GIURGIU Romanian construction materials producer and transporter Corsarul Rosu Impex 93 will deliver this March the first 20 villas of its first residential project located on the Bucurest-Pitesti motorway, near the village of Bolintin Vale, Giurgiu county. The 'La Rivierre' project includes 60 detached villas with areas between 250 and 300 sqm and prices of 1,200 Euro per sqm. The company has invested 25 million Euro in the development of this project.
FOCSANI Austrian real estate company Meinl Europe Land has budgeted investments worth 61 million Euro for the construction of a shopping centre in Focsani, Vrancea county, with a total lettable area of 23,000 sqm, due for delivery in 2009, according to Ziarul Financiar. Meinl Europe Land, controlled by Meinl Bank, last year purchased a 60,000 sqm shopping center in Constanta for 130 million Euro and pledged investments of around 400 million Euro in countrywide shopping centres.
SIBIU Romanian real estate developer Imoinvest has budgeted investments worth 6.5 million Euro for the development of a residential complex in Sibiu. The Dumbrava complex, located on Strada Intrarea Siretului, includes 160 apartments with one and two rooms on sale for prices around 900 Euro and over a total built area of 12,332 sqm. Imoinvest is part of the Imofinance financial and real estate group and has four more ongoing projects in Cluj-Napoca.
IASI
Romanian construction company Art Instal is building a residential complex in Iasi, in Nicolina neighbourhood. Art Residence includes 64 apartments with two and three rooms and will be delivered at the end of this year.