Bucharest airports receive facelift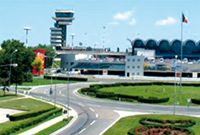 With over 100 million Euro set for investments from the Ministry of Transport, Bucharest's two airports, Baneasa and Otopeni, will see an upgrade, including repairs made to the runways.
The Baneasa 'Aurel Vlaicu' airport will be closed for two months this Summer to allow for an 18 million Euro investment plan to take hold, said the airport's communication manager Stefan Mladin. "The money will be used to repair the runway, and the air traffic will be transferred to the Otopeni 'Henri Coanda' airport," he added.
But the bigger brother of the small Baneasa airport is also undergoing massive investment programmes, with about 85 million Euro targeted to be spent in two new programmes.
This money will be used mainly to upgrade the runway, but also to extend the boarding hall, the arrivals terminal and modernise one of the landing areas. The two programmes will be finalised following a draft decision by the Ministry of Transport which stipulates that boarding areas and the arrivals terminal must be extended by 2009.
There is a wider programme in relation to the rehabilitation of the entire infrastructure for the airport, which is scheduled for completion by 2018.
---
Greek banks plan massive network expansion
Banks from Greece are planning a large extension of their branch network over the next three years.
Bancpost plans to expand its national branch network by over 75 branches to 275 by the end of 2007. Currently 36 of these branches are under construction and nine older once are in refurbishment. The bank, owned by EFG Eurobank Ergasias, plans to amass assets of 3.5 billion Euro for 2007, up from 2.4 billion Euro at the end of last year. Total investment for this year for the bank is 33 million Euro.
Meanwhile, Alpha Bank Romania will open 55 new branches this year, bringing the total number of its network to 125. The bank aims to have an estate of 230 branches and a market share of ten per cent by 2010, new executive president Sergiu Oprescu told The Diplomat.
Egnatia Bank also plans to open a minimum of ten more retail branches in 2007. The bank had eight branches at the end of 2006. Potential locations could include cities such as Bucharest and those with around 300,000 residents. The bank has a 0.5 per cent market share of the Romanian banking market and ranks 23rd.
On an aggressive organic growth ride is also Piraeus Bank, which is looking at a total number of 100 branches by the end of the year, up from 55 last December. "Also, 25 more branches are now under construction, bringing the total number of branches to 80 by the end of June," said president and CEO Stavros Lekkakos.
"We decided to act aggressively and move fast and all over the country," he said. Total investments for 2007 stand at between 30 and 40 million Euro. The bank aims for a five to six per cent market share by 2010.
Still viewed as a Greek bank is Emporiki, which was last November taken over by Credit Agricole of France. Now it operates 18 branches, up from five just two years ago. "At the end of this year we plan to have 25 branches and 200 million Euro in total assets, which would translate into a market share of 0.2 to 0.3 per cent," said general manager Dimitrios Karavias.(feature)
---
Short News
EBRD improves Iasi's tram network
Iasi will benefit from an improved public transport infrastructure with the help of a 15 million Euro loan for rehabilitation of the city's tram network from the European Bank for Reconstruction and Development. The loan, with a maturity of 13 years, will be used to finance the modernisation of 16.4 kilometres of tram infrastructure, help reduce the noise and vibrations in the city centre, increase the speed of trams on the renewed sections and improve safety.
Another low-cost airline takes wing
Continuing to build on its network, Germanwings, the low-cost division of Lufthansa, the german national airline, will start operating on the Romanian market this month. The low-cost airline will fly from Cologne/Bonn airport to Bucharest, as the firm focuses on increasing its network across southern and eastern Europe from its four bases in Germany. The firm will also fly to Bulgaria and Macedonia
Sparkling water firm aims for beer market
Mineral water producer Romaqua Group has said it will invest up to 31 million Euro to build a new brewery in Sebes, Alba county, with a production capacity of over one million hectolitres per year. The Romaqua brewery will employ 220 people, but this number aims to increase in the future. Once the shareholders have approved the project, the investment in the new factory will start this year and it could be completed by 2008. Romaqua owns the Borsec brand.
Fund buys into local private healthcare
Centrul Medical Unirea (CMU), a provider of integrated medical services in Romania, has sold a majority stake to venture capitalists 3i and its central European advisor 3TS. Dr Wargha Enayati, managing director and founder of CMU, said: "We are very happy to have attracted the largest investment in Romanian private healthcare so far, from one of the world leaders in venture capital and private equity." Centrul Medical Unirea is based in Bucharest and operates eight clinics for primary care in Bucharest, a surgery clinic, women's' clinic and maternity services.
Danube border bridge deal won by Spanish
Spain's Fomento de Construcciones y Contratas will design and build a bridge across the Danube linking Bulgaria's Vidin to Romania's Calafat, Dolj county in a 116 million Euro contract with the Bulgarian Ministry of Transport. The two-km bridge will include two road lanes in each direction and one railway line. This part of the Pan-European Corridor IV. The total cost of the project is 235 million Euro, with money coming from EU, the European Investment Bank and other international financial institutions as well as the Bulgarian Government. At present there is only one road and rail bridge linking the two countries, between Ruse in Bulgaria and Giurgiu in Romania.
German tyre-maker doubles production capacity
Continental Automotive Systems will pour in about 25 million Euro to double its production capacity in its factory in Sibiu to 5,400 sqm. About five million Euro will be invested in enlarging the hall, while the rest of 20 million Euro will be spent on equipment, said general manager Roberto Wagner.
Pitesti-based retailer joins hypermarket craze
Pitesti-based Pic Group said it will invest up to 50 million Euro to build two hypermarkets by the end of the year. General manager Liviu Facaleata said the two units will open in Braila and Oradea, and the group will open three more hypermarkets next year.
Kandia-Excelent sweetens up for Kraft deal
Romanian confectionery producer Kandia-Excelent has secured a ten million Euro credit to take over the sugar-based products division of Kraft Foods Romania. This does not include Kraft's chocolate-making division. The transaction includes brands Sugus and Silvana, stock and equipment involved in the business. Kraft Foods Romania will remain owner of the Brasov-based plant and land. In 2005 Wrigley bought out the sugar-based products division of Kraft Foods, but due to administrative problems, Kraft kept hold of its brands from this sector in Romania.
Vodafone closes gap on competitor
Vodafone Romania has increased its users to 7.72 million at the end of last year, closing the gap on. Orange's eight million. "Our results show that Vodafone was the operator of choice in 2006, achieving the largest customer growth on the Romanian market, almost 1.6 million net," said CEO Liliana Solomon. Postpaid subscribers accounted for 33.5 per cent and prepaid for 66.5 per cent of Vodafone Romania's subscriber base.