Bridging the gap to Europe
Romania, together with Greece and Bulgaria could generate more interest from the EU towards the south-eastern European region, says Greek Ambassador to Bucharest Athanassios Dendoulis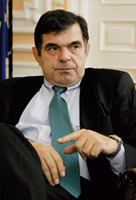 With Greece having a land border with the European Union for the first time since it joined the body, Ambassador Athanassios Dendoulis feels it is now the time to capitalise on strong connections.
"Let us walk together into the EU, we should both try to work out the best way," he says. "Walking together means dealing together, cooperating, moving in the same direction with the same perception and vision and, by joining forces, we will not only benefit the two of us, but also we will attract more attention from the other parts of the [EU] family."
Dendoulis says there have been other regional groups that attracted EU attention to the detriment of others, such as the Baltic countries or Scandinavia.
"But now it's our turn," he says. "Nevertheless the south-east region has inherent problems, like the Kosovo, Bosnia-Herzegovina and Serbia crises, so we believe that with close cooperation and common action we will be able to help the EU deal seriously and effectively with these problems."
Dendoulis spoke to The Diplomat shortly after Greek President Karolos Papoulis ended his first visit to Romania as head of state. He has visited the country twice before, in the 1980s and 90s. "He was happily amazed with the difference he noticed in Bucharest," says the Ambassador.

Trade talk
Total FDI: almost 600 million Euro (ARIS figures)
About three billion Euro (Greek commercial office)
2006 total foreign trade (at end November): 906.9 million Euro
2006 total exports to Romania (at end Nov): 434.09 million Euro
2006 total imports from Romania (at end November): 472.81 million Euro
Top Greek investors in Romania: Romtelecom (OTE), Cosmote, Alpha Bank, EFG Eurobank, Piraeus Bank, National Bank of Greece, Loulis, Alexandrion, Marinopoulos
                     Romania is growing fast. "Infrastructure development has been speeding up and will progress," he adds. "Now it will be easier with all the subsidies and the amount of money entering the market."
The Ambassador says that Greece's past experience can help Romania cope with new challenges. "Let's take agriculture as an example," he says. "We can and should cooperate because there somehow are parallels mainly in the agricultural field that Greece had 30 years ago. We know the pros and the cons of this procedure. I have to admit that we didn't take advantage to the fullest extent in our case and I don't wish Romania to follow the same path. We are the most eligible to offer advice on how to avoid the mistakes that we made."
Greece is the country with the largest number of banks active in Romania: seven, accounting for 15.4 per cent of money lending in Romania and emploing over 6,000 people in almost 300 branches.
"Greek banks have helped develop both corporate and retail banking here," he says. "Now corporate banking is growing at a faster pace than retail and there is a growing influx of companies in Romania, which is nutrition for banks. The more firms, the more banks will party and we are glad to join this party."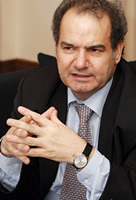 There are more than 3,400 companies registered with Greek capital and official foreign investments of around 600 million Euro. However, estimates from the Greek commercial office put the total FDI at almost three billion Euro. "This makes us this country's second or third investor, not its tenth foreign investor," argues the newly-appointed Greek commercial counsellor Ioannis Paschalis.
Greek businesses active in the Balkans viewed Romania as their first destination in the region and one of the best worldwide. "Greek companies were first here at times when other companies were sleeping, but at the same time, there's always room for improvement," says Paschalis. "The enemy of good is better."
Romtelecom aims to go wireless
Main landline operator in
Romania, Internet and
direct-to-home TV provider
Market share: 90 per cent on landline telephony
Number of clients (Sep 06): 3.6 million landline telephony
2005 turnover: 927 million Euro
Net income: 78 million Euro
Employees: around 12,300
Local landline leader Romtelecom's new general manager, Yorgos Ioannidis, intends to offer wireless high-speed data-transfer Wimax services, which is subject to Romtelecom winning a license from the Government."We are very interested in acquiring new licenses and we will do whatever is possible to get the Wimax license, because it's a complementary technology for us," he adds.
Ioannidis says the firm is preparing a new package of services to cut the fluctuation of its subscribers and also to continue the investment plan in the Next Generation Network (NGN).
"We will work to increase our network's flexibility to be more adapted to the new," says the general manager of the firm, whose controlling shareholder is OTE.
Speculation has also been rife about whether OTE itself will sell-out to a western telecommunication firm, such as Austria Telekom.
Panagis Vourloumis, CEO of OTE says that the Greek Government is willing to sell a part of OTE shares to a major western telecom firm but, if they cannot reach an agreement, they will probably sell them on the stock market. "By the end of the year we should have a timeframe for this process," he adds.
The firm now has 100,000 users on its Internet services and, since launching its direct-to-home digital TV service Dolce, has attracted an audience of 60,000.
Cosmote: one million and rising
Mobile phone operator
Market share: seven per cent
80 per cent were prepay customers at end 2006
2006 revenue: 43.8 million Euro
Net income: - 65.7 million Euro
Employees: 700
While its two major rivals Orange and Vodafone are both clocking up to eight million users each, Cosmote Romania has become the third largest mobile phone operator, by customers, at 1.23 million. This is up from 50,000 in December 2005, when Cosmote Group picked up the failed mobile telecom operator CosmoRom.
"We never said we would turn Cosmote into a market leader," says CEO Nikolaos Tsolas, "but the rate of selling is very good."Last year Cosmote also bought out Germanos, the largest telecom retailer in south-eastern Europe, with 550 outlets in Greece, Bulgaria, Romania and FYROM.
"Now, the acquisition of Germanos started bearing fruits for us in Romania," says Tsolas. "We will continue our investments this year as well, into expanding the network and covering smaller towns and villages, as well as improving coverage in the existing cities and introducing platforms for new services.' This include 'i-mode', likely to be launched locally in the second quarter of this year.
Germanos: 90 new store openings
Telecom retailer
Majority owned by Cosmote
Total number of stores: 134 (50 of which are franchises)
Employees: 754
Six months after Romania's competition watchdog approved the takeover of a controlling stake in retailer Germanos by Cosmote, the shop chain aims to become the main vehicle for increasing distribution of the telecom operator's products and services.
"We plan to open over 90 new stores in the country during this year," says Germanos Telecom general manager Dimitrios Blatsios. "Germanos will also further develop its franchise network to almost double the number of stores compared to 2006."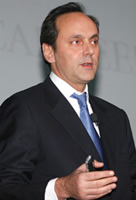 The store chain covers all major cities over 30,000 inhabitants and in 2007 aims to increase its number of stores in large cities and open in smaller communities.
"Romania is by far the largest market in the Balkan region and the one with the highest potential," says Blatsios. "Disadvantages include the current purchasing power of Romanians, which today is relatively low, but will increase with the rise in salaries and GDP per capita."
In sales, the firm is seeing a "clear increase" in demand for quality high-tech products. "This shows that the Romanian market is heading towards matching western Europe trends," says Blatsios.
Bancpost: organic growth plan
Majority owned by EFG Eurobank Ergasias
2006 assets: 2.3 billion Euro
2007 forecast: 3.5 billion Euro
2006 market share: 4.6 per cent
2006 profit: five million Euro (IFRS standards)
Branches: 198; 36 more planned to open soon; nine under refurbishment
Employees: 3,360
Fresh in the shoes of running Romania's sixth bank in terms of size, Manuela Plapcianu feels attracted to the complexity of the project called Bancpost.
"We want to grow in Romania, as this country is Eurobank's most important market apart from Greece and no effort will be too big to accomplish that," the CEO tells The Diplomat.
Plapcianu says plans for 2007 include reaching total assets of 3.5 billion Euro and to rise from sixth to fifth in the ranking stakes, and third by 2009.
This will happen through organic growth and expanding the branch network, she argues, without looking at possible takeovers. EFG Eurobank was one of the original bidders for state Savings Bank CEC, which remains unsold.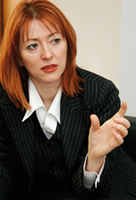 "By the end of 2007 there is a plan to expand the national branch network to 275 branches from the existing 198 at the end of 2006," says Plapcianu.
The bank, which finished its purchase of Bancpost in 2001, is also looking at finalising restructuring, consolidating the retail business as well as increasing focus on the corporate business.
"Treasury products are planned to be among the most innovative on the Romanian market," adds the CEO. Total investments for Bancpost this year stand at over 33 million Euro.
Bancpost also started to develop an aggressive sales attitude and telesales, Internet banking and on-line banking. The company plans to double its POS network to 11,000 this year and increase its ATMs from 562 to 760.
In related news, the group's insurers EFG Eurolife Asigurari Viata and EFG Eurolife Asigurari Generale were authorised last January and are due to become operational this month.
Alpha: aiming at top five by 2010
3Q 2006 assets: 1.9 billion Euro
Market share: 4.2 per cent
Net profit: 21.3 million Euro
3Q 2006 branches: 53
2007 forecast branches: 125
3Q 2006 employees: 1,143
"We have always been a bank of 'firsts'," says Alpha Bank executive president Sergiu Oprescu. "The first foreign bank to open in Romania, the first to tackle the mortgage segment, the first bank to launch into alternative channels - the likes of telemarketing, the bank that has always brought in novelty."
If three years ago the bank could not brag about a large branch network, last year it saw results in its retail services.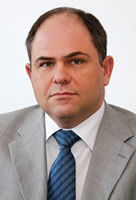 "We said we would open 40 new branches and we did, and this year we will open 55 more, to bring the total number to 125," says Oprescu. For 2010, the bank's objective is to pass 230 branches, a market share of ten per cent and in the top five banks."For example, at the end of last September we ranked sixth, and we ended the year in the seventh or eighth position," says Oprescu.
To grow such a market share in such a short time-frame, Oprescu is focusing on organic growth. "The entire banking system in Romania is credit-driven, not deposit driven, and we forecast we will grow 30 to 40 per cent more than the market in 2007 in this segment, both for retail and corporate clients," he adds.
Now the bank's retail clients account for 35 to 40 per cent of its customers.
Piraeus expands and diversifies
2006 assets: one billion Euro
2007 forecast: 1.5 billion Euro
2006 market share: 2.6 to three per cent
2006 branches: 55
2007 forecast branches: 100
Employees: 750; 1,150 planned at end-2007
Speeding up its branch openings all over the country and diversifying into brokerage and real estate funds are on the agenda of Piraeus Bank.
"We are growing faster than the market," says Stavros Lekkakos, CEO of Piraeus Bank Romania. "We grow organically, as I do not see any other buyout opportunity in the next year or two in Romania. Now, almost all banks have been acquired by multinationals."
Piraeus operates 55 branches, more than double the previous year, 25 more branches are under construction, bringing the total number of branches to 80 by the end of June. "We decided to act aggressively and will continue to open more branches so that by the end of the year we reach 100," says Lekkakos.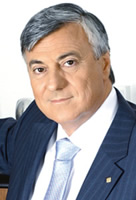 "We decided to move fast and all over the country." Total investments for 2007 stand at between 30 and 40 million Euro. The bank aims for a five to six per cent market share by 2010.
Piraeus will move to new headquarters located on Blvd Nicolae Titulescu, an investment of between 18 and 20 million Euro, with up to 15 floors.
The financial group also launched a real estate fund for south eastern Europe, called Trieris, with a total value of 50 million Euro under management. "Trieris is very close to making its first investment in Romania: a six million office building," says Lekkakos.
Egnatia plans to double branches
Established in Romania: 2001, took over BNP Dresdner Bank operations
2006 assets: 227 million Euro
2006 net profit: 3.7 million Euro
Number of branches: eight, ten more to be opened in 2007
Employees: 150
Calling 2007 'critical', Stylianos Sofianos, president of Egnatia Bank, is channelling efforts into retail banking.
The bank had eight branches at the end of 2006 and will open ten more this year in Bucharest and major local cities.
"We moved in a new head office, to give us the visibility we needed, we will continue expansion in 2007, will work closer with the Marfin Group, which is very aggressive," he tells The Diplomat.
Egnatia Bank is finalising its merger with Marfin Popular Bank at present. There are 13 countries where the Marfin Group is present including in fields such as real estate, stock exchange and asset management. "With this sound support, the bank will focus on retail activities," says Sofianos.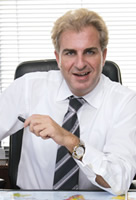 Egnatia now has a 0.5 per cent market share and ranks 23rd in banks active in Romania. Deposits for the bank increased to 77.9 million Euro, more than double the previous year.
"Now, with Romania acceding to the EU, trade between the two countries will be easier, as there will be no customs and no delays," argues the president. "Greece will continue to invest in Romania, and Romania will also start looking at making investments in Greece. At the same time, Greek banks will continue to rule in Romania's banking sector."
Emporiki: preparing for takeover
Now part of French-based Credit Agricole
2006 assets: 110 million Euro
2007 forecast total assets: 200 million Euro
2006 profit: one million Euro
Branches: 18 currently, plans to reach 25 by end-2007
Employees: 160
Dimitrios Karavias has only a couple of months left to lead a Greek bank in Romania. The general manager of Emporiki Bank will see the entry of the French, as the Greek commercial bank was last November taken over by Credit Agricole.
"For the time being merging procedures have not been completed in Romania," says the bank's general manager. "Now evaluations are taking place. Until that gets completed, it's business as usual."
Emporiki operates 18 branches, up from five just two years ago. "At the end of this year we plan to have 25 branches and 200 million Euro in total assets, which would translate into a market share of 0.2 to 0.3 per cent, which is not a major concern," he adds.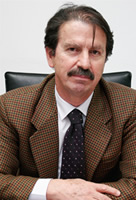 About 40 per cent of the bank's activities are focused on retail, the rest is corporate, but this will probably change with the new business plan. "Credit Agricole is a mixture of both," says Karavias. "To accomplish that, we will expand, and we will first try to cover the main cities and then look around. By the end of June we will open a second branch in Timisoara and in Oradea, and then, by the end of the year, six more branches, bringing the total to 25."
Now eight branches are located in Bucharest and one each in Galati, Sibiu, Brasov, Pitesti, Arad, Timisoara, Iasi and Constanta.
EFG Eurobank Leasing: All eyes on real estate
Leasing company
Operational since 2006
Market share: 2.6 per cent
2006 total value of contracts signed: 95 million Euro
Active in Bucharest and through Bancpost offices. Plans to open eight regional offices in 2007
Employees: 32
Last year's new law on leasing aims to bring the hire-purchase industry under the tough and transparent regulations that apply to banks. This aimed to force the industry to grow up. "The demands [of this law] are still high and the norms are still unclear, but this is a transition period," says Sorin Manolescu, general manager of EFG Eurobank Leasing.
The general manager says vehicles will continue to be the big chunk of Romania's leasing market. Now this stands at 75 per cent.
"This segment has kind of fulfilled its growth potential but, at the same time, Romania is not a market that can be compared to western markets," he says.

Hiring-out equipment for the construction industry is on a dynamic up-trend, but in real estate leasing, Romania has a penetration rate at least ten times lower than in developed countries, he argues.
"The profitability of real estate investments is now lower than before," adds Manolescu. "In 2007 we want to continue penetrating the real estate leasing market and to double our market share." About eight per cent of the firm's portfolio is in real estate, 40 per cent equipment and the rest in commercial vehicles. "We will continue the trend in 2007," he says. "We hope to have up to 15 per cent of our portfolio in real estate projects by the end of 2007."
Examples of projects in real estate leasing include industrial office space in Bucharest and private medical clinics in Timisoara and Constanta.
Egnatia Leasing: property potential
Established in Romania: end 2004, operational in 2005
2006 total value of signed contracts: 93 million Euro for 2,370 contracts
2006 market share: under two per cent
2007 forecast: about 3 per cent
Number of branches: seven
"There has been a significant increase in leasing for cars, especially in commercial vehicles, but real estate leasing started to grow in 2006, and leasing for equipment kept at the same level," says Haralambie Stanciu, general manager of Egnatia Leasing.
Despite earlier doubts raised by the MTS Leasing scam, where the German-based hire-purchase firm caused losses of millions of Euros to its real estate leasing customers, this sector could now see growth.
"The MTS case fortunately did not have as negative an influence as other scandals in the capital market world," argues the general manager.
The company's real estate leasing projects could be divided in two segments: supporting the buyout of apartments or houses by different companies and also the capital needs of a company.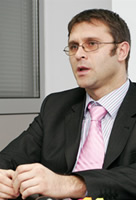 "This means that, if a customer had a building and wanted to refinance it, they would get the money they needed for other projects or money they needed in the short term and pay back the value in 15 years," Stanciu explains. "There are direct tax advantages for companies, as they can deduct VAT, which an individual cannot do. Moreover, it seems that starting this year, real estate leasing is treated differently from other types of leasing, in the sense that VAT does not apply any more, according to the new Fiscal Code. It is a good moment for the market, as we are treated the same as banks. We can say this will be the year of real estate leasing."
Garanta: merger with Alpha insurance due for completion
Insurance company
Established in Romania: 1997
2006 gross written premiums: 25.8 million Euro
Employees: 105 after completion of merger process
Gerasimos Gazis does not view himself as "just another foreigner that came to Romania imagining Vlad Tepes was a blood sucker and bought every story about Dracula and his castle." Instead, he researched into Romanian history and the market before arriving in 2001 to set up Alpha Insurance.
Gazis now leads Garanta Asigurari, part of Greece's biggest financial group (National Bank of Greece - Ethniki), which last year took over the insurance arm of Alpha Group internationally.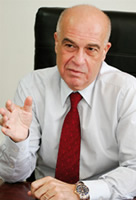 "The merger was a bit delayed as there has been a share capital increase in Garanta late last year, which meant we had to start procedures all over again," he says. When Gazis speaks, he says the merger process is weeks away from completion.
He feels the local insurance market still has a huge potential.
"But as the road to success is never easy, this market must also surpass certain obstacles," he adds, "including the tendency for companies to want to cover as large as possible a market share, which leads to the insurers being driven to apply a series of commercial discounts, which in the long run may have negative influences on the financial results of the companies."
Card migration continues to step up
Card Processor
Active in Romania: since 2000
Works with 20 banks two non-banking financial institutions
Worldwide, the payment card business is shifting from using black magnetic strips towards chip-and-pin format (EMV smart cards), and Romania is in the middle of the process to migrate to this safer payment means, says PayNet president John Chrissoveloni.
"Certification and tests were much harder than for magnetic cards," Chrissoveloni says. "I look forward to more of our banking clients passing to EMV chip cards. The migration started and I think that in two years' time it will be completed. ING and ProCredit Bank are now working with chip cards."
PayNet has completed the test for certification to allow EMV usage at ATMs and POSs.
"We are now in the first phase of enabling bank clients to be compatible: Banca Italo-Romena is Visa compatible, while San Paolo IMI Bank is Mastercard compatible," adds the president.
Coca Cola HBC: trend for still and sugar-free products on rise
Coca-Cola Hellenic Bottling Corporation
Bottler of non-alcoholic beverages
Products include:
Coca-Cola, Nestea, Burn, Fanta, Sprite, Dorna, Cappy
Leader on the non-alcoholic beverage segment, Coca Cola Hellenic Bottling Corporation (CCHBC) has seen its iced tea product, Nestea, grow and launched a new product, Nestea Green Tree Citrus.
"Nestea showed an increasing trend during 2006," says general manager Calin Dragan. The product is market leader in the iced-tea market, which increased by 58 per cent in 2006 on the previous year.
Following the western trend for 'health' foods, Romanians are opting more for sugar free drinks and water. Coca Cola Light is still a drink consumed mainly in the urban areas and has also seen an increase.
In energy drinks the company has Burn, which is consumed mainly in night clubs and bars. "The Romanian non-alcoholic market shows lots of opportunities because of its dynamism," says Dragan. "Romanian consumers follow worldwide trends.
The new trends in the non alcoholic drinks show an increase in the non carbonated drinks segment, this is because people are adopting a healthier attitude to life."
Romania: changing its bread habits
Milling, baking and cereal product manufacturer
2006 turnover : 44 million Euro
2007 forecast turnover: 60
million Euro
Employees: 850
Romanians are gaining a taste for sliced bread: milling, baking and cereal product manufacturer Loulis Group has seen a 30 per cent increase in this cattegory in the last year. Seedy, brown and black breads also register growth.
"The market will grow," says Stefanos Krommydas, vice president of Loulis Foods. "This is just the beginning."
The firm as a whole has witnessed a 50 per cent increase in sales in 2006 on the previous year.
In breakfast cereals, Loulis has around 20 per cent market share and plans to invest more in this segment in 2008 to produce around 500 to 600 tonnes per month.
In pasta, the company has launched a new range, the Titan brand. "Pasta is a staple food market in Romania," says Krommydas.
However the consumption is low – at only two and a half kilogrammes per head per year. "We can't compare it with Italy which has 25 kilos per capita, but with other European countries," he adds.
Supporting tourism export: Olympic Airlines
Turnover: ten per cent increase in the first month of 2007 on same period year-before
Capacity: 426 per rotation
Number of flights: 12 per week
Employees: ten
Leisure tourism from Romania to Greece has seen a massive growth as jet-setters with disposable income from the youngest EU nation become comfortable with heading south for the sun, sand and culture.
To support this upswing, Olympic Airlines now operates 12 flights per week to and from Athens.
The next step is to operate double daily flights to support the bilateral traffic and to attract more tourists from Greece to Romania, especially in the winter season.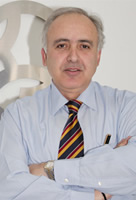 "We are already planning some familiarisation trips, by bringing travel agencies from Greece to Romania and the next step is to bring big travel agencies to Romania to see the facilities," says Ioannis Papaslanis, manager for Olympic Airlines Romania and Bulgaria.
The airline currently sells Athens and the Greek Islands to travel-goers, and then further flights to the Middle and Far East.
Low cost airlines mean increased competition but Papaslanis says: "We have faced this competition in the last seven to eight years but there is still room for both types of companies."
Stirom: glass firm goes coloured
Glass manufacturer
Total investment in Romania: 50 million Euro by 2008.
2007 forecast turnover: 40 million Euro
Employees: around 500
Glass manufacturer Stirom plans to more than double its investment up to 27 million Euro by mid-2008 in two new ovens, one for coloured glass, that will increase the factory's annual production from 110,000 to 170,000 tonnes.
"These two investments will transform Stirom into the best equipped glass factory in Europe," says general manger Nikolaos Barlagiannis. The coloured glass oven will allow Stirom to produce bottles for beer and wines.
Before the Greek family took over the factory in 2003 it had a market share of 30 per cent of the bottle market. Now Stirom covers 50 per cent of the market and plans to increase this to 85 per cent by 2008.
The company exports ten per cent of its production to the Republic of Moldova, Hungary, Italy, Greece and America. The main clients are bottling companies and fruit and vegetables conservers.
Fund focuses on developing property
Greek investment fund
Raised eight investment funds, three still active
Representative investments in Romania: Exited: Germanos,
Orange Romania, Sicomed,
Neoset. Acquired in 2005:
TotalSoft, La Fourmi
Investment company Global Finance's Global Emerging Property Fund, which initially raised a total capital of 150 million Euro in June 2005, aims to build a well-balanced property portfolio mainly in Romania, Bulgaria and Serbia.
"A large chunk of this 150 million Euro will be placed into Romania," says Global Finance Real Estate technical director Paul Phillips. "We are also looking at Bulgaria, Serbia and probably Croatia, maybe Ukraine in the future and other eastern European sectors."
So far the firm has bought three pieces of land to develop its own projects. One investment totals 100 million Euro in northern Bucharest. This is a mixed project, comprising office, retail and residential. The second is a housing development over 4.5 hectares towards the ring road, mostly finalised and valued at 100 million Euro.
The third project is located in Floreasca - Primaverii.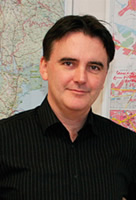 "We are about to organise an international competition for architects for this mixed project, with a larger retail side, the likes of high street retail and the high-end residential scheme and office market," says Phillips. "Our aim is to create a large scale development, to do all in one location, in about an 100 million Euro investment as well. We hope for sales in early 2008 for presales and to be complete by 2009."
Phillips says the fund is also looking at projects outside Bucharest, in cities such as Brasov, Constanta and Timisoara and the west. "We follow new highways and the movement of people. North-east is less interesting than centre-west," he adds.
Global Finance also launched South-Eastern Europe Fund (SEEF) in February 2006 and raised 197 million Euro at its first closing. The fund plans to raise more than 300 million Euro in total with subsequent closings.
SEEF will first consider investing a controlling stake in companies with, according to Global Finance country manager Stefan Bucataru, "unused potential and regional expansion opportunities, targeting dynamic and extrovert companies, with regional development strategies or other growth plans."
Building office portals for Romexpo: Pantechniki
Greek developer and
construction company
Projects: 100 million Euro office project near Romexpo, a 40 km road in Caransebes
Bucharest's exhibition centre Romexpo is waiting to see a new office development flanking either side of its entrance, as two giant 75-metre towers are in the works, in a 100 million Euro project from Greek developer and construction company Pantechniki.
"The location is unique because Romexpo has created an area with a very high potential for business and this project will also create a colony for businessmen active there," says Andrei Velis, head of East European division of Pantechniki.
Pantechniki are the developers for the project and have chartered the land for a period of 49 years with the possibility to extend the contract for up to 75 years.
Driving construction boom: Inscut
Leaser and merchandiser of
construction equipment
Total investment: 7 million Euro
Number of employees: 165
2006 turnover : 8.7 million Euro
2007 forecast: 10.5 million Euro
Leaser and merchandiser of construction equipment and vehicles Inscut plans to extend the capacity for hosting such gear from 60 to 100 units. This is because the real estate market in Bucharest needs more equipment.
"The demand for our services is equivalent to what is happening on the real estate market in Bucharest right now," says general manager Manousos Athanasios. "We saw an increase in demand for construction equipment starting with 2004 when many investment funds came to Romania. Also the rising number of EU-Funded infrastructure projects and the appearance of new construction companies led to this demand."
Inscut, part of Diekat Group, also offers after-sales services for its equipment and intends to open three new facilities in Iasi, Cluj-Napoca and Timisoara.
It imports bulldozers, dredgers, small and medium excavators, transport trucks and this year is importing three special fire engines worth 500,000 Euro each for the Romanian fireman department.
Betting on Romanian run to the sun: More International
More International Invest
Includes property, property
management, construction
authorisation and sale.
Present in Timisoara, Constanta, Iasi, Brasov, Braila and Galati
Aims to employ 40 by 2008
Until last month, More International Invest has brokered real estate investments worth a total of 214 million Euro in Romania, but now the traffic in estate purchasing is tipping towards Greece.
According to managing director Ilias Papageorgiadis, Romanians will buy from 20,000 to 50,000 residential units abroad and this number will vary, based on how accessible financing will be.
Greece is of great interest to locals. "We also sell apartments to Romanians in Greece and we have demands for properties from the lowest part of the market, between 60,000 to 200,000 Euro, but also for houses over one million Euro," he adds
More has a portfolio of five million Euro worth of properties in Romania and has an investment plan of 2.5 million Euro by 2010. "After being in Bulgaria, Serbia and Skopje, I chose Romania as the best place to expand my business from Greece," he says. "Except Greece, all the other Balkans countries together don't have half the potential of Bucharest."
Genco feels effects of import tax cuts
Distributor of selected Samsung and Mitsubishi products
Available in over 800 outlets
in Romania
Owner of four Intersport stores
2006 turnover: 48 million Euro
Distributor of Samsung electronics, and owner of sportswear retailer Intersport, Genco is preparing for the boom in retail of LCDs and plasma TVs now Romania has joined the EU.
Becoming part of the 27-member bloc led to the elimination of the 42 per cent import tax on electronics from some countries outside of the EU, such as Japan and South Korea.
"Most of our products were suffering from very high import duties, but now this barrier has gone," says general manager Akis Ionas. "In January this year we had 230 per cent increase compared to January 2006. I am very optimistic about this year's turnover." LCD sales have seen a massive growth in sales.
Import taxes for refrigerators have also dropped from 20 per cent to two to three per cent. "This is going to create an advantage for us because most of our competitors have had factories in EU countries for a long time, so they did not have a problem with high import taxes," he adds.
With the boom in construction, another brand distributed by Genco is seeing an increase in sales. Mitsubishi's variable refrigerant flow (VRF) air conditioning systems were introduced locally in 2006. The biggest contract so far was to deliver air-conditioning system for the 13-floor Anchor Plaza Office Building.
In its sportswear stores Intersport, Genco has four units, two in Bucharest, one in Brasov and in Constanta and intends to open another two stores in Cluj-Napoca and Iasi.
Elmec: going large with famous brands concept
Retailer
2006 turnover: about 25 million Euro
2007 forecast: about 35 million Euro
Number of branches: 37
Employees: 650
Retailer of top western clothing names Elmec prepares to open two Famous Brands Galleries this year, says Solomon Mordecai, president and CEO of Elmec in Romania.
"We are concluding the consolidation phase of a historic building in the Ion Bratianu area which will be transformed into a clothing retail complex," he says. "This building has to be treated with care when it comes to renovating and there is still work to be done but we estimate that soon we will be ready to start the construction."
The retailer, active locally since 1999, now operates ten Famous Brands stores in Romania, as well as four exclusive stores for Calvin Klein Jeans, Miss Sixty, Energie and Converse. Elmec is present in most of the larger cities of Romania, with 16 stores over the country and 21 in Bucharest.
Plans also include opening another fitness centre, Wellness Club to add to its existing unit in shopping mall Plaza Romania, which will be integrated in its Wellness Office. Construction will start this year in Otopeni. This will include a swimming pool, squash and tennis, health food restaurant and library.
"We intend to create a space that will encourage a healthy lifestyle where our people, and not only, can work out and de-stress in a modern and spacious health club," he adds. "They will enjoy healthy food and can unwind and concentrate in special relaxation rooms. We are also examining the possibility of expanding wellness clubs to other locations."
Neoset banks on increasing franchises
Furniture producer and retailer
Investment: four million Euro
No of stores: 16 (12 franchises)
Stores to open in 2007: ten franchises
2006 turnover: 6.5 million Euro
Employees: 100
Last year furniture retailer Neoset was preparing to open eight more franchise stores, but many of these will now open in the middle of 2007. This year, in total, the plan is to open ten more franchises in big cities in Romania.
"We believe standards of living in Romania will increase after 2007," says Dimitris Zivopoulos, Neoset international business director. "Our sales will increase all the time and people know Neoset."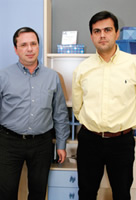 The firm is launching a new kitchen line this month in all its stores and a new easy to clean sofa line, in a plan to produce 3,000 to 4,000 sofas per year.
But 35 per cent of Neoset's turnover is still represented by sales of its furniture for children units.
With Ikea set to open its first store in Romania this month, Neoset says it is not afraid of competition. "It is impossible to lose our customers," he says. "Ikea entering Romania is going to be a plus because it will strengthen the market."
MJ Maillis: looks at continental shift
Packaging material and machine producer
2006 turnover: 16 million Euro
2007 forecast turnover: 22 to 24 million Euro
Employees: 140
With most of the companies trying to export to west European countries, packaging machine and material producer MJ Maillis is trying to conquer the Latin American market.
"If it works to produce here and export to the Americas, why not do it? The costs are not so high," says general manager Michalis Trakadas. The firm saw a 20 per cent growth in Romania last year, boosted by its export activity, which mostly goes to Italy and then on to the rest of Europe.
Besides one warehouse on the outskirts of Bucharest, the company has three others in Romania, but does not intend to open another.
"The trend in the market is to close warehouses, not to open more," he says. "In western countries the trend is to cooperate with distribution companies."
Special report and business interviews by
Corina Mica.
Additional reporting:
Mihai Alexandrescu
and Ana-Maria Smadeanu