A passage between past and future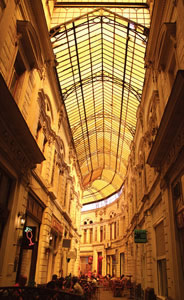 I had the opportunity to test the reaction of potential clients to a new concept for Romania, but one that is standard for the West – drinking wine by the glass – in 'Experience', the first wine bar in Bucharest.
This is located in the magnificent Vilacrosse glass arcade – built in 1891 and now protected by UNESCO.
This is an architectural jewel, but apart from terraces and fancy bistros, there are still grubby, Communist-style emporiums and cheap beer houses.
Bucharest is changing and this passageway, not unlike a slice of Milan one minute from Calea Victoriei, could be the ideal place for businessmen or tourists to savour nice wine, excellent coffee, oriental tea or a classic ale in a strategic location.
'Experience' has two rooms, a cellar and a Parisian terrace, and combines a colonial spirit, with classic grapes from France, Italy, Germany and Spain, a cigar lounge and leather armchairs, with modern endowments – one can drink wine by the glass from South Africa, Chile, Greece and USA. There is also fine cheese, good coffee, teas from Kashmir, Japan and China and complementary water.
However, the majority of Romanians pass by, reluctant to sample sophistication and go to the cheap beer terraces. Sadly, I saw an expat encouraging his Romanian friend to enter the wine bar to 'experience' Romanian wine.
Such a bar could allow time and space for cordial debates, where one can taste and comment on wine, without having to buy the whole bottle. But this is still far from reality.
One evening I was hopeful when I saw an infatuated young couple passing the terrace and choosing to stay at a beautifully-arranged candlelit table with romantic music that put their feelings into song.
As they sat down, they could not keep their eyes from each others' first blushes of passion, her with wanton, sparkling eyes, maybe from Cupid's arrow or maybe from the candles on the tables.
He steals a few seconds from her beauty to examine the menu. There he looks at the list of rich and global wines, offering him the chance to sample the varieties and textures of nature's most bountiful grape harvest.
Then he raises his eyes to ask the waiter: 'How about a normal beer?' ['Da' o bere normala n-aveti?']
Nevertheless an evening here may make you feel closer to Bucharest's soul, now drained of its old atmosphere. The capital may seem like a good and noble man, but a bit sad and tired of life. Here we can help it smile. Again.
Catalin Paduraru
www.vinexport.info
'Experience' at Vilacrosse Arcade, off Calea Victoriei 16-20