Beginning to see the light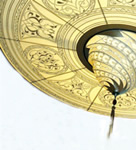 Many of the new Romanian upper class lack guidance when choosing the interior design for their new homes.
Most of the members of the nouveau riche first look at the price of a fitting or object d'art before buying, concerned that they must purchase the most expensive item on the market, rather than one that demonstrates quality, originality or taste.
But a brave importer has banked on a growing Romanian interest in the exquisite, extraordinary and classic. Instyle Design, with boutiques open in both the World Trade Center and off Calea Victoriei, is importing high-class Italian lamps designed by Italian Mariano Fortuny.
Originally sold in the 1920s, the opalescent silk or glass lamps combine oriental and Renaissance influences which can work as either flood-lights for the room, in the corner or as a set. Patterned with floral and geometric motifs, some of the more exotic varieties are created along three tiers and with decorative tassels.
Together with reinventing the lamp in an electrical age, turn of the 20th century designer and inventor Fortuny also created dimmer switches, boat propellers and pleated silk dresses. He counted both dancer Isadora Duncan and Marcel Proust as aficionados, seeing the epic French writer reference his designs in The Remembrance of Things Past.
A family firm in Venice, Venetia Studium, now produces the Fortuny lamps to the original design.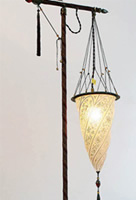 Instyle Design also imports bold and brash hand-made lamp designs from Loreggia-based Pataviumart. In a Maximalist style that can boast the weight of chandeliers, these use Swarovski crystals and antique shapes with glass apple and grape designs from the Venetian island workshop of Murano. Other imports the store will continue to attract include armoires in the style of Louis XIV, but adding to the austere shape a padding of lizard skin in vivid pink.
Prices at Instyle Design for the lamps can range between 500 and 12,000 Euro, but the store is selling the items at the same sale price as in Venice.
This bucks the trend of many luxury shop owners in Bucharest, who hike up the price when imports enter Romania, then wonder why it only takes three months for their store to go bust.
Michael Bird
Instyle Design
Open at World Trade Plaza, Piata
Montreal and 5 Strada George Enescu