Pork industry hit by EU swine fever ruling
Hopes of fattening up the domestic pork industry for export have been set back by an EC decision to vaccinate all the nation's pigs and wild boars
SWINE TIME
Classical Swine Fever is a disease transmitted through direct contact between hogs. In its acute form, five to 15 days after the illness begins, the hog dies by internal haemorrhaging. No treatment is possible. To halt the spread of the disease, all pigs nearby must be slaughtered and incinerated and the farm disinfected for up to six months. In the last 18 months there have been outbreaks in Bulgaria, Croatia and Germany, as well as Romania. It is not lethal to humans.
Every pig and wild boar in Romania faces a swine fever vaccination next year, but the move, backed by the European Commission (EC) and Romanian Government, could set back the pork industry by years.
There were 600 cases of swine fever in Romania this year - in 35 of its 42 counties.
Due to these figures, the EC is assuming the whole country is infected.
"The EU has accepted vaccinations in Romania because it considers swine fever is endemic," says Niculae Lazar, director of Animal Health in the National Sanitary – Veterinary Agency (ANSV). "The disease will not disappear as long as the system in which pigs are bred is not changed."
Some pig farms have not made investments since the 1980s and private hog-owners also do not keep pigs in secure pens. There are also cases of swine fever in open air-fairs – places where pigs can socialise more easily.
"All these are open to the virus," says Lazar.
But this is a tragedy for both small farmers and large meat producers.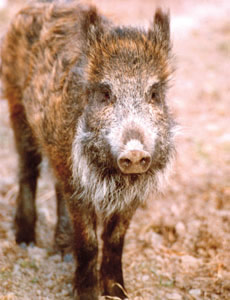 "The idea of vaccinating all pigs is a catastrophe," says Mihai Visan, executive director of the Romanian Meat Association. "Losses are hard to quantify. One thing is certain. Investors in the field will not crowd the Romanian market."
But there will not be an entire ban.
From 1 January 2007, the EC has confirmed that Romania will be able to supply some pig meat products to other EU member states from processing units that are compliant with EC hygiene requirements, but not pigs, pork and certain processed meat.
"In the short term, the programme is likely to result in a wholesale restriction on exports at least until the vaccination campaign is advanced and numbers of outbreaks reduce significantly," said one EC official.
But the Romanian Meat Association wants to export meat from swine fever-free farms or to bring meat in from other countries and then process this in Romania for export. This is a kind of 'lohn' system for pork.
There are also fears for the meat quality due to vaccination. Also during the injections a vet gives a pig a mild dose of swine fever, so succeeding generations of pigs could become immune to the disease.
"Romania's economy is not that strong that small farmers can afford not to grow pigs for a long period of time," says vet Mariana Culea.
The source of the swine fever is also under debate.
"Peasants say swine fever is from the boars," says Lazar. "While foresters say it's from domestic pigs." The number of reported cases of pigs sick with swine fever increased from only one in 2001 to 1,508 in 2005. In wild boars this has grown from two in 2001 to 34 in 2005.
In Romania, vaccines ended in 2003 for private pigs and in January 2006 in pig farms, under EU pressure. The aim was to help the pork industry and hope the disease could disappear.
To be swine fever free, Romania needs to tag all its pigs – something it has done. It must destroy all parts of dead pig that could contain the disease, introduce bio-security measures on all farms and control the transport of pigs. Between 2005 and this year the numbers of cases dropped from 1,500 to 600.
But this was not enough.
Now Romania's 3.8 million backyard pigs and commercial hogs face an injection, but not Romania's 13,000 wild boars. This is because the boars are unlikely to wait in an orderly queue for their jabs. Instead the Government is proposing to airlift food from a helicopter that contains a vaccination and dump this in the boars' habitat, hoping they will eat it.
The vaccination programme, part funded by the EU, will last for 2007.
If six months later no cases of the disease are reported, Romania will be declared swine fever free by June 2008, says Lazar.
Then Romania can think about exporting pork, but no one is holding their breath.
"Tens of millions of Euro has been invested in the past years to reach EU standards, without any possibility of exporting pork products," says Visan. "We have always asked who should be held accountable for this situation, and unfortunately this is nothing more than a rhetorical question."
By Corina Mica and Michael Bird