Transnistrians vote for Russia as fears of conflict grow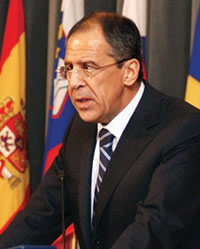 Voters in Moldova's breakaway Transnistria region approved the separatist Government's bid to eventually join Russia, in a referendum unrecognised by the west.
But leaders of the breakaway republic, which has requested more peacekeeping troops from Moscow to add to the 1,200 resident there, reiterated that they have enough military force to counteract any aggression.
The breakaway state said 97.1 per cent of voters chose independence from Moldova, with the goal of joining Russia. Around 79 per cent of eligible voters from the 390,000 strong population voted.
"The Transnistrian people are pinning their hopes for the future firmly on the Russian Federation," said Igor Smirnov, the region's self-declared President.
While Moldovan Foreign Minister Andrei Stratan called the vote "a political farce", the Russian Foreign Minister Sergei Lavrov said it reflected the will of the people.
There are fears the result could embolden the breakaway republic
"Separatists leaders from Tiraspol are likely to use the result to manipulate public opinion and to request from the Republic of Moldova and mediators new and unacceptable conditions," Moldovan political analyst Radu Gorincioi told The Diplomat.
No opposition papers, TV or radio stations operate in Transnistria, argue NGOs. EU groups have said that democratisation is needed for the region before a fair vote could be acknowledged.
One OSCE contact stationed in Chisinau has warned that "the referendum certainly does nothing to advance the settlement process," adding that "tense situations" in Transnistria have "the potential to escalate into locally-confined but violent incidents," as quoted in EU Observer.
Meanwhile, Transnistria is requesting a larger peacekeeping force from Russia for the region. "But if need be we have enough strength on our own to rebuff [an aggression]," Smirnov said, quoted by Itar-Tass.
Lavrov has called for Transnistria to return to talks.
Breakaway regions from Georgia, South Ossetia and Abkhazia, hailed the results: "The choice of Transnistria's population remains immutable," Foreign Minister of the un-recognised South Ossetian Republic, Murat Dzhioyev, told Itar-Tass.
He will now hold a similar referendum in South Ossetia.