Pakistan looks to Romania to help energise growth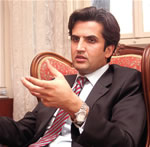 Cooperation between Pakistan and Romania in the energy sector could be further revitalised, according to the Pakistani State Minister for Foreign Affairs, Makhdoom Khusro Bakhtiar on a recent visit to Bucharest.
The Minister also sees trade and investment opportunities in agriculture, IT and textiles.
However, the two developing countries compete in some areas of manufacture and, increasingly, outsourcing from the west.
"Romania is a medium sized economy and has made structural reforms in the financial sector," says Bakhtiar. "It is a more competitive place to do business. There is a lot of political goodwill and a commonality of perspective [between Pakistan and Romania] on international issues."
The two Governments have created an 'enabling environment' on the legis-lative front, says the State Minister, adding: "It's up to the entrepreneurs to take the chance."
Pakistan needs to increase its energy production. The country is boosting its manufacturing capacity and population, expecting its energy needs to increase by ten times by 2025. At present the Asian country has a complex of hydro, thermal, nuclear and gas production.
Bakthiar says there are "huge returns on investment" in the energy sector, of 30 to 50 per cent.
"Romania has a very advanced energy sector in terms of technology and design," says the Minister. "We encourage investment in the energy sector, technology transfer and transfer of know-how."
Five hydro power plants are now being built in Pakistan, while the Minister believes that natural gas and coal resources have huge potential. In energy, Pakistan favours the nuclear option.
Pakistan, the sixth largest country in the world with 166 million people, is one of the leading textile and leather producers. Along with Romania, it has "cost-competitiveness" in the world market, according to Bakhtiar.
To see whether the two countries can be mutually compatible in these sectors, the Pakistani Minister of Textiles intends to visit Romania.
Both countries have a strong IT sector, particularly in human resources. They also create ready-made garments, which could mean competition, especially for outsourcing from the west.
"Some ready made products going into the EU carry import tariffs," says Bakthiar. "The level of duties determines whether it is more profitable to export parts or whole items."
The Minister also sees potential for the sale of Romanian agricultural machinery in Pakistan. "There is zero per cent import duties on agricultural machinery," he says.
He added that he will invite captains of industry from IT, agriculture, textiles and energy from Romania to Pakistan. "We will open the doors and push them inside," says Bakthiar.
Bilateral trade is now about 101 million Euro per annum, 39 million Euro of which is Pakistan to Romania and 62 million Euro in the other direction.
Now the largest trade item from Pakistan to Romania is animal casings, made of mutton or goat intestine, for sausages and salami, for example.
The Minister is at present looking into setting up a bilateral Romania-Pakistan chamber of commerce.
Bakhtiar also hopes that President Basescu will make the trip eastward in the next 12 months.
Michael Bird
---
Population heavy but suspicious news consumers
News is the most popular show on Romanian television, but its level of trust among the people as an independent source of information is low, according to a survey by the Open Society Foundation.
Every day 70 per cent of Romanians watch the television news, far outstripping those who read newspapers by five times.
But most people believe that the media is driven by the interests of politicians, while a large number are sceptical of media independence.
According to the survey, Romanians believe the media overlooks the general inte-rests of society.
Instead, 53 per cent say the media serves the interests of politicians, 45 per cent the interests of the patrons of media, 43 per cent business people and 36 per cent the journalists themselves.
While 83 per cent of Romanians watch television every day, one third do not have access in their locality to a retailer that sells newspapers. Most people watch TV, listen to the radio and read newspapers for information rather than entertainment, says the survey, and from the programmes viewers revisit, 22 per cent are news programmes and 20 per cent family shows.
Information society?
Every day:
83 per cent of Romanians watch TV
70 per cent watch TV news
44 per cent listen to radio
13 per cent read a newspaper
5 per cent read books and magazines
16 per cent have access to the Internet
6 per cent access news through Internet
Location is everything
Most common topics of discussion in Romania
Relatively isolated villages: health and family problems.
Larger, centrally located villages: work, house and school issues.
Cities between 100,000 and 200,000 people: TV programmes and sexual life.
Cities over 200,000 people: politics, social policies and sport.
Open Society Public Opinion Barometer 2006
(survey of 2,000 people)