Gear up:
Basescu tells army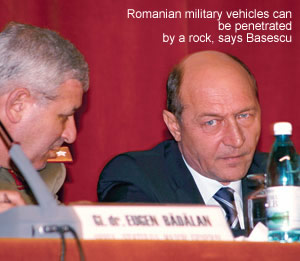 "It is not acceptable that in 2006 we still have troops based in the operation theatres wearing bulletproof vests weighing 16 kilogrammes. I think that it is not acceptable to be in Afghanistan and Iraq with our Aro off-roaders. They are almost wrecks which not only a bullet, but a rock could penetrate."
These are not the treasonous words of a rebel recruit, but those of the commanderin- chief of the Romanian Army himself, President Traian Basescu.
"Even if we had the most brilliant strategic and cooperation programmes, if we neglect the equipment of the soldier we make a big mistake in our priorities," he added at the 2005 analysis of the Ministry of National Defence conference.
The former Navy captain has visited major operation theatres abroad where Romanian soldiers are based, such as in Iraq and Afghanistan, and participated in military exercises in Romanian bases. He has seen how the rot and rust has set in.
Military analyst Radu Tudor agrees that the quality of its equipment is the biggest problem for the Romanian Army.
But Tudor believes Basescu has only scratched the surface of the problem.
"Before new bulletproof vests and off-road vehicles, Romania needs a new battle plane, new transportation planes, serious investment in the creation of special forces, an increased capacity of military intelligence and fast reaction time from mainly the land force."
The Ministry defends itself.
"Indeed, the bulletproof vests are quite heavy, but the heavier the vest is, the better it protects the body," says Major Cristinel Ghiga, spokesperson of the Ministry of National Defence.
"As for the state of the Aros, well... this is the situation."
Regarding the plans of the Army to acquire new equipment, Ghiga says that many of the details regarding this subject are not public, but that new clothes, weapons and transport are constantly bought.
Ghiga mentions that the ministry will replace its MIG planes in three to four years by multi-task planes. Other recent acquisitions of the Romanian Army have been the Lynx infantry battle car, the Bison Romanian tank and the German anti-aircraft defence systems Cheetah and Blizzard. "Many of them are produced in Romania," says Ghiga.
Another problem is the deals themselves.
These are not always transparent nor are they always available for public scrutiny.
Tudor says it is difficult to talk about transparency when it comes to military acquisitions.
"The Army invokes the principle of confidentiality aimed at protecting the national security, but behind this screen there are still many financial arrangements to the damage of the national interest," he adds.
Tudor says that half of the equipment for the Romanian Army is satisfactory, but he also thinks that there is little new gear because most of the programmes have focused on modernising or upgrading the old, Soviet military technology.
Anca Pol