Treasure hunt
Are there any diamonds in the rough? Or are state assets only rust and debt, waiting for the asset strippers to divide and conquer. 'The Diplomat' investigates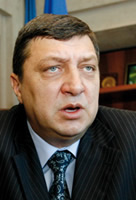 Over 80 per cent of the trading companies in our portfolio, in which the state holds controlling interest, are not attractive. Investors' low interest is caused by the huge debts accrued by some of the companies, the surplus of the available capacity over the real capacity and the scarcity of the working capital."
So says the new boss of the Privatisation Authority (AVAS), Teodor Atanasiu, the man employed to put these companies on the market.
Having spent the last two years as Minister of Defence, where he ordered men into battle and then had to justify the costs, the no-nonsense president is now embarking on his greatest challenge yet: selling the unsellable.
"This is an ambitious plan to launch privatisation procedures for all companies in which we hold majority share packages," he says.
However, not every industry is ready to bite the dust.
There are some credible firms among the 300 companies left in AVAS's portfolio, from which the state holds either minority or majority stakes. The authority has also received a recent windfall. This year AVAS took over the lucrative energy and defence companies from the other Privatisation Office (OPSPI) in the Ministry of Economy and Trade.
"Because of this, we want to launch sale procedures for 62 companies in which we are majority shareholders," he says.
There is also a proposal to allow AVAS to fast-track the sale of minority share packages on the capital markets.
From the letters of interest the authority has received, the president says the most attractive companies in the portfolio are pharma producer Antibiotice Iasi, car maker Daewoo Craiova and petrochemical giant Oltchim Ramnicu Valcea.
There are also the three energy complexes, Turceni, Rovinari and Craiova and power distribution networks.
"There is special interest for firms in the energy field, coming from the world's largest companies," he adds.
"Over 80 per cent of the companies in our portfolio where the state holds a controlling interest are not attractive"
Teodor Atanasiu, president of AVAS
One-stop shop
The European Commission prefers it when only one Government institution manages the privatisation process. But Romania's ministries have been swapping state companies between each other for such a long time it has created its own internal market.
However, AVAS may now become the only broker in the Government.
"It only seems normal that companies and assets under the administration of other ministries or authorities be transferred to our portfolio," Atanasiu says.
Generic drug producer Antibiotice Iasi was last year's "must sale" with an auction due last Autumn. But negotiations ended and the sale was delayed.
"Antibiotice is a company of national interest and we intend to privatise it in the most transparent manner, ensuring equal treatment for all potential bidders," says Atanasiu. AVAS management is selecting the legal and financial advisers for this sale process. The boss says the selection procedure for the financial advisor is "in progress".
Another "almost sold" company is Tractorul Brasov, the tractor manufacturer and key element of Brasov's industrial complex. AVAS was in advanced negotiations with Mahindra & Mahindra (M&M) of India, but nothing happened. "We started negotiations with M&M, but due to Tractorul's huge amount of debts, the process has not been finalised," says Atanasiu.
Now AVAS has helped pass a law suspending the liquidation of the company for six months. This will allow the authority to sell off parts of the company, and for Tractorul to continue functioning. So far the company has gained some interest from firms in Pakistan and Belarus. But as we went to press, Tractorul's general shareholders meeting decided to voluntarily liquidate the company and lay off all personnel.
"Antibiotice Iasi, due to go private last Autumn,
is now selecting a financial advisor for the sale"
Not so pretty
The past months have seen diminished interest from foreign investors in state owned companies in Romania. Except for power distribution firm Electrica Muntenia Sud and Banca Comerciala Romana, which set records for the price a foreign firm would pay for a Romanian state company, there have been few large-scale privatisations since 2004.
Last December, the Ministry of Finance failed to sell the state-owned bank CEC because it did not receive the asking price of 600 million Euro.
This led some analysts to observe that expectations of the Government for the price of its assets may have grown too high. But Atanasiu disagrees that investors have turned off Romania.
"The enactment of the 16 per cent flat tax in 2005 and our country's EU accession will make Romania become one of the most important investment markets in Europe," he says. "But if we discuss companies in AVAS' portfolio, it is obvious that the offer is diminished when compared to ten years ago."
State aid is also banned under EU regulations on competition. This means it is hard for AVAS to cancel state companies' debts. These arrears then become an albatross around a firm's neck. However attractive and efficient the company may be, because of the burden of its debts, no investor will touch it.
"There are less and less laws that grant facilities in paying outstanding debts," he says. From the companies that AVAS had in its portfolio at beginning of this year, half meet the criteria for insolvency.
Report by Corina Mica and Michael Bird
TOP TEN TREATS
Ten of the most interesting companies among the main priorities for sale in 2007 from AVAS's new bigger, brighter and higher-value portfolio.
1. Antibiotice Iasi
Profitable genetic drug firm based in the Moldavian capital. The Government is now choosing a financial consultant for the sale. Canadian and east European firms have reportedly shown an interest, while Britain's GlaxoSmithKline said the sale is not in its "immediate attention".
2. Electroputere Craiova
Power transformer, railway and urban vehicle producer. The firm produces around 3,800 diesel and electric locomotives per year, of which 40 per cent are for export. "This company has been proposed for privatisation and we are waiting for investors' offers until 26 March," says Atanasiu.
3. Branches of electrical power distributor Electrica
(Muntenia Sud, Muntenia Nord, Transilvania Sud, Transilvania Nord)
Italian firm Enel is allegedly interested in Electrica Transilvania Sud, which operates in six counties for more than one million consumers.
4. Energy complexes Turceni, Rovinari and Craiova
In particular, Turceni, Romania's largest power plant, which operates five units of 330 MW each, also has interest from Enel, says Atanasiu.
5. Rulmentul Brasov
Heavily indebted ball-bearing firm that could be broken apart and then sold. AVAS recently rejected the last offer for the firm from a consortium of Industrial Group Bucharest and Uzuc Ploiesti, due to its low price.
6. Rodipet
Leading press distributor with around 30 per cent of the market.
7. IAR Brasov
Helicopter producer with 1,200 workers, operational since 1925. France's Eurocopter has voiced interest.
8. Avioane Craiova
Manufacturer of light attack aircraft and metallic product parts.
9. Romaero
Aerospace part producer and assembler, based in Bucharest.

10. Oltchim
Olt Valley-based chemical producer Oltchim, will be prepared for privatisation this year and in 2008 will transfer into private ownership, if it finds a buyer.

By 1 October this year the privatisation process must begin on all these companies and those for which the privatisation process has begun must be sold by the end of the year.
AVAS is also selling 20 research institutes.
Details of these will be published by 1 August. For the companies that AVAS holds minority share packages, the
authority plans to list these on the Bucharest Stock Exchange by 1 August 2007
What does the state have left?
Romania still has a bunch of profitable companies, some that make massive losses and others that seem to post a profit although it is hard to see how. Other potential delights or freaks for private investors include Otopeni Airport, Tarom airline, Posta Romania and national railway company CFR. Below are some other choice offerings.
Salt company Salrom
Former state monopoly Salrom has seven salt mines producing annually 1.7 million tonnes of industrial and one million tonnes of edible salt.
The company, which exports around one fifth of its products, transferred into the AVAS portfolio at the beginning of 2007.
Salrom, which has 2,250 employees, still works with technology from the 1970s, but is profitable. In 2006 it posted a 50 million turnover and was 1.8 million Euro in the black.
In its salt mine in Praid, Harghita county, Salrom olso receives up to 5,000 tourists daily, claims general manager Marcel Octavian Nicolaescu.
"There have been some technological visits from some investors from Germany and Austria, and we received some letters of intent," says Nicolaescu. "But nothing else happened." Now the company is looking to select a consultant and expects to sell out by the end of 2008.
Nicoleascu claims the firm is 'threatened' by imports from Russia and Ukraine, because these Governments subsidise transport costs, and from imports of sea salt from the Middle East.
"Still," he says, "Romanian salt is much better in quality."

Daewoo Automobile Craiova
Scorned producer of Daewoo cars such as the Matiz and Cielo that fell apart after the collapse of the Korean Daewoo empire when General Motors, which bought Daewoo's vehicle arm, refused to buy the Romanian factory. Some analysts believe it will be hard to sell Daewoo Craiova to a large company such as General Motors and Renault-Nissan, who have staked an interest. One insider in discussions with the major car firms stated the multinationals were only showing a "gentle interest".
The assets could be sold to the Indians or the Chinese because these two economic powerhouses are looking for the cheapest industrial market to gain leverage in the EU. "Indians come and buy up quite cheaply to have a foothold in the EU, the Chinese could do the same," says Markus Piuk, managing partner of law firm Schoenherr. "They may be rather more willing to pay some premium."
Electricity producer Hidroelectrica
"Hidroelectrica is a gold mine," says Piuk. The hydroelectric company, which is a highly cost-efficient industry in a high-demand sector, has few construction costs left. But it would be hard to sell, he argues, because of debates over whether private companies had the right to administer the water which powers the energy. Both are often seen as assets of the public. "The question is: is the Government willing to give up control?" he asks.
Government land
There are many state properties in key central areas of Bucharest which could find a buyer. This includes military land owned by the Ministry of Defence and areas around transport hubs owned by the Ministry of Transport. Piuk points out a lot of dead land around the main train station Gara de Nord which could find a buyer because the areas lie close to the centre of town.
This would be a quick buck for the Government – but much better in the long term for the authorities could be leasing the land somehow.
Printing house Coressi
Last year, Atanasiu's predecessor, Razvan Orasanu, told The Diplomat AVAS would receive Coressi printing house, which includes half of elephantine Soviet powerhouse
Casa Presei Libere, a crumbling classic piece of Communist kitsch on some of the costliest land in town.
But this has not happened. Coressi is still in the hands of the Ministry of Culture and no decision has been made on where it should go or whether it should be up for sale.
This decision is up to the Government at large.