Property of the month: Quiet surprise on the back streets of the centre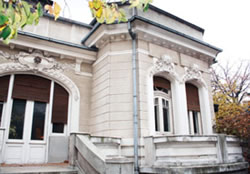 PIATA GEMENI This detached Inter-war villa with over six bedrooms and a driveway overhung by vines is ready for sale for 2.2 million Euro.
Set on the leafy back streets of Bulevard Dacia in a central and quiet location, this was first constructed in 1920 for the Governor of the National Bank of Romania and offers some intriguing features.
During the late 1940s, the proprietor kept the house in his family, where it avoided nationalisation, before being sold to the present owner in 1986.
The property is set over 740 sqm land and 500 sqm built land, with terraces at the front and side.
At the entrance there is a circular atrium and an original stained glass window, plus unique ceramic heating systems from the turn of the century, which now act as decorative features.
Inside, the construction is secure, the property is centrally-heated, but a new owner will need to change the wallpaper and repaint the interiors. However, only superficial changes inside and out are necessary.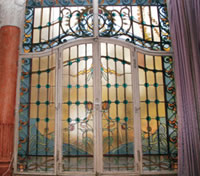 On the ground floor are three reception rooms and two bedrooms. The basement has a cold cupboard and large storage rooms. Upstairs are two bedrooms and a large and spacious attic with at least two further bedrooms. Although further modernisation may be necessary to make the attic habitable. There are also two bathrooms and space for two kitchens, which means the property could be broken up into two or three apartments.
Also constructed in the building is a "secret" room only accessible from the roof. This has been kept isolated for decades and offers a mysterious surprise for the new owner.
For more information call Marian Savu at Media City Real Estate on 0743 066 466 or
021 310 0399
---
Ex-deputy Prime Minister plans to tower over capital with megastructure
CROWNE PLAZA Ex-deputy Prime Minister and owner of Ana Holding Group, Gheorghe Copos, has confirmed that he plans to build a 27-floor tower near the Crowne Plaza hotel, in what could be the tallest building in Bucharest. With 23,000 sqm of parking places, the construction will be built over 37,000 sqm surface near the hotel, which he also owns.
The 60 million Euro project has a deadline of 2010 to be ready, Copos tells The Diplomat.
By 2013 Ana Holding intends to invest 200 million Euro in the real estate sector, including in residential buildings.
In tourism, Ana Holding, which currently owns seven hotels, intends to buy another hotel in Bucharest and will modernise its hotels in Poiana Brasov.
---
South continues to catch mall fever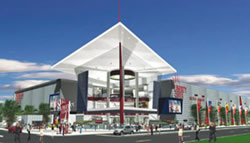 RAHOVA Northern Irish developer Mivan is investing 70 million Euro in a mall in Bucharest, with an ice rink and multi screen cinema, scheduled for completion in Autumn 2008.
The mall will be situated in the south of Bucharest, at the junction between Calea Rahovei and Str Progresului.
This is equidistant between the existing City Mall, which has opened a new cinema, and the 165 million Euro Cotroceni Mall development on Blvd Timisoara, which plans to have a 20-screen cinema plus an IMAX screen. The mall will consist of 25,000 sqm of rentable spaces on three levels, 100 shops and 700 underground parking spaces.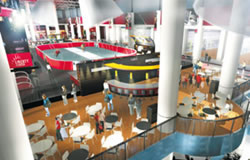 Liberty Center will also comprise a supermarket, coffee shops, restaurants, six screens and an ice-skating rink.
Mivan will invest a total of 750 million Euro in residential and commercial projects in the next three of four years. At present, the company is building an 85 million Euro residential complex, dubbed New Town Residence, on Strada Dristorului, near the Dristor Metro.
---
High class British fantasy for north Bucharest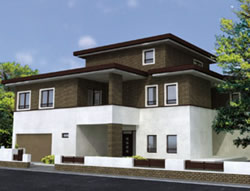 PIPERA British developer Willbrook Management is building a 165 million Euro high class residential complex on Sos Pipera Tunari, next to the American School.
'Oxford Gardens' has an area of 25 ha that will comprise, in the first stage, 200 villas with built areas ranging from 350 to 650 sqm. The villas will be sold starting September 2007 with prices between 500,000 and 1.5 million Euro. The project will also have a private club, 'Clubul Oxford', with more than 6,000 sqm, in an investment of ten million Euro, with a spa, aromatherapy, Turkish bath, fitness and beauty centres, restaurants and coffee shops.
For kids there will also be a one hectare adventure park with an Athurian theme. 'The Kingdom of Camelot' will be a small medieval universe, with 12 medieval castles, where kids can play with dragons, princesses and the knights of the Round Table.
---
Property: BUCHAREST
MIHAI BRAVU - Israeli developer Platinum Group is investing 35 million Euro in a new residential complex destined for the middle class with prices under 1,000 Euro per sqm. Vitan Platinum Towers will be built between the intersections of Str Penes Curcanul and Sos Mihai Bravu, comprising four block of flats and a total built surface of 30,000 sqm. The project will deliver a total of 300 apartments with two, three and four rooms with prices range between 50,000 and 150,000 Euro without VAT. Two buildings will be finished in September 2008 and the remaining two in March 2009.
CHITILA - Romanian developer Tiriac Imobiliare and German developer LEG are investing 70 million Euro in a residential neighbourhood on 14 Str Banatului, Chitila, northwest Bucharest. The German-style neighbourhood 'Rezidenz Cartierul German' will include 48 buildings of three, four and five stories delivering 480 apartments with two to four rooms and penthouses. It will include 320 underground garages and 338 surface parking lots, shopping centre and an artificial lake. Developers estimate the first stage will be ready by December 2007 and the entire project is scheduled for completion in 2009. The group is also working on a mixed commercial and residential project in Timisoara, with Spanish-based Riofisa and another mixed project in Brasov.
PIPERA - Romanian developer Flavia Impex, Rotary Construct and SPA Inovations are building a 11 million Euro residential complex in the Iancu Nicolae neighbourhood, Pipera scheduled for completion in December 2007. The works on 'Insieme Rezidentiale' started in October. The project will stretch over a total of 4,910 sqm delivering two ten-floor blocks of flats with 28 apartments each and a three floor central block with seven apartments. Prices range between 115,000 and 250,000 Euro. There will also be 116 parking spaces, a fitness centre and sauna.
ROMEXPO - World Trade Center Bucharest plans to invest 14 million Euro in 2007 to erect a two-stars hotel in northern Bucharest, close to the Romexpo exhibition centre, said president Mircea Ursache. He added the hotel will feature a swimming pool and will target people that take part in exhibitions organised by Romexpo.
Property: Romania at large
SELIMBAR - SIBIU Belgian firm BelRom is kicking off an investment plan worth half a billion Euro with the opening a retail park on the national road between Sibiu and Brasov. The European Retailpark includes the Promenada Mall Shopping Center, with 85 shops, Media Galaxy, hypermarket Real, DIY store Baumax and in May 2007 a furniture store Mobilia Center. The park is set over 55,377 sqm with parking for 1,500 in a 50 million Euro investment. BelRom also plans to open retail parks in Targu Mures, Bacau, Deva and Braila in investments worth 500 million Euro.
CORBEANCA - Bucharest-based real estate investor and developer Vision Holdings aims to start building, by mid-2007, a 37 million Euro residential complex of 344 homes for the upper middle class in Corbeanca, Ilfov county. "We are currently in the process of completing the financing aspects," said Vision Holdings executive director Richard Joannides. With a total area of 160,000 sqm, the average built surface of each home is 180 square metres and prices per home will be in the region of 160,000 to 200,000 Euro.
OLIMP - Romanian firm 'Real Estate Developments' is investing 11 million Euro in a new residential complex on the Romanian Black Sea coast in Olimp. 'Sara Sea View' will consist of 128 apartments with surfaces ranging from 90 to 200 sqm for a price of 800 Euro per sqm plus VAT and a private park of 5,000 sqm. The villas are positioned a "few minutes" from the sea. The complex was designed by Simtech Pro and is being built by Turkish construction company Synergy Construct. The works started this year in November and are scheduled for completion in the middle of 2008.
PLOIESTI - Furniture retailer Elvila is going to open a store in Ploiesti on a 5,000 sqm surface in a four million Euro investment, the firm's president Viorel Catarama told The Diplomat. The company has bought the land and will start construction for an opening deadline of November 2007. Today Elvila has 53 stores in Romania and intends to open 100 by 2009. Bucharest will also see two more Elvilas to add to the two currently open.