Property of the month
Monster mansion from the roaring twenties
DOROBANTI With few massive dwellings left in the centre of town, one exception is this enormous 48-room residence located in the exclusive northern sector of the capital and selling for a not-modest 15 million Euro from real estate agency Stentor.
Currently serving as the residence for the Finnish Ambassador, the 1927-built villa is suitable as a residence for a wealthy individual with a passion for hosting parties, or an Embassy, due to the seven-metre distance between the entrance and road.
Dorobanti survived the worst excesses of the Communist era and this house is situated in a quiet, safe and leafy areas that recall the golden age of Romania.
The grand villa stands out from the crowd due to its sheer side and the Brancovenesque style that has been kept almost intact since its inception.
Built on 1,000 sqm of land and with a total built surface of 1,000 sqm the house has a basement, ground floor and two upper floors. It is surrounded by the original hand-forged iron fence from 1927, but unfortunately the recent paintwork has obscured many of the classic engravings.
From outside, the first thing that catches the eye are the large balconies engraved with traditional Fanariot motifs and the original oak door.
Since Communism, the property has been renovated in concrete and steel, without damaging the original appearance. The roof, windows, pipes and heating have also been repaired, so it now offers modern comforts.
Inside there are large rooms and a 160 sqm reception room, plus a 40 sqm king size bedroom. On the second floor are three separate apartments with their own living rooms.
The house features three entrances including one for the servants and a small guest house above one of the garages.
For more information call Stentor Real Estate on 021 211 0657 or visit www.casadelux.ro
---
Shopping mall aims to brighten up south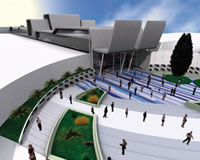 PIATA SUDULUI Calling itself the largest shopping mall in Romania, Sun Plaza is due to open in the south of Bucharest in Spring 2008 for a middle-class consumer profile.
The centre will also act as an apex for further residential or office developments.
Developed by EMCT Romania and designed by Chapman Taylor, the project will be financed by 100 million Euro from the real estate investment arm of Austrian Erste Bank, Sparkassen Immobilien. This could increase by 50 per cent through the future residential and office developments.
"[After 2008] we will consider developing further residential and office buildings, but no precise time frame can be announced," said Aura Voiculescu, communications director for EMCT Romania.
The plaza has 208,000 sqm built area, with 76,000 sqm available for rent, from which 60 per cent has already been leased.
Loctated two kilometres from the shopping centre City Mall on Sura Mare and four kilometres from Bucuresti Mall on Calea Vitan, Sun Plaza is next to Piata Sudului Metro station.
The centre aims to differentiate from the competition by offering a larger variety of shopping and entertainment in one place.
This includes a hypermarket (Cora), DIY store (Baumax), furniture store (Mobexpert), white and brown goods store, department store, 15-screen multiplex cinema and around 170 shops and restaurants."We are targeting branded retailers, both newcomers to the Romanian market and already established brands," adds Voiculescu.
There will also be a fitness centre, casino, video arcades, children playgrounds and green leisure areas. A giant screen at the Piata Sudului entrance will be used for public events and concerts. There will also be parking spaces for 2,000 cars.
---
Lakeside houses due for north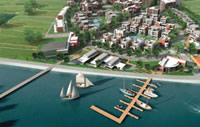 LACUL GRIVITA Greek developer Technical Olympic is investing 100 million Euro in a residential park on 110,000 sqm located in the north of Bucharest on Soseaua Gheorghe Ionescu Sisesti.
'Green Lake Residences' is situated on the shores of Lacul Grivita and includes 545 houses and apartments in 17 residence styles, starting with 79 single family villas and ending with 466 apartments in apartment buildings.
Facilities will include a yachting club, tennis courts, fitness centres, shops, kindergarten and restaurant.
The completion of the first phase is expected to be during the autumn of 2008 and will comprise 39 villas with areas between 262 sqm and 407 sqm and 118 apartments of surfaces ranging between 57 and 163 sqm.
The total investment for the first phase is 40 million Euro.
---
Property: BUCHAREST
PIPERA TUNARI Spanish real estate developer Ibiza is building a 68 million residential compound situated in the area of Pipera Tunari, near the Baneasa forest and scheduled for completion in 2008. The 38,000 sqm complex, called Ibiza Sol, will comprise 14 blocks of flats delivering 270 apartments for the upper middle class, two swimming pools, mini-golf course, leisure centre and kindergarten.
PIATA UNIRII Lithuanian developer Europa Group intends to renovate a four star 65-room hotel on Piata Unirii called Europa Royale near the Hanul lui Manuc hotel. This will open in spring 2007 and will include a parking for 35 cars, a restaurant, fitness centre, sauna and boutiques. Europa Group is currently investing 18 million Euro in a residential complex close to Parcul Carol, 'City Center', south of Blvd Unirii and scheduled for completion in October 2007. The developer intends to build another 450 apartments totaling almost 85,000 sqm in Bucharest by 2010. At this moment the Lithuanians are involved in residential projects on Splaiul Independentei delivering 311 apartments and on Str Popa Tatu with 53 apartments.
PIATA PRESEI LIBERE Developer Omega Proiect is investing three million Euro in a new block of flats near Romexpo and Piata Presei Libere. On a total built surface of 3,082 sqm, Jiului Residence will deliver 28 apartments with surfaces between 56 and 267 sqm, two parking lots delivering 28 spaces and will be completed in December 2007. The price per sqm is 1,400 Euro, but the first six apartments will be sold with a 15 per cent discount at 1,200 Euro per sqm.
EROILOR Elbit Medical Imaging is set to embark on the massive Casa Radio real estate project in Bucharest. The company, controlled by businessman Mordechai Zisser, has purchased 75 per cent of the 360,000 sqm project from a Turkish company, where it plans to build a commercial centre including a five-star hotel, offices and entertainments. The company will initially invest over 30 million Euro in the almost 400 million Euro project. The Romanian Government owns 15 per cent of the project.
---
Property: Romania at large
BLVD TOMIS, CONSTANTA Tomis Development is building a 40 million Euro residential project on a surface of 128,000 sqm on Blvd Tomis, Constanta. Called 'Tomis Plus', this will include a total of 584 housings, 448 apartments and 136 villas with prices ranging from 780 and 930 Euro per sqm for the apartments and 650 to 750 Euro per sqm for the villas - plus 168 Euro per sqm for the land. The project also includes 600 parking spaces for the underground lot (priced at 8,000 Euro) and for the surface space (priced at 4,000 Euro), a restaurant, a pool, a fitness club, kindergarten, two green spaces, banks, pharmacy and supermarket.
CALEA BUCURESTI, BRASOV Irish developer Ravensdale Investments is building a 35 million business centre in Brasov on Calea Bucuresti, Canam area. The 50,000 sqm project will include class A office space, conference halls, retail areas, a four star hotel and 400 parking spaces. The project will be built in two stages scheduled for completion by the end of 2008 and middle of 2009 respectively.
GILAU Developer Intercad Grup is investing ten million Euro in a 12 hectare residential complex in Gilau, a town near Cluj-Napoca. Gilau Vest compound will have 150 houses with surfaces ranging between 90 and 240 sqm of 500 Euro per sqm plus VAT. The project will also have a leisure and retail zone comprising a motel, restaurant, fitness centre, indoor pool, children's playground, tennis courts, pharmacy and supermarket. The construction of Gilau Vest will begin in April 2007. The first stage will deliver 80 houses and is scheduled for completion in November 2007 and the second and final stage will be ready in November 2008.
SATU MARE Local company Gepeto will invest 2.5 million Euro in a residential project in the centre of Satu Mare, according to Ziarul Financiar. The project, scheduled to start next year will be developed on a surface of 3,200 sqm and will include six block of flats, comprising studios, two and three room apartments.