Property of the month:
Playboy royal's love nest craves a tender touch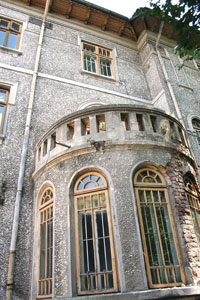 FOISORUL DE FOC With a history as an alledged love nest for a King and a warehouse for Communism, this classic 1920s building is now up for sale for two million Euro from Perfect Casa.
Built in 1926 by architect Gheorghe Dimescu, this New Romanian Style villa reputedly served as a palace of recreation for playboy King Carol II and his mistress, the ex-wife of an army officer Elena Lupescu. Forced out of the country by Marshall Ion Antonescu in 1940, Karol settled in Portugal, living off money earned from selling his family's paintings. He eventually married Ms Lupescu in 1947.
During Communism, the detached villa was used as a warehouse for storage and the authorities forced the owners to live in the basement. Consequently, it served as a library for sheet music and an office for citizens to pay taxes.
Now, part of the national patrimony, if renovated, the villa could be ideal as a residence, company seat or embassy.
The villa is situated near the old fire-tower in the east Central part of Bucharest, Foisorul de Foc on Strada Pache Protopopescu.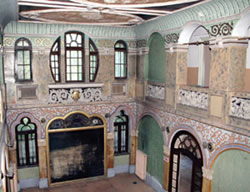 Unique among its neighbouring buildings, this is divided on a semi-basement, ground floor, two floors and attic. The construction also has two balconies, two terraces and a garage for one car.
The built surface area is 1,000 sqm and usable area of 800 sqm.
The architecture and style has remained since the classic Romanian period of design. But the building needs serious reconditioning in its roof, plumbing and central heating.
In its heyday, the villa had 36 rooms, a billiard room, office and a ballroom.
Another national patrimony feature of this villa is one of only two of the original German boiler 'Buderus' systems from 1926 in Europe, frescoes and massive sculptured wood doors carved by Brumarescu.
For more information call Perfect Casa
on 0724 250 954
---
East Bucharest sees residential boom continue
TITAN Spanish developer Hercesa plans to invest 72 million Euro in a residential complex in Titan on the site of a former bakery.
The Basarabia complex will host nine blocks of flats of 11 and 14 storeys with a total built area of 180,000 sqm, delivering 1,500 apartments with surfaces ranging from 70 to 150 sqm.
Besides the residential area, the complex will offer a retail area and park. The first stage of the complex comprising 240 apartments is scheduled for completion by the end of 2008. The firm hopes to obtain a construction license by the end of November.
Hercesa has also purchased land in west Bucharest, where it intends to build a 45,000 sqm residential project delivering 800 apartments that will reach a total investment of 40 million Euro, targeting medium and low revenue clients.
In addition Hercesa is redeveloping the former 100-year old Hotel Cismigiu on Blvd Regina Elisabeta.
---
Further towers set for Dristor district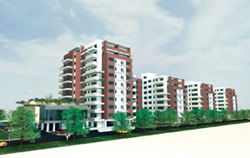 STR DRISTORULUI Developer Mivan is investing 85 million Euro in a ten-block residential project in southeastern Bucharest, close to Bucuresti Mall on 91, Str Dristorului.
The first phase of New Town Residence will be ready in the first quarter of 2008.
Four of the blocks will have ground floor plus five upper levels.
The remaining six will have ground floor plus 12 upper levels. There will also be two landscaped courtyards, two-level underground car parking, spaces for shops, a kindergarten and a fitness club, plus 24-hour security.
---
Block party close to American School
STRADA PIPERA-TUNARI Developer Ferco Investments is building a 35 million Euro residential project on Strada Pipera-Tunari road, close to the American School.
Liziera Residence will have four blocks of flats with a total built area of 52,000 sqm and will deliver 176 apartments of one, two and three bedrooms, nine duplex apartments and a penthouse.
Prices for the properties will range between 1,200 and 1,450 Euro per sqm without VAT. The complex will also have an underground parking of 267 spaces, a retail centre, fitness club and playgrounds.
The constructions will start this autumn and finish by the end of 2007.
---
PROPERTY BUCHAREST
STRADA IACOB FELIX Italian real estate developer and investor Cefin has acquired an office building on Strada Iacob Felix in Piata Victoriei, next to American House, for about 6.5 million Euro. It comprises 4,100 sqm of gross area spread over basement, ground floor and six upper floors and has 3,200 sqm of rentable area.
LACUL TEI Turkish construction company Summa is investing 48 million Euro in a residential project located near Lacul Tei. Emerald Residences will be developed on a total surface of 15,000 sqm and will deliver 279 apartments with prices ranging between 1,200 and 1,700 per sqm. The project will be finished by February 2008.
STRADA BUZESTI Austrian developer Immoconsult is building two class A office buildings, including a nine-storey building located on Strada Buzesti, which will have a total built area of 11,000 sqm and will be completed by 2008. The second plan is for a 15-storey building, Bucharest Office Solution (BOS) on Strada Iacob Felix nr 66-69, with a total built surface of 14,200 sqm, a rentable area of 8,600 sqm, a three level underground parking to be completed by November 2007.
PIATA UNIRII Tulcea-based developer Baron Service is building a 2.5 million Euro four star hotel of 5,000 sqm and 11 floors in Piata Unirii on Blvd IC Bratianu. The 100 room hotel is scheduled for completion towards the end of 2008.
PARCUL HERESTRAU Zare Development is building a 1.4 million Euro project delivering 19 apartments for the middle class situated two kilometres from Piata Presei Liberei. Nuferilor Residence will have a total built surface of 1,500 sqm, a ground floor, three levels of 300 sqm, a attic of 180 sqm and underground parking for 16 cars. The first apartments will be sold at a promotional price of 900 - 1,000 Euro per sqm and the entire project will be finished in December 2007.
---
PROPERTY ROMANIA AT LARGE
MARASTI, CLUJ-NAPOCA Real estate investment fund and consultancy company Nervia is planning a shopping centre in the Marasti district of Cluj-Napoca, and is currently looking for investors. The company owns the land and has a design for the project. The existing design is for a multifunctional centre, with two office buildings, two hotels, and a shopping centre stretching over 24,000 sqm at a cost of 35 million Euro.
CONSTANTA HIGHWAY Development company Impact will build a residential compound on the outskirts of the Constanta-Bucharest highway, close to the Boreal villa project. Named Zenit, will be developed on a total surface of 81,000 sqm and will deliver 125 villas and 528 apartments. This will be ready in 2008.
BRASOV British investment fund Dawnay Day Carpathian has purchased Brasov-based shopping centre Macro Mall, for 19 million Euro. The centre was opened in December 2005 and has a net letable area of 7,868 sqm and 350 parking spaces. Macro Mall has approximately 82 tenants with an average rent of 16 Euro per sqm.
CORBEANCA Developer Standpoint Invest is building a six million Euro, 18,000 sqm residential project in Corbeanca. Northpoint Residence comprises 20 villas with built surfaces ranging between 205 and 235 sqm and a block of flats with 15 apartments of two, three and four rooms, plus two penthouses. According to the project's agents, Regatta, the 750 Euro price per sqm are among the lowest on the market. The villas are scheduled for completion in April 2007 and the block of flats in August the same year.
SIBIU Local mixed interest company Balanta will invest 23.5 million Euro in two hotels, a shopping centre and five showrooms in Sibiu, according to Ziarul Financiar. The first hotel 'Hotel Libra' will require an investment of 3.5 million Euro and will comprise 70 rooms, two conference rooms, a restaurant, fitness rooms and a pool. The second project will involve a shopping centre, another hotel and five showrooms that will reach a total investment of 20 million Euro.