Classic villa with star quality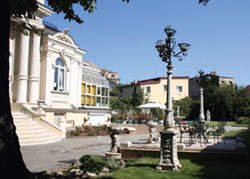 UNIRII This impressive fully-furnished baroque villa, which has been a temporary home to Hollywood film stars, is up for sale for 3.9 million Euro from real estate firm Imobiliar Expert Grup.
Built in 1830, the villa was bought and restored in 1996 by the new owner.
Since then it has been rented by action star Wesley Snipes - who hired it last year to celebrate his birthday. Jean Claude Van Damme and Steven Seagal were also guests of the house while filming in Romania.
The land surface is 1,200 sqm and the built surface is 800 sqm featuring a basement, a ground floor, inhabitable attic, green-house and garage for two cars.
The current owner, an architect, has brought a strong sense of detail and authenticity to the interior.
This includes massive engraved wooded doors and painted ceilings, combined with antique furniture, marble statuettes and oil paintings, together creating a luxurious atmosphere.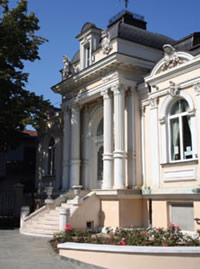 The villa has ten rooms, three spacious bathrooms, two kitchens and full central heating.
The single most impressive feature is a large garden, which is a very rare sight in this part of the city. The clean and modern look of the grass and swimming pool are combined harmoniously with the marble statuettes and the fountain. The flowers, turf and small trees were imported from Germany and are maintained by an automatic sprinkler system – which also uses German engineering.
This property is a beautiful mixture between classic architecture and modern style and technology that make it attractive for buyers who are willing to live in a historical house - but do not want to sacrifice comfort.
For more information, call Imobiliar Expert Grup on: 0742 102 309
---
Another four-star hotel boosts Calea Victoriei revival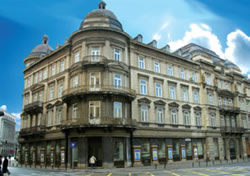 REGINA ELISABETA BLVD Hotel Bulevard is in the process of rehabilitation and transformation into a four-star hotel by Niro Group. Work started in June this year and will be finished by 2007. Niro Group will invest eight million Euro in the project and, once this is finished, the firm intends to unite with an international hotel chain. The hotel complex will also include a business centre, a retail gallery, restuarants and bars. A four-star Novotel has also opened close to Hotel Bulevard on Calea Victoriei, where there is also ongoing development of the four-star Hotel Bucuresti.
---
Pipera sees building development triplets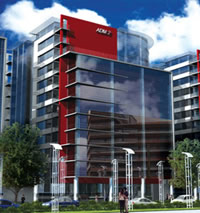 SOSEAUA PIPERA American Developer Adama is investing 31 million Euro in a A class office building on Soseaua Pipera.
Pipera Business Center will have 31,000 sqm of space in three connected buildings, with one underground parking place per 60 sqm of offices.
The first building will be completed in 2008 and the entire project by 2010. Construction firm Delta, who is also an equity partner, will build the centre.
---
Residential peninsula project due for November start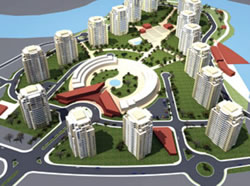 COLENTINA Israeli developer Neocity Group is investing 300 million Euro in a 16-block residential complex on an urban peninsula in Bucharest.
NeoPeninsula is located in the east of the city between the Colentina river and Fundeni lake.
The construction will start in November 2006 and the first two 16 floor towers will be completed by the middle of 2008.
The project will be built on a surface of 14,000 sqm. The 16 towers have 14 to 24 floors, 2,700 apartments and 50,000 sqm of green space including a park, playgrounds, covered parking spaces, retailers and leisure spaces. Other facilities include a swimming pool, tennis courts, football pitch and basketball court, sports centre, restaurants, aquatic club and kindergarten.
---
Property: Bucharest
STRADA DRISTORULUI Northern Irish developer Mivan Development is pouring 85 million Euro into a new residential complex dubbed New Town Residence on Strada Dristorului, near the Dristor Metro. Phase one of the development is due for completion by the end of 2007 and phase two in 2008. In each phase there will be two buildings of ground floor plus five upper floors and three of ground floor plus 12 floors, plus a retail area, kindergarten and fitness club.
BLVD TIMISOARA Developers Africa-Israel Europe and New Century Holdings plan to invest 165 million Euro in a real estate project of 120,000 sqm on Blvd Timisoara, according to Ziarul Financiar. The project will comprise a mall and five office buildings, all scheduled for completion in 2008. Cotroceni Mall will have a built surface of 170,000 sqm and a rentable area of 60,000 sqm. The investment for this project will be 100 million Euro. The next project will deliver 24,000 sqm of commercial spaces from which 20,000 will be for rent. The five office buildings will have 12,000 sqm each and will need an investment of 50 million Euro.
BLVD CAROL British investors European Convergence Property Company, administrated by Charlemagne Capital, bought the 19-floor Class A office building Millennium Business Center for 40 million Euro from owners Antonis Kapraras and Greek company Euroestate. Main tenants of the property include the World Bank and Transelectrica.
BLVD FERDINAND American developer Adama is building a ten million Euro luxury apartment building on Blvd Ferdinand, east central Bucharest scheduled for completion in 2008. The project will provide 85 apartments with surfaces ranging between 60 and 120 sqm and prices of 1,500 Euro per sqm plus VAT. Constructed to blend in with the surroundings of the historic villas on the lower floor, the project is built by general contractor Avivim Gonen, who is also equity partner, and is designed by Adest Consulting Architects.
OBOR Sector 2 City Hall intends to transform Obor Market into a commercial centre over 140,000 sqm in a private-public partnership. The 117 million Euro investment will need support from one of the four developers who have shown interest in investing, according to Sector 2 officials, Anchor Grup, ECE Projektmanagement, Obor Plaza and a consortium between Baneasa Investments, Comnord and Procema. The winning developer will be announced on 25 September.
---
Property: Romania at large
MECANICA STADIUM, ALBA IULIA Mall Alba and the Alba Iulia Local Council are investing ten million Euro in a 38,237 sqm mall near the Mecanica Stadium in Alba Iulia. The new mall will comprise a shopping centre, cinema, restaurants, conference rooms, playgrounds and parking spaces and will be finished in 2007. The mall is already 80 per cent rented, according to the developers.
CONSTANTA Israeli developers Engel will invest 80 million Euro in a residential project in Constanta, comprising 500 apartments and commercial spaces. The apartments will be built by Engel East Europe, part of Engel Europe over a surface area of 50,000 sqm.
SISETI, STRAULESTI Karol Group and Consstar Construct are building an eight million Euro residential complex in Straulesti's Sisesti area, north of Bucharest. The Phoenix project will consist of four blocks offering 50 apartments with three and four rooms, each over a surface of between 91 and 126 sqm. The price will be 900 Euro per sqm plus VAT. The project aims to be completed by March 2007.
CORBEANCA LAKE British Company Marr Capital, part of international Marr Group, is building a 25 million residential complex of 100 villas on 7.54 hectares of land in Corbeanca, according to real estate agent Eurisko. 'Corbeanca Forest' will comprise two types of villas, with built surfaces ranging between 220 and 294 sqm, and terrain surfaces between 500 and 700 sqm. The price per square metre is 850 Euro plus VAT. Construction is by Opal Consulting and the architects are CenterPoint. The development will edge alongside 420 metres of forest. The construction will develop in three stages: the first ready in March 2007, the second in September and the third in March 2008.
TIMISOARA Timisoara's West University plans to build a new university campus, valued at almost 40 million Euro, said Timis County Council officials. The new campus will be located on a seven-hectare area in central Timisoara, and will also include an open-air theatre, libraries, a 'teachers' club', cultural centres, stores and parking places.