Pre-war palace hits market
Property of the Month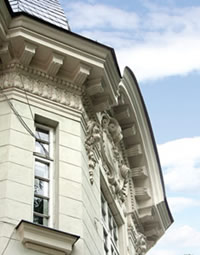 PIATA ROMANA Five minutes walk from Piata Romana, this art nouveau building is now available for sale or for rent by real estate agency Perfect Casa, and could be used as a company HQ or residence.
Designed in 1912, the property is in need of large scale renovation which could take place as part of a rental or buying deal. The price to purchase is 3.5 million Euro or to rent at 17,000 Euro per month.
The first owners were doctors related to the Ghica family. Under Communism, the villa was confiscated and since became the residence for the Italian Embassy and Hungarian Consulate.
The building is divided upon a semi-basement and two floors with a spacious attic which an owner can convert into a mansard. The total built area is 1,010 sqm and the usable space 870 sqm. The villa has 13 rooms, six of which are very spacious.
In the semi-basement there are four rooms, on the ground floor five, on the first floor six rooms, and the attic has two rooms.
Its yard has a total area of 596 sqm and a courtyard of 318 sqm.
Special elements include the wooden staircase, doors with crystal windows and an original fireplace from 1912.
The building also has a double garage and five entry points.
For more information call: Perfect Casa 0724 205 953 or 021 224 5520
---
Residential tower block due near student city
STR FABRICII, POLITEHNICA Romanian developer Conarg Real Estate is constructing a five-building residential tower-block compound near the city of student dormitories and the botanical gardens, aimed at young middle class families. The 35 million Euro investment, comprising 343 apartments, contains buildings between six and 11 storeys with a delivery time for October 2007. The costs for flats of one to four-rooms and penthouses vary between 900 and 1,000 Euro per sqm without VAT. More than 20 per cent of the offer has been sold, according to Alina Calciu, project sales manager with real estate agents for the project, Eurisko.
---
American developer opts for residential project in Titan
ALEEA CODRII NEAMTULUI American developers Adama and Romanian company Future Group are investing 60 million Euro in a new residential complex in Titan. The 'Edenia' project will consist of 798 apartments in seven, 11-floor buildings and will be built in three stages. The entire project should be ready for 2008.
The complex will also provide its inhabitants with commercial and recreation facilities like a supermarket, coffee shop, kindergarten, fitness gym, dry cleaners and two levels of underground parking. There will be one, two, three and four rooms apartments available with prices ranging between 40,000 and 200,000 Euro plus VAT.
---
Buying a Communist era flat: is it worth it?
Demand for housing in Bucharest is high and supply is low, so is it worth going Communist for a house investment, asks Mihai Alexandrescu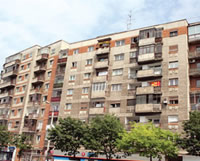 Bucharest is getting crowded. There is a stronger rural to urban migration for university and work, and housing is in major demand.
In the capital, 40,000 people will need new homes in the next two to three years, but only 10,000 can afford the purchase price.
Developers are also concentrating on the demands of the high class first and are slowly developing projects for the middle class, yet few are looking at social housing for the lower class.
Speculations on the real estate market and impending EU ascension means apartment prices are rising, so investors are still looking at apartments made between 1945 and 1990.
"One reason is because less than 50 per cent of the new residential construction projects are finished," said Ionut Bordei, residential asset manager at Eurisko.
But buying a Communist era flat often comes with problems: small rooms, old pipes, thin walls, decrepit roofing and insulation and a communal energy system, which means individuals do not always have control over central heating.
Romania skipped a generation of high class architecture during Communism because the main demands were for basic shelter for migrant workers from the countryside during the rapid industrialisation that began in the 1950s. Often these flats are not practical, attractive or pleasant to live in. "People buy them because of necessity," says David Howe, investment consultant for Investment Romania.
"I think the most common problem found in Communist era flats is the lack of homogeneity between the inhabitants," says Bogdan Georgescu, managing partner with Colliers International. "When it comes to restoration, some people have money, some don't. They come from different social classes and that could be an impediment."
This leads to a disparity of quality over an entire block.
So – is it worth the bother? Robert Teodorescu, director of sales at Regatta, is not so sure.
"At this time, the price difference between old and new apartments is low, that's why it is better to buy a new apartment. The future belongs to private developments," he says.
But when a new apartment situated in residential area could cost even 2,500 Euro per sqm, old apartments may still be the only present alternative for the middle and the working class.
Red alternative: Advice to investors
Communist-era flats may not offer a high return for a big investor, but for those looking to buy a flat for necessity in Bucharest, with the hope of it reaping small profits in the future, it could be an option.
So if you are planning to invest in such an apartment, one needs a good location, good transport links, especially a Metro station, parks and nearby supermarkets. These could be a plus if planning to sell or rent the apartment.
"Some buildings that may be worth investing in are those on Blvd Unirii towards the Parliament Palace or near Parcul Tineretului. Drumul Taberei is also attracting more investors," says David Howe, European lawyer and investment consultant for Investment Romania.
The best are those constructed between 1980 and 1990. These are of better value and quality, especially when in a good neighborhood.
---
Property in Brief
Property: Bucharest
STRADA DOAMNA GHICA Real estate developer Euro Habitat is investing around 70 million Euro in a middle class residential complex on Strada Doamna Ghica. With a total surface of 18,144 sqm, four tower blocks with 15 floors, the 'Planorama' project comprises 1,104 apartments and 680 parking spaces with prices ranging between 33,000 and 120,000 Euro plus VAT. The works will be completed by 2008.
SOSEAUA PIPERA-TUNARI Real estate developer Decons-Co is investing 30 to 40 million Euro in a 60,000 sqm ten-level office building on the Pipera-Tunari road, announced CB Richard Ellis. Named 'Twin Towers Barba Center', it will have ten levels above ground, restaurants, bars, bank branches, travel agencies and two levels of underground parking for 400 cars. The works will be completed by the end of 2007 and it will cost 17 Euro plus VAT to rent per sqm.
STRADA IONEL PERLEA Park Plaza Hotels Europe will open a four-star 'art'otel' hotel on the site of an existing office building near Parcul Cismigiu, converted by local architects Constantin Ciurea and designers Architect Service and due for completion at the end of 2007. The hotel will include 62 rooms, concept restaurant and bar, fitness suite, business centre and two 30 square metres conference rooms, each with business centres. Two 'art'otels' are open in Berlin, one in Dresden and in Budapest targeted at business, leisure and art-lovers. With interiors designed by London firm EAD, 'art'otel' is looking for a local artist to display work in the property. Park Plaza Hotels Europe is the master franchisor of Carlson Hospitality Worldwide.
BLVD NICOLAE GRIGORESCU Romanian developer and constructor ACM 4 is building a new residential complex for the middle and the upper class, in Titan, on Aleea Buchetului, scheduled for completion in 2007. The 'Noor' project includes four ten-level block of flats over 7,583 square metres with 200 apartments and 200 parking spaces. The price for built square metre is 990 Euro plus VAT.
Property: Romania at large
SOMESENI, CLUJ-NAPOCA Polus Real Estate is investing 220 million Euro in a 203 hectare suburban project in Cluj-Napoca. The company will construct 1,710 apartments and 924 houses. The price for an apartment will range between 50,000 and 60,000 Euro with 600 to 700 Euro per sqm. The project will also give 384 apartments for socially disadvantaged groups to the Cluj County Council and will be finished by 2009.
VOLUNTARI, ILFOV Property company and investor European Convergence Property Co (ECPC), has conditionally bought class A office building 'Construdava' in Voluntari, Ilfov county for 19 million Euro from developers Impact. With 11 floors, a surface of 13,800 sqm and 9,200 sqm gross lettable area, the building opens in August. ECPC's investment manager is Charlemagne Capital.
CLUJ-NAPOCA Romanian Iulius Group decided to up its investment in the central Transylvanian city by 12 million Euro, with president Iulian Dascalu saying a five-storey office building will pop up next to his own Iulius Mall shopping centre. The total investment by the Iasi-based group in Cluj-Napoca thus reaches 60 million Euro, according to Ziarul Financiar. The office building will have a total area of about 7,000 sqm.
CREVEDIA, DAMBOVITA COUNTY Developer Smea Bau will invest almost six million Euro in a 57-villa complex in Crevedia. The complex will be built on a surface of 35,000 sqm and will comprise four types of villas with built surfaces between 252 and 454 sqm and prices ranging between 116,000 and 301,000 Euro. The works will be completed in 2007.
SELIMBAR, SIBIU What could be Transylvania's largest commercial centre will be built in Selimbar near Sibiu, following an investment of 40 million Euro according to City Council officials quoted in Ziarul Financiar. Retail Park Selimbar will be built on surface of 12 hectares and will comprise a Shopping Mall and retailers that could include Bricostore, Media Galaxy and Real.