New apartment block compound heads south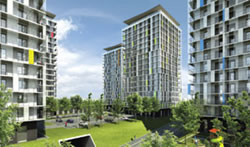 168 SPLAIUL UNIRII Indian Group Asmita is building a seven building residential compound with heights between 16 and 24 storeys in a 130 million Euro investment to be finished in 2009.
Asmita Gardens will comprise 788 apartments with controlled access, a parking lot, retail space, playgrounds, bank and supermarket and is aimed at the rising middle class. The compound is situated on 168 Splaiul Unirii on the Dambovita river, east of Parcul Tineretului. "The residential compound concept, which offers apartment buildings, is still new to the Romanian market. It was introduced last year along with the launch of Central Park [near Globus Circus]," said Silviana Badea, senior broker with real estate agents for the project, Colliers International.
The costs for flats of one to four-rooms varies between 51,000 and 180,000 Euro without VAT.