Property of the month: Aristocratic attraction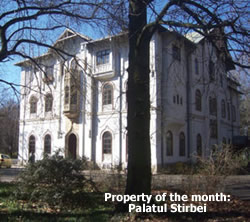 BUFTEA Standing on open and forested land northwest of Bucharest this historical palace, with the romantic aura of the fin de siecle, is up for sale for 9.5 million Euro from real estate agency Euroest.
One of the few classic aristocratic residences available to purchase in Romania, this could either be a grand country residence or a significant investment for an enterprising imagi-nation.
Built in the neo-Gothic style in 1864 by Alexandru B Stirbey, the son of the Prince of Wallachia, this palace has a basement, ground floor and two floors with a total area of 2,400 sqm.
The 30-room palace was a four star hotel until March 2006, when it was reclaimed by descendants of the Stirbei family. Its interior has a rich decoration of sculpted wood, an oak staircase engraved with the family emblem and painted and sculpted ceilings.
The property is situated in a splendid park of 226,000 sqm, designed in the British landscape gardening style popular in the late 18th century, with an interior lake, a boat house that has access to the Colentina River, a chapel, water tower and guest house. The surroundings include Buftea Lake and one of the largest Romanian film studios.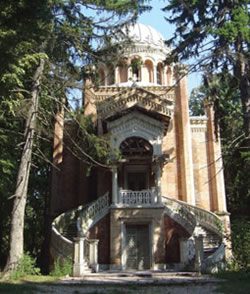 The park also has 1,400 year-old trees that are now monuments to nature, swan, pheasant and deer shelters, a volley, tennis and golf course, Crown Green Bowling green and crypt, where members of the aristocratic family Stirbei rest. Currently the residence is guarded by a private security agency.
The Stirbei family chapel is built in a neo-Gothic style with Renaissance influences by architect Louis Blanc and is unique in eastern Europe. The chapel has a double staircase of Cararra marble and walls decorated in frescoes by Gheorghe Tatarascu.
Euroest real estate agency 021 212 00 00