Villa package boasts peculiar details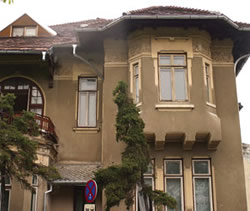 FOISORUL DE FOC In a quiet avenue near the Greek Embassy, this interwar villa with idiosyncratic details is up for sale for one million Euro from real estate firm Stentor.
This former local Government office could be attractive for an investor to buy up, renovate and then sell on or rent to one or more companies in the professional services sector or as a headquarters.
Set over two floors, an attic and basement, the house lacks a garage, but there is space for parking. With a total of 18 rooms in the main house over a usable space of 800 sqm, the building has space for three toilets and a kitchen.
Built in 1922, the detached building was taken over by the Communist state in the late 1940s. It was head office for Bucharest's local Sector 2 Government until 1993 and contains a mixture of original furnishings and some modern additions.
Changes made to the building are superficial and the property needs redevelopment with costs the real estate firm says could start in the region of 60,000 Euro.
Some classic interwar metalwork, Brancovenesque pillars and marble mosaic flooring are still in place, although these details need some cleaning up.
Potential treats in the house include 1920s wood-panelled ceilings, carved from walnut and lime, plus a large attic, illuminated by skylights, which sheds light onto the glass roof of the first floor hall. Built to last, the construction has thick walls and is structurally sound, but is not suitable for an embassy as the main building does not stand more than seven metres from the road.
But thrown in for the price is a former servants' quarters, set over 66 sqm, in a detached house in the garden, which could be a bonus in a make-or-break deal.
For more information call Stentor real estate
on 021 211 06 57 or visit
www.casadelux.ro