Australian group banks on middle class taste for suburbia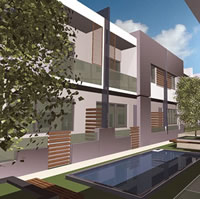 TUNARI and GHENCEA
Australian-based South Pacific Group is planning a 50 million Euro project for Ministry of Defence personnel for 1,100 houses in Ghencea, which was in the process of Government approval as we went to press. This is part of a planned programme that could see a total of 10,000 residences all over Romania for the Ministry over ten years.
Now the company is building 250 homes in Straulesti in a 13 million Euro investment, for the Ministry, to be completed around February 2007.
In Tunari, South Pacific Group is constructing a greenfield development called Sydney Residence with 112 homes aimed at the emerging middle class in a 20 million Euro investment.
This will be targeting families with an average income of around 1,000 Euro per month, says the firm's CEO, Construction and Development, Andrew Prelea.
The prices for properties start at around 135,000 Euro for a three bedroom and two bathrooms residence over 142 sqm. Following this will be Melbourne, an 83-townhouse development 600 metres from Sydney Residence, which should start construction in July, in a 14 million Euro investment.
There is also Adelaide, an 11 million Euro investment, consisting of 106 duplexes which Prelea predicts will start development in February 2007 and Brisbane, a further townhouse development with 153 properties in Tunari-Dimieni, which will start in April 2007. Invetsment here will be in the region of 20 million Euro.
To support these projects, the company will also build a warehouse in a 15 million Euro investment and a commercial centre for shops and cafes near Sydney Residence worth between 20 and 30 million Euro. In total, these investments are in the region of 160 million Euro.