Industrial wasteland sees mammoth revamp plan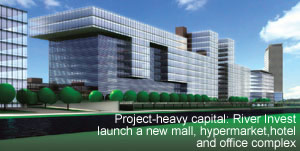 SEMANATOAREA Huge urban redevelopment projects for the capital seem to be proposed every month and the latest is a 700 million Euro plan by real estate developer River Invest.
Stretching over a brownfield site of 42 hectares, Sema Park - which is located on the former industrial platform of Semanatoarea in west Bucharest - features a total built area of 659,000 sqm, comprising a complex of office buildings, a mall and a hypermarket, 1,200 apartments and a four star hotel, according to River Invest president Ion Radulea.
This launch follows similar multimillion Euro complexes proposed for the capital, including Trigranit's Esplanada project near Piata Unirii, Baneasa Investments for the north of the city and Modus Properties' Colosseum Center in Chitila.
Sema Park officials said the business area will be divided into three types of buildings. There will be those facing the street, parallel with the Dambovita river, targeting large corporations, courtyard buildings for smaller companies and pavilion buildings, which are standalone or semi-detached.
The residential area plans to include 1,200 apartments, sized between 80 and 260 sqm, in buildings with four to five levels.
The retail area will cover 180,000 sqm and the four-star hotel 18 storeys.
The architectural concept and the site plan were drafted by UK-based Aukett Fitzroy Robinson, while the team developing the project includes, beside River Invest, Westfourth Arhitecture, Gleeds and Salans, as a legal consultant.
Austrian-based Credo Real Estate is in charge for the first stage of office development and ECE Projektmanagement Romania will develop the mall and hypermarket.