Property of the month: Black Eagle Hotel
Classic art nouveau hotel in western city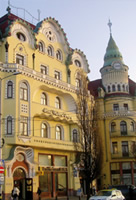 ORADEA Boasting one of the most stunning exteriors in Romania, the Black Eagle Hotel is up for sale for 5.7 million Euro from local real estate agency Proimob.
Komodor Marcell and Jakab Deszo, from the Hungarian Secessionist architectural school, designed the 'Vulturul Negru' hotel in 1907 on the site of an inn in Oradea's Piata Unirii. The plan took inspiration from local folk styles and the art nouveau currents popular in Brussels, Barcelona, Paris and Vienna. The hotel still carries the original curvilinear and undulating floral motifs into its rippled ceilings, mosaic floorings, metallic fittings and stained glass.
Opening in 1908 with a casino, offices and restaurants, the hotel's one unique feature is a stained glass window with a black eagle in flight, made in 1909 at the Oradea workshop of Neumann K. The first floor has two former ball rooms and part of the hotel includes the Arborele Verde inn, which was a cabaret between 1908 and 1918.
The hotel has recently undergone a brave refurbishing, maintaining the art nouveau style in some of the interiors. It now has 47 bedrooms, including four apartments. There is a day bar on the ground floor which has a glass-ceilinged waiting area, a fourth-floor conference room and a restaurant with 80-seat capacity.
Other facilities include a massage saloon, night bar and parking places for 30 per cent of the guests.
For more details contact
Constantin Mitu on 0743 123 123
---
Modernist pioneer style set for Sibiu
SELIMBAR, SIBIU Romanian-Dutch developer Omreal Investing is building an eight million Euro residential complex comprising 56 houses in Selimbar, Sibiu county due for completion in 2011. Rivium project is over a total surface of 45,000 sqm and includes Frank Lloyd Wright-style villas with prices ranging between 150,000 and 160,000 Euro, cubic style houses of 130,000 Euro and Pyramid villas of 265 sqm for young families.
---
Double towered office and mall complex due for Romexpo
ROMEXPO Greek developer Pantechniki is investing 100 million Euro in two 75 metre-high office buildings next to exhibition complex Romexpo. Scheduled for completion in Spring 2008, the complex will be build on an area of 14,000 sqm chartered for a period of 49 years and will comprise office buildings, retail spaces and a shopping mall. This will include fast food restaurants, coffee shops and a multiplex cinema. The twin towers that will flank the entrance to the complex will have five underground floors, four of them delivering 1,000 spaces.
---
Fire tower faces new apartment block
FOISORUL DE FOC Romanian developer Balkanic Intertrade is building a six million residential project near Foisorul de Foc. 'Mosilor Residence' will have a total surface of 8,500 sqm displayed on nine floors and will deliver 42 apartments of three and four rooms. The apartments will have surfaces between 110 and 297 sqm and prices of 1,800 Euro per sqm with VAT. The project is scheduled for completion in Spring 2007 and is already 35 per cent sold.
---
Estonian developer plans block blitz
VITAN Estonian developer IPC Real Estate is planning an apartment blitz worth 75 million Euro west and east of the centre for the middle class clientele, due for delivery in 2008. This includes three 15-storey apartment blocks on Strada Fizicienilor, Vitan in an investment worth 30 million Euro with 292 flats. There is also a 15-storey plan for a neighbouring building with 120 flats worth 15 million Euro. On Strada Contesti, Ghencea the developer has plans for a nine-storey block with 250 apartments worth 30 million Euro. IPC has also bought land ten km from Blvd Timisoara near the Bucharest highway.
---
Looking for the next metropolis?
Experts state that Danube partners Galati and Braila offer the best potential for real estate investors looking to maximise their return on urban centres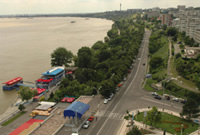 Resting at the portal to the Danube Delta, Braila-Galati could become the largest urban centre in Romania after Bucharest, with almost one million inhabitants living at a strategic apex of the country, making it the next major target for real estate investors.
The distance between the south-eastern Romanian cities is only 30 km and the two local authorities have signed a protocol to unite into a metropolis by 2020. The plan includes a new urban area to link the cities by building residential projects, shopping malls, commercial centres and local Government institutions.
Investors such as Mittal Steel and shipyard firm Damen have already realised the industrial potential in the former state steelworks and shipyards respectively. Now Carrefour is allegedly surveying the area.
DIY store Praktiker, supermarket Billa and cash and carry store Metro are already in the zone, while French firm Union Investitii is building a 50,000 sqm Euromall in Galati with what it claims will be Class A offices, ideally ready from the end of November this year.
Lack of proper infrastructure is the biggest headache for real estate investors. But in this area there are supposed plans to build a highway between the two cities and an airport. There is also a proposal to build a 300 million Euro bridge over the Danube at Braila, linking the regions of Dobrogea, Muntenia and Moldavia. This year the Ministry of Transport plans to release the feasibility study in September and to organise the auction for the bridge.
Low labour cost, labour availability, cheap land, good geographical position, lower transportation cost, access to the port and the lack of good property could transform Galati and Braila into a bullseye for real estate investors, argues investment consultant David Howe. "There is high unemployment in Braila-Galati, there is an abundance of cheap labour that you can no longer find in Bucharest," argues Howe.
Also the land high fertility of the Baragan plain to the south of the cities, if exploited by agricultural entrepreneurs succesfully, could bring a lot of money to the area.
"Braila-Galati could see almost one million people next to the most fertile agricltural land Romania and probably the best in Europe after Ukraine," says Ilias Papageorgiadis, managing director of real estate firm More Romania. "Agricultural production will bring a lot of money here and Constanta will be the place to send products by ship."
According to real estate specialists, prices in Braila are similar to those in Bucharest five years ago and the best place to invest in land is Brailita, where prices are 100 to 150 Euro per sqm. For property investments it is advisable to buy in the more developed part of the city, such as the centre, close to transport links.
"The old apartments in Braila have prices of 600 Euro per sqm but they need renovation," says Papageorgiadis. "Following this, the price could go up to 900 to 1,000 Euro per sqm, but there will new apartments will be built for this price, so why bother?" he adds.
"Galati will also expand, but Braila is more attractive for business because it has lower prices."
Mihai Alexandrescu
---
Property: Bucharest
BUCHAREST ZOO Spanish-based Lar real estate group has teamed up with Red Management Capital to invest 38 million Euro in building the Natura Residence apartment project. The eight buildings with 186 apartments of two, three and four rooms will be located close to Bucharest's Zoo on 82-84 Aleea Privighetorilor at a price of 1,300 Euro per sqm.
SOS NORDULUI Greek-based Raptis Kavouras has pencilled in investments of up to 35 million Euro to build two residential project in northern Bucharest. The first project is located on Sos Nordului and comprises a building with two basements, ground floor, four floors and a fifth floor retired, with roof gardens, including 48 apartments and 90 parking spaces. It is set to begin this month and is planned to be completed in September 2008. The second project, which is to be delivered in early 2009, is located on Str Iancu Nicolae, close to Bucharest's Zoo, and includes a luxury apartment complex of buildings of 24,000 sqm with underground parking, tennis courts, swimming pool, recreation places, play areas for children, mini-market and a beauty salon.
TITAN Israeli developer BRC Business Group is investing over 20 million Euro in a residential complex in Titan, next to the Auchan hypermarket, scheduled for completion in 2008. Citadella Titan will comprise two block of flats delivering 210 apartments with two, three and four rooms of 1,100 Euro per sqm without VAT. According to Sorin Lacusta, director of residential projects at real estate company Regatta, 20 per cent of the apartments are sold.
HERESTRAU
A subsidiary from City Capital Property Advisors (3CPA) has purchased a class A office building for ten million Euro in the northern part of Bucharest in the Herastrau district. Currently occupied by telecom firm UPC Romania, the office building totals 5,842 sqm of gross external area, of which 3,300 sqm is usable, displayed on two basement levels, ground floor and six upper levels, together with 60 underground parking places.
---
Property: Romania
BRAILA Romanian developer EMCT is investing 45 million Euro in a shopping centre located on the secondary regional road linking Galati and Braila. The Siret Plaza complex will have a shopping area comprising 23,000 square metres, a hypermarket, entertainment area comprising restaurants, food court, a health centre and a multiplex cinema.
ARAD Israeli developer GTC is investing 35 million Euro in a shopping centre in Arad after purchasing 33.000 sqm of land, according to Ziarul Financiar. The project will comprise a rentable surface of 25,000 sqm and is scheduled for completion at the end of 2008. The commercial centre is being developed in collaboration with Aura Investments, which owns one quarter of the project.
FALTICENI Romanian developer
Euroamici is investing 2.8 million Euro in a residential project in Falticeni, Suceava county, scheduled for completion in three years. Situated in the town centre, the Eminescu residential project will deliver 54 apartments in three six-floor blocks of flats. The first block will be ready by June 2008.
ARAD Romanian developer Arcada Invest is building a three million Euro residential complex delivering 100 apartments with prices ranging between 26,500 and 69,700 Euro in Faleza Sud, Arad. The project will include 44 studio flats with areas between 30 and 52 sqm, 54 two-room apartments with areas
between 40 and 84 sqm and two apartments with two rooms of 82 and 86 sqm. The works are scheduled for completion in September 2007.
CONSTANTA
Developer Alcor Merchant is investing 20 million Euro in a residential project in Constanta scheduled for completion in 2010, according to
Ziarul Financiar.
The 23-floor block of flats, called Solaris Tower, will be built in Faleza Nord neighbourhood on a surface of 27,000 sqm and will also comprise three-level underground parking of 5,000 square metres and a heliport of 130 sqm.