Property of the month: Vila Rosetti Batistei
Perfect location needs careful owner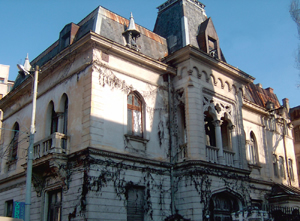 UNIVERSITATII This large centrally- located interwar house, across the street from Mesogios Restaurant on Str Dimitrie Gerota (former Jean Louis Calderon), is now for sale from real estate firm Stentor, for use as either a residence or for a company.
Constructed in 1929, it has a built surface of 784 sqm and is in need of patience and expertise for restoration to its former glory. The house is dilapidated, but has maintained a unique style and original elements from the classic 1920s period.
Vila Rosetti Batistei was built by two merchant brothers, who were Fanariotes - Greeks coming from the Fanar district of Istanbul. Attached to this building there is another house that once housed the servants quarters. Both are available for 1.3 million Euro.
It has 21 rooms, including two kitchens and six bathrooms, distributed over the ground floor, first floor, attic and basement. However it does not fit the conditions for use as an Embassy.
Original elements include a marble fireplace surrounded by oakwood.
On the ground floor the ceilings are original carvings, while the floor is a mix of oak and beech parquet. There is a marble staircase, with a special design illuminated by the sun as it enters through a huge stained glass window.
In the early 1990s the residence was inhabited by tenants relocated by the state and the name of one former owner is present next to the front doorbell. The lodgers changed some original elements and repainted the walls. Three years ago the building was restituted and today is owned by a company, De Monte Construct.
Now there is no air-conditioning and lighting in some rooms. The wooden fittings need polishing and sanding and the windows glazing. Outside the building also has a newly-built separate garage for two to three cars.
When the entire building is renovated it could, according to the real estate firm, fetch up to four million Euro.
Ana-Maria Smadeanu
For more information:
Stentor Real Estate
Sales Department
on tel. (021) 211 06 57