Property of the month: Bratianu Palace
Home to history hits the market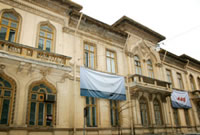 PIATA ROMANA Witness to both the agonies of Communism and the excesses of the pre-war aristocracy, this palace, belonging to 19th century Prime Minister Bratianu's descendants, is up for sale for six million Euro from real estate agency Perfect Casa.
The building's shape has clean and distinct lines, with oriental influences on the walls in a style combining Balkan architecture and that of Romanian monasteries from Moldavia and Muntenia. The massive atrium has engraved marble walls, a wide red marble stairway, double-windowed skylight and a beautiful stove that uses Meissen porcelain.
The Palace was built in 1896 by architect Ion N Socolescu for the Carlova family and was bought by Constantin Bebe Bratianu and his sister Florica Algiu, close relatives of Ion C. Bratianu, Liberal Prime Minister of Romania in the 1880s.
But the Communist Government seized the property from the family in the 1950s, when it initially became a Military Prosecutor's Office. During this period, the Communist secret police transformed the basement into a prison, where its agents beat and starved opponents of the Party in windowless spaces with standing-room only. These still exist. Current owner of the house, Ion I Bratianu was tortured by the secret police in these rooms, when he was 14-years old.
From 1984 until May 2006 the Bratianu Palace served as the headquarters for the National Centre for Acupuncture and Homeopathy.
Even though, at its height, the house only played host to three people, it has more than 100 rooms. The size and history, together with the original motifs and their subsequent abuse, lend the property an almost fantastical ambiance.
Today the house is showing paintings, photographs and over 1,400 documents from the archive of Ion I C Bratianu, Romanian World War One Prime Minister and president of the National Liberal Party. This includes secret letters between Bratianu and Georges Clemenceau and Austro-Hungarian Foreign Minister Count Ottakar Czernin.
For more information call
Jeni Dragomir on 0724 205 953
---
Castle 'Dracula' future as museum in doubt as Habsburgs sell property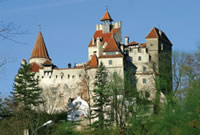 BRAN Reputed to be the inspiration behind Dracula's lair, Bran castle is up for sale for over 60 million Euro from its owners, the Habsburg family.
But the Brasov County citadel's status as a museum will end in 2009, sparking fears that one of Romania's top tourist attractions could fall to the mercy of property developers.
Currently, the Brasov County Council and the Ministry of Culture have both shown interest in buying the castle from Dominic de Habsburg. Both these public bodies wish to take continued advantage of its heritage.
But it could also fall to a private developer who will have a free rein to do what he wants with the property, following negotiations with the Ministry of Culture.
As we went to press, Aristotel Cancescu, president of Brasov County Council, said he has information that a foreign company has made a 100 million Euro bid for castle.
"The Ministry of Culture still has the first purchase rights," he said. "I doubt it they will make a better offer."
The lawyer representing the Habsburgs, Lia Trandafir, told The Diplomat the Habsburgs received around ten offers from abroad for the purchase of the Bran castle, which will all be analysed before a decision is taken.
Brasov County Council is now in discussions with an Austrian bank to obtain a ten-year loan to buy the castle.
Five auditing companies are currently evaluating the correct price of the property. Contacted as to whether the Ministry of Culture would pay 60 million Euro for the property, minister counsellor Andrei Gaidanaru said the state body is also waiting for the results of the evaluation.
If this figure is significantly less than the owners' final offer then Brasov County Council may no longer be interested in the deal.
Cancescu said that the current administration of the museum, by the Romanian Ministry of Culture, is poor. "They consider it just a museum where the Dracula myth should be exploited more," he added.
The Ministry of Culture still has the right to analyse the final offer for the museum from a private or public body and has the right of first purchase.
Bran Castle was built in 1377 on a 200-feet rock to protect Brasov from invading armies.
It since operated as a customs' office. In 1920 the people of Brasov gave the building to then Queen Maria of Romania as a gift.
Its link to the Dracula myth is tenuous.
Vlad Tepes, the 14th century Wallachian ruler who became one of the inspirations for Bram Stoker's novel 'Dracula', is reputed to have stayed in the building at some point. No traces of him survive in the castle.
The Bran museum, which has a collection of furniture and art from the 14th to 19th century, will continue to be open inside the castle until May 2009.
After this time, it can move to a different location or stay in Bran, depending on negotiations with the new owner.
Price for castle with vague link to Dracula: up to 100 million Euro
---
Price of luxury
Some areas of Bucharest marketed as luxurious fail to give the most demanding consumers what they want, finds Mihai Alexandrescu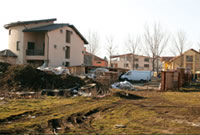 Although Bucharest has witnessed a boom in deluxe developments, the offer still does not satisfy the demand.
This means new areas, outside of the north, centre and Cotroceni to the west, may emerge as the latest target for the rich.
But some areas, which have sold themselves as lavish, could see their value drop or decelerate - due to their failure to satisfy the increasing demands of customers.
To qualify as 'luxury' in Bucharest is much the same as anywhere else: good location, excellent quality of buildings, exclusivity, access to green spaces and public transport, beautiful views, parking spaces, security guards and CCTV.
In the north of Bucharest, Pipera constituted only a village before recently developing into one of the most expensive areas in the capital city.
The houses are large and the area is exclusive, but many of the buildings are bunched close together with narrow roads and ongoing developments nearby.
"Houses there are more like apartments with yards," says David Laurentiu, real estate agent with Stentor.
Its proximity to the Bucharest ring-road, with its heavy traffic, as well as construction work, causes dust pollution. The general environment around the housing development is also an industrial wasteland.
"Pipera was one of the record breakers in terms of land price last year, but only 20 per cent of its properties have something to offer its customers," argues Ilias Papagheorghiadis, president of real estate specialists More Group. "The excuse for high prices in Pipera is the fact that you can no longer find large surfaces of land to buy in Bucharest and in Pipera the offer is unlimited."
Many believe the area is overpriced and should not be considered a deluxe target.
"It has no symmetry, no design, no facilities like parks, schools and kindergartens - and not even basic transport," says David Howe, European lawyer and investment consultant at Investment Romania. "In Pipera there is only land and developers are not taking into consideration adding new facililies."
Nearby Baneasa is considered a more plush place to live because it was not built in a rush for a quick return, has more shops and better access to the capital.
"In Baneasa the development is more limited, whereas in Pipera the offer is endless making it less exclusive, thus less luxurious," says Papagheorghiadis.
Another factor that has seen an increase in prices in Pipera is the involvement of Gigi Becali, owner of Steaua football club and former presidential candidate, who has developed the area.
"He owns huge surfaces of land making him a strong negotiator," says one real estate agent. "It was his interest mostly to increase the land prices here."
According to Howe, Romania has attracted a global greed for property investment. This has made developers try to maximise their profits as much as possible by building on small surfaces. This has created areas like Pipera which, although it has large amounts of land at its disposal, still builds its mansions on tiny plots.
Consumers will probably punish these developments in the future.
"People looking for properties are more educated and are looking for the best price to quality ratio and the best comfort and facilities for the money," says Laurentiu. "These mistakes will allow areas which are orientated more towards customers than profits to blossom."
Plush rush
The luxury real estate market in Bucharest is represented by apartments and villas with prices starting from 500,000 Euro and reaching up to 15 millions for a villa.
The most expensive areas are Primaverii, Dorobanti, Aviatorilor and Cotroceni, where prices per sqm range between 2,000 and 3,000 Euro.
The next districts that could emerge are the areas around the centre which have yet to realise their full potential – rather than a further extension to the north of the capital.
"The area between 1 Mai and Grivitei will become luxury, because there are a lot of new villas being built there," argues David Laurentiu, real estate agent at
Stentor.
"Many foreigners are more interested in the consolidation of old villas from Mosilor and Armeneasca and the combination between old architecture and good facilities are likely to transform it into a very desirable area."
In new developments, he cites areas such as Stefanesti, Voluntari, Dascalu, and Cernica as offering the best potential.
---
Property: Bucharest
SOS COLENTINA Developer Globe Trade Center (GTC) Romania has launched an 80 million Euro residential project on Sos Colentina. 'Rose Garden' will put out ten and 12 floor buildings delivering 908 apartments. The complex will also have 3,000 sqm of shopping spaces and 1,110 parking lots. The first phase of 236 apartments is scheduled for completion in autumn 2008.
BLVD NICOLAE TITULESCU Austrian developer Premiumred Real Estate Development is investing 20 million Euro in an 18-storey office building at the junction between Str Dr Iacob Felix and Blvd Titulescu. Premium Plaza will deliver 8,600 sqm of rentable area. Designed by Westfourth Architecture, the project will be ready by the end of 2007.
TITAN Romanian-Icelandic developer Gigant Construct is investing five million Euro in residences on Blvd Theodor Palady in Titan scheduled for completion in September 2007. 'Gura Siriului Residence' will consist of 62 apartments with areas between 68 and 115 sqm and prices from 61,000 to 103,000 Euro.
STRAULESTI Developer Irish Holding is investing six million Euro in a residential complex in Straulesti, north Bucharest. The 'Riviera' project has a built surface of 6,000 sqm on land of 12,000 sqm and will deliver 23 duplex-style villas with surfaces between 420 and 750 sqm. The average price per sqm will be 1,500 Euro and will be ready this summer.
MOGOSOAIA WHS Imobiliare, in collaboration with Stein Construct, is investing in two residential complexes in greater Bucharest, scheduled for completion in 2008. RubinStein Residences will be situated in Mogosoaia next to 2 Cocosi restaurant and will deliver 141 apartments. Prices per sqm for flats will range between 850 and 1,050 Euro per sqm depending on time of purchase.
SaphirStein Residence will develop on a total surface of 5,200 sqm on Splaiul Independentei at 1,600 Euro per sqm.
Property: Romania
SOUTH ROMANIA French developer Euromall is investing 220 million Euro in shopping centres in Pitesti, Ploiesti, Craiova and Galati. In Ploiesti, Euromall will invest 75 million Euro in a 55,000 sqm retail complex, delivering 1,200 parking lots and scheduled for completion in 2009. Euromall Pitesti, an investment of 35 million Euro, will deliver 20,500 sqm of rentable area and will comprise six cinemas, casino, restaurants and 700 parking spaces, due for completion in April 2007. Euromall Craiova, worth 65 million Euro, will be built on a total surface of 45,000 sqm. Work will start in 2008 and is scheduled for completion in 2009 - around the same time that Greek firms Elmec and Alesonor plan an 80 million Euro mall in Craiova. The 45 million Euro Euromall Galati is due for completion in Spring 2008, delayed from the original planned completion date of November 2007.
ZURBAUA, ILFOV Swiss Golf & Leisure Developments is to invest almost 50 million Euro in a golf course in Romania in Zurbaua village, Ilfov county, according to Ziarul Financiar. The 18-hole project, which will be 6,350 metres in length, includes a novice course and a residential area of almost 300 dwellings. The project is scheduled for completion in September 2008.
PITESTI Local developer Argecom will invest 20 million Euro in a residential complex of 350 apartments in the Ieremia Grigorescu area of Pitesti, for completion in 2009. Surfaces range over 48 and 128 sqm and prices between 700 and 770 Euro per sqm without VAT for the first 72 apartments, which will be ready by the end of 2007.
IASI Developer Future Group is investing 120 million Euro in a 14 block residential project in Iasi according to Ziarul Financiar. 'Green Park' will be built in the Tatarasti-Venetia area and will comprise 14 blocks of flats of eight and 14 floors, shopping centre, gym and underground parking.