Transylvanian city sees land boom
Land investment is seeing the biggest upswing in Cluj-Napoca in terms of the number of transactions and their value, especially among developers.
The Diplomat talks to Cluj-Napoca based Grup de Lux about the market in the central Transylvanian city, famed for its classic Austro-Hungarian architecture.
Space race
"Prices for land are the city's most dynamic characteristic in the real estate field," says Grup de Lux marketing manager Doru Lupeanu. "Up till a couple of years ago most transactions were driven by speculation, now we can see plots of land are bought for a definite purpose, like that of constructing buildings with different intentions."
Prices in this segment range from 150 to 300 Euro per sqm for semicentral areas and can reach 300 to 500 Euro per sqm for central areas of the city.
"Nevertheless, plots in the centre can have building restrictions. In the end, prices are not based on what they will be used for, but on the area where such plots are located," he added.
Bureau change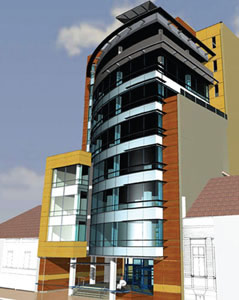 Maestro Business Centre is one of three new Class A office buildings planned for the city
The city has only one Class A office building, Maestro Business centre, according to Lupeanu. Located in the centre of the city, on 21 Decembrie Blvd, this is scheduled for delivery this month and stretches over 10,000 square metres. 70 per cent of the business centre is occupied. Rent for space in Class A buildings revolves around 12 to 15 Euro per sqm. Class B buildings can charge between 13 and 15 Euro per sqm.
But a year-on-year increase in rent prices for such spaces is now in evidence. Reasons for this include the increased interest of foreign investors in the area and a boom in the number of extras available.
Just a few offices stretching over 1,000 to 2,000 square metres emerged in Cluj-Napoca in 2005, while thisyear is likely to welcome two more office buildings: City Business Center and Olimpia Business Center.
House call
South Cluj-Napoca has witnessed a trend of residential compounds. "We have seen investors looking at areas near the exit route to Bucharest, like Strada Buna Ziua and Strada Campului, the Borhanci area and the Europa district," said the marketing manager. "At the same time, apartments in blocks of flats built before 1989 are in high demand." Lupeanu added that the new constructions segment has witnessed an uptrend since 2003, the vast majority built in 2005 and many buildings sold in the design phase.
Shop frenzy
The city centre is seeing more small retailers opening up, some in shopping centres, while larger retailers are looking to the outskirts. Last year saw the opening of the first Selgros cash & carry store in Cluj-Napoca, adding to the now resident name brands Metro, Praktiker, Billa and Profi. "Central and Sora Shopping Center remain the city's largest shopping centres, but 2006 will bring a new such centre, and we also expect big retailers to come in, the likes of Kaufland and Cora," he added. This is believed to be the third Iulius Mall in Romania, after opening in Iasi and Timisoara.
Corina Mica