Coalition partner
When are the big bucks heading this way ? ask Ana-Maria Smadeanu, as she speaks to outgoing Romanian Ambassador to Washington Sorin Ducaru, before he heads for NATO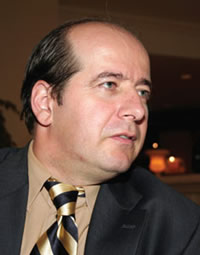 For some time it seemed only the political relations between Romania and the USA were growing.
The leading Romanian parties all joined President Bush's coalition of the willing to invade Iraq, while the US is in the process of establishing military air bases in east Romania.
But on the social and economic side the situation has not been so fruitful. American charities are among the loudest critics of Romania's moratorium on international adoptions for its 'abandoned' children, while US foreign investment here does not compare to many nations in the region.
Nevertheless, Ducaru is upbeat.
"I am leaving this posting when the appetite for economic opportunities in Romania just starts," he tells The Diplomat. "There is saturation in Poland, Hungary and the Czech Republic."

Sorin Ducaru
Age: 42
2001-2006 Ambassador of Romania to Washington
Next posting: Ambassador of Romania to NATO, Brussels
Education: Politehnica Bucharest, engineering faculty
Career: 1996-1998 Ministry of Foreign Affairs, director for NATO
1998 - 2000 Deputy to the Romanian Ambassador to USA
Speaks: English, German and French
Hobbies: Music [he plays guitar and harp], photography, skiing and tennis
President Basescu opened his mandate in 2005 with a statement that surprised some – positioning a new axis of Bucharest-Washington-London at the heart of his foreign policy – highlighting international security as key to Romania's geopolitical identity.
Despite Basescu's overtures, both the USA and UK still have a visa regime for Romanians. Rumours have circulated that the lifting of visas was conditional upon Romania's resumption of either international adoptions, or Romania's troop commitment to the ongoing 'War on Terror'.
"This is not true," says Ducaru. "Basescu has said that Romania doesn't trade soldiers for visas. If this problem should arise, the president could say that Romania doesn't trade children for visas."
This issue will not go away.
"Americans will continually want to adopt kids," says Ducaru. "Personally we should not take this as pressure, but as an interest which is constructive."
The Ambassador says that the Embassy has started a campaign to eliminate the visa regime for Romanians. "New EU member states should not be discriminated against, compared to the USA's old allies in the EU," he says. "We want to promote economic relations. But the visa regime is like a barrier. Today when deals are made in a few hours, having to wait two months for a visa makes this impossible."
Despite this, there are 100,000s of Romanians in the US who still retain their birth nation's citizenship. Also counting those with Romanian roots, Ducaru estimates the total at 1.5 million. Not all of them have drowned in the melting pot.
"The manager of Washington Wizards basketball team called me up to say that he comes from a Romanian family in Oradea and he wants to come to the Embassy," says Ducaru. "I asked him why he didn't admit his roots before and he said that he didn't have the arguments to be proud of being Romanian until this moment."
While US firms established in Romania include GE, Smithfield, Oracle, HP and Microsoft, computer manufacturer Dell, which Ducaru says showed interest in investing in Timisoara, has just announced plans for a plant in Poland.
Now the Ministry of Economy and Trade has taken over the car factory in Craiova previously owned by Daewoo. One hour after the state bought the plant, Ford expressed official interest. "Ford has a strategic project prepared for Craiova, but there will also be other companies interested to buy, such as General Motors and Honda," says Ducaru.
US firms have not had an easy ride in the Romanian vehicle market. Crosslander bought out state 4X4 factory Aro Campulung to build Ford Explorer Engines inside the heavy duty vehicles. Some in the US press were, according to the Ambassador, hyping up the project as a potential rival to the Hummer.
Now the Privatisation Authority (AVAS) is suing Cross Lander and the US firm is making counter-accusations against AVAS, while the vehicle plant rusts and the workers live off meagre handouts from the sale of car parts.
"As a representative of Romania, my obligation was to support this project, but when there were problems generated by issues which are not our [the Embassy's] responsibility, we could not do anything," says the Ambassador. "I am sorry it ended up like this."
Nobel Ventures also sued the Romanian Government over the cancellation of an iron and steel mill in Resita, which the US firm lost. There are also four other cases of financial litigation at the World Bank's Arbitration Court. This should not be disheartening, though.
"There are countries such as the Czech Republic which have three times more cases than us," says Ducaru.