Prudence pays
Stay prudent, argues outgoing country manager of the World Bank in Romania, Owaise Saadat, as he bows out of a fulfilling term in office. Interview by Michael Bird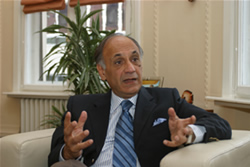 Romania has shaken off its reluctance to reform, says outgoing World Bank country manager Owaise Saadat, but he worres that the country must not throw away the chance to become a dynamic economy on the eve of EU accession.
For this, Saadat recommends a dose of prudence.
"The country's needs are very large," says Saadat. "There is a temptation to relax the disinflation policy and to increase public expenditure."
The country manager argues for prioritising foreign investment – which is still massively low by new Europe standards - and linking expenditure and investment to strategic planning.
Fiscal prudence is not happening.
In June, Prime Minister Tariceanu has allowed the budget deficit to rise to 2.5 per cent of GDP, arguing this dip into the red will pay for roads, education, health and the environment.
But Saadat says this deficit is "worrisome", especially after a surplus of 1.2 per cent in April this year.
Instead, strength is what the revenue base of the country needs at this stage, says the finance boss.
This could come with better administration of tax revenues and a debate on additional sources of revenue in this sector.
Between 29 to 30 per cent of GDP in Romania is accumulated from taxes – a statistic among the lowest in Europe. To help modernise Romania's tax administration system, so that it can make more contributions to revenue, the World Bank is currently negotiating a project with the Government worth about 55.5 million Euro.
Saadat argues that local resources for Romania could be borrowed from international financial institutions, like the World Bank, not by going into debt.
The budget deficit could also mean an increased risk of inflation - still the highest in the EU and its next wave of entrants.
"If inflation rises," says Saadat. "Fiscal prudence is abandoned,"
Power game
The power generation complexes of hydro, thermo and nuclear power stations remain in public hands with no auction date in sight, despite the Ministry of Economy and Trade's privatisation proposal for power plants Turceni and Rovinari has been on the slab since October 2005.
These delays "remain an enigma to me" says Saadat.
"Power generation plants need to be modernised, made more efficient and need investment of two to three billion Euro," says Saadat. "These kind of resources are just not available in the public sector. If the Government can hive off part of the investment to the private sector this should be done."
In the last three years, Saadat says he regrets the country has not rationalised its district heating systems. "About 240 million Euro of subsidy each year is almost frittered away," says Saadat. "There is a very good district heating strategy, prepared by the Government and World Bank experts with the endorsement of the EU - but it has never been implemented."
Work to rule
Another change the World Bank has not seen and which Saadat approaches with a "heavy heart" is the labour code.
"Romania needs to have a modern and one of the best labour codes to create more jobs," he says. "Unfortunately, in certain circles, there is more a focus on how to keep people in the job than bring people into the job."
This lack of flexibility is a constraint in creating employment, argues Saadat, citing examples of seasonal industries such as wine and cheesemaking.
"If companies hire labour and are stuck with it, it restricts the functioning of the labour market in a flexible manner," he says. "Lots of people are refraining from hiring people for temporary and seasonal work because they think that labour laws will then entail upon them huge social sector payments, such as maintaining records. This is antithetical to creating employment."
Hiring staff legally for seasonal periods would also bring some workers out of the shadow economy, welcome them under the tax umbrella and create more cash for the budget. From the left-wing point of view, this improvement in state revenues could balance out the losses to employment stability incurred by flexible labour laws.
"There is a built-in incentive for this at this time – once Romania is in the EU, these casual and seasonal workers are more likely to migrate," he adds. "They get more stability in employment and relatively higher wages abroad."
Health report
Many changes in the health system the World Bank recommended emerged in the latest law bundle from new Health Minister Eugen Nicoleascu. These include a package of public services and "complementary" private services for citizens and restricting hospital managers' right to both manage and practise medicine at the same time.
But these changes have been greeted by protest from the public, institutions and members of the coalition itself - the like of which this Government has not witnessed before.
"The package is good, the tin is good, but the dog don't like it," says Saadat.
The outgoing country manager says that these changes need political support because, on balance, these are "well-justified and good reforms".
"The World Bank, European Investment Bank and Council of Europe are standing by to help in this sector," he says.
Last innings
Pakistan-born and Harvard trained Saadat has spent three years in Romania, following a similar role in Armenia. This term in office he calls his "most fulfilling" time professionally – but it has not been a breeze.
"It's the sunset of my career, having spent 30 years in the bank. This is my last innings when I go back to work in Washington," he says. "It's only once in a lifetime that you get this opportunity to see a country go into the European Union. It's been a rollercoaster ride with ups and downs and not a merry-go-round."
The finance boss returned from winter holidays in 2005 with a sense of trepidation. There was a new Government in power and its faces were something of a surprise.
But at that time Saadat found a "business-like" approach from the new executive which "made life much easier", especially because Tariceanu had been a Minister of Industry and knew how to work with the World Bank.
"He wanted to do business with us," says Saadat.
He says Romania has sucessfully implemented its strutural reform programme, which includes a country partnership startegy that helps the Government make important funding decisions with World Bank cash.