Everything must go
Young, dedicated and impossible to bribe, the new Privatisation Authority boss Razvan Orasanu reveals to Michael Bird the opportunities left for bargain hunters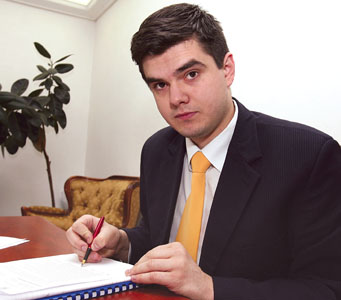 It is the last chance sale at the Privatisation Authority as the department offloads nearly five hundred companies.
New boss at the Government department is 24 year-old London School of Economics graduate and former economic counsellor to PM Tariceanu, Razvan Orasanu.
He's selling 450 companies with around 60,000 employees and, if their managers are under-performing, he can fire them and bring in new blood.
Orasanu has set himself a tough task: to knock off the portfolio by a deadline of December 2007, while sticking inside the boundaries of EU state aid law.
There are no ideological conflicts here – Orasanu is a fanatical neo-liberal from Timisoara, which he proudly calls the town boasting the biggest consumption of Coca-Cola in Europe.
"I am a fan of privatisations going as deep as possible in the economy," he says.
"Considering that 72 per cent of the GDP of the economy is now private, you are looking at a percentage that beats any country in Europe."
And, just in case you were wondering, Orasanu says he is pretty much impossible to bribe.
"Anyone who has to meet me has to put in writing the purpose of the visit beforehand and a brief outline of the problem," he says. "I receive no one without a written explanation. I am never alone in a meeting and always have a counsellor standing by."
The best deals are drug firm Antibiotice, locomotive producer Eletroputere and Fagaras-based fertiliser and explosive company Nitramonia. But AVAS still receives state companies from other ministries and uses its expertise to woo a better class of investor.
Later this year, the Ministry of Culture will transfer to AVAS 30 state-owned cinemas and printing house Coressi, which owns half of Casa Presei Libere, the elephantine Soviet-style palace of journalism overlooking Herestrau Park.
DIAMONDS IN THE ROUGH: AVAS's CINDERELLA COMPANIES
Rami-Dacia
AVAS says this Bucharest-based producer of synthetic diamonds has export potential, hard to replicate technologies and a solid production base.
Turnover 2005: 0.9 million Euro
Loss: 221,000 Euro
Produces: Ten million carats per year, 70 per cent to export, over 54 per cent of which is to The Netherlands.
Employees: 900
Aversa
AVAS says this Bucharest-based pump and compressor producer with patented products has ten hectares of land in Bucharest and good perspectives with the right management
66 per cent for sale
Turnover 2005: 11.5 million Euro
Loss 2005: 1.5 million Euro
           But why couldn't an investor now go straight to the Ministry of Culture, which operates under the same legislation as AVAS?
"We tend to speed up the process," he says.
More ministries with little privatisation know-how will continue to give assets to AVAS, such as the Ministry of Health. Meanwhile the Ministry of Finance takes care of the sale of Savings Bank CEC, the Ministry of IT&C the shares in phone operator Romtelecom and the Ministry of Economy and Trade the energy companies and car plant Daewoo Craiova, if and when it returns to state hands.
Orasanu wants to set order into Government practice and has a proposal to put all the dates when privatisations of state companies are announced in one calendar, endorsed by the whole Government, which he will make public.
Shouldn't this have happened ten years ago?
"I wasn't president of AVAS ten years ago," he says.
Since 1992, 10,000 companies have been privatised. AVAS is now overseeing around 8,000 bankruptcies. The Government has made around 1.5 billion Euro, not including the 2.2 billion Euro Erste Bank paid for Banca Comerciala Romana (BCR).
"We haven't actually got the money for BCR yet," says Orasanu. "It will take place."
But the investment requirements that companies have could amount to around 12 billion Euro.
Problems include two industrial clusters, one in Brasov, with state firms such as bearing firm Rulmentul, Tractorul and truck maker Roman Brasov and another in Iasi with four companies.
"These are two areas left where industrial failures still matter because companies are cluttered," says Orasanu. "If an industrial cluster goes out of Iasi or Brasov, the whole tissue of the area is affected. We have a duty to keep them operational even if they go into voluntary liquidation… You don't deli-berately try and destroy whole industrial areas. What you try to do is have solutions that are market oriented and that are not lenient, but adapted to the region."
Tractor producer Tractorul Brasov, with 2,391 employees, is in the "last stage" of sale to Indian firm Mahindra and Mahindra at an undisclosed price.
"There has been a final offer and we are now negotiating the contract," says Orasanu. Legally this cannot go on beyond 31 May 2006.
Employing 2,600 people, the sale of ball-bearing manufacturer Rulmentul Brasov has had a less easy ride.
"This was suspended because we did not perceive enough interest in the terms and conditions given in the task book," says Orasanu. "We are speaking to the Competition Council, and our own experts on state aid, to see the limit we are aiming to reach."
AVAS is trying to solicit bidders for Rulmentul Brasov from foreign firms, with some interest from Turkish and Israeli investors.
EU regulations are harsh in preventing state aid. But there are exceptions, Orasanu argues, when state aid reaches 50 per cent. If a company has 100 lei in debt, the investor must plough in at least 50 lei in a given period. Then the state provides the next 50 lei, which means writing off the rest.
But this is only allowed after advice from the Competition Council.
Iasi has the crown jewel in AVAS's shop window.
In the last six months three Romanian pharma firms, Sicomed, Sindan and Terapia have sold to international groups, for up to 270 million Euro in the latter case, so Orasanu is happy about Antibiotice's prospects.
"Potential investors are all knocking at my door," he says. "Price will be the determining element in the sale."
Antibiotice has a similar market share to Terapia and the sale will have light conditions, especially as the company posts strong profits. Canadian and eastern European firms have shown interest in the company, as well as multinationals and investment funds.
"Consortiums can join bidding war," says Orasanu. "I hope to see the winner with the largest pockets."
The sale process will probably start in the Autumn.
Sale or return
As the department tasked to recover state assets, AVAS also has to assume companies and investments that fail.
"We have taken back too many companies," says Orasanu. "AVAS is not the fairy godmother of taking back bust companies when they have the option of going bankrupt."
AVAS is overseeing 8,000 bankruptcies and last year only took back 38 companies out of a portfolio of 10,000.
"It is not a huge number, but it's too high – in 2006 we are looking to have less."
TOP OF THE CLASS:
AVAS's BEAUTY QUEENS
Antibiotice
Iasi-based, this is the third largest domestic drug producer, exporting Nystatin and Vitamin B12 to North America. 53 per cent is for sale, the remainder is listed on the first tier of the Bucharest Stock Exchange.
2005 estimated turnover: 47 million Euro
Estimated profit: 5.8 million Euro
Electroputere
Craiova-based firm producing locomotives, power transfor-mers, railway and urban vehicles, electric rotating machines, and electric apparatus, part of which is on the second tier of the Bucharest Stock Exchange.
Turnover: (2004) 43.6 million Euro
Loss: (2004) 4.3 million Euro
48 per cent is exported
The department has also started freezing bank accounts of debtors to the state in order to recover assets – a strategy that seems to be working.
"It has performed miracles," says Orasanu. "We have approximately 1,000 billion ROL (29 million Euro) in the first three months. We have recovered several debts that are several years old in one go. We have blocked around 5,000 bank accounts this year and will continue."
But some investors have picked up state companies for peanuts, made the firm go bust and then sold on the land to a luxury villa or shopping mall developer. This has happened with some agricultural firms and some investors have tried with industrial companies.
"Sometimes they have been caught out, we have prevented and sued them," he says, "most often they have been prevented from doing so by asking permission from AVAS and us refusing."
AVAS is now looking to end monitoring many of its contracts, so that it can monitor fewer, but with more stringency.
"There is a bit of a double standard being applied here," says Orasanu. "A state company being purchased for the land is no different from a private company buying another private company for the land. We are in a private economy and the investor is looking for what he sees as the most profitable bit of that company."
But he acknowledges AVAS has a priority to look at preventing the sale of assets and maintaining employment and productivity.
However AVAS is selling some firms as property, such as Administrare Cazare si Cantina, which makes money by renting.
"It shouldn't be at the expense of killing an industrialist," he says. "It shouldn't come at any price or a hoodwink operation, where you pretend to be interested in the industry and end up being interested in the land."