Techniques of attraction
In a country of widening wealth inequality, balanced regional development is vital. Ana Maria Cristina, president of the Romanian Agency for Foreign Investment, hopes international cash can help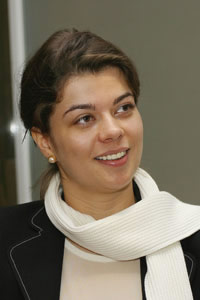 Renault's takeover of car plant Dacia is a blueprint that this Government would like to use to encourage foreign investment. When the French giant bought the Communist-era factory in 1998 and launched a long-term strategy to build its brands, this had a knock-on effect in the local area, where a mini-empire in vehicle part manufacture is developing.
Confidence in the country from a global player has had a smaller, but discernable effect on the rest of the nation. Romania now has a global reputation as a country specialised in producing car parts. No month goes by without the Romanian Agency for Foreign Investment (ARIS) providing assistance for companies in the field of vehicle components keen to do business in the region.
"Most of the time the business is related to Renault," says Ana Maria Cristina, the 31-year old president of ARIS. "This is what we intend to do in other fields."
The Government's aim is to create clusters of industry - like in Pitesti - a combination of classic economics of manufacture with a European spin to ensure regional development.

Ana Maria Cristina, President of ARIS
Age: 31 years old
Born: Comanesti, Bacau county
Status: Married since 1995 with one child
Education: Carol Davila University in Bucharest, Master in Human Resources and Communication, Post-Graduate Studies in Politics
Political affiliation: Member of coalition partner the Partidul Democrat (PD)
Foreign languages: English and French
Previous jobs: Manager of clothes chain Mini Prix
Hobby: Reading, traveling, especially to exotic places. "I wish very much to go to Bhutan," says Ana Maria Cristina.
"Almost every town in Romania has experience in an economic specialisation. This is an advantage for Romania," she says. "We want to encourage this and bring to these towns and regions an industry in which the people have knowledge. Let's hope that we will be clever enough to create in one region a group of companies which will work together in symbiosis."
Therefore ARIS, a small Governmental agency which assists in foreign investments over ten million Euro, will encourage, say, a washing machine firm to set up shop in an area with a history of manufacturing appliances, but potentially high unemployment. In addition the agency will promote the area to satellite companies interested in appliance parts manufacture. "This way, I am sure that we will have an important flux of quality investments," Cristina says.
The next task is to help develop the Daewoo car plant in Craiova. Without an owner, the former state-owned car maker for the Oltcit brand, and then the Daewoo Espero, Leganza, Nubira and Matiz, has failed to secure an owner since the Korean company was bought out by General Motors. The American firm does not want to purchase the whole plant, although Renault Nissan has shown interest. Cristina hopes a decent buy-out could have a similar resonant effect on Craiova and its neighbourhood as has been achieved in Pitesti.
Making it happen
Manufacturing, IT and agricultural development and diversification seem to be the sectors that Cristina wishes to develop in the regions of Romania.
In counties such as Vaslui or Iasi in Moldova there is a greater focus on the textile industry, while Ialomita, to the east of Bucharest, is an area with potential for food growth and processing, or with new projects in the energy industry.
Support from ARIS is coming for the alternative fuel energy from oil seed rape - Biodiesel. In late 2005 Portuguese company Martifer announced its intention to build a biodiesel distillery in Lehliu Gara (Ialomita county) with a 45 million Euro investment over eight hectares of land.
"The Martifer project will help the development of Romania's southern region," she says. "Very soon we will launch a similar Biodiesel project, based on ethanol, another alternative fuel." Ideally, Cristina wants Romania to become a place for the large scale manufacture of electronic brands.
"This is a status Romania has lost in the last few years in Poland's favour," she says. "We have tried to approach the best in the world, such as Sony and Panasonic, and given them the highest possible incentives in the European context of competition. But we are in the position in which everyone knows that state aid is forbidden in Romania because of the EU."
Nevertheless, state aid and incentives are applicable in certain criteria: to build up a flagging district or to set up a new industry.
Cristina is clear that she wants to be able to subsidise new investment. Some of which she can achieve with existing laws, others still staying within EU competition guidelines.
"We have to take all the advantages of the competition laws and not their disadvantages," she says.
Cristina says that public life wrongly associates 'subsidies' or 'state aid' with 'tax incentives' such as holidays for paying income tax from investors.
"Subsidies do not only mean tax support," she says.
She argues that for huge regional investments, the investor may receive support in buying land which belongs to the Local Council for under the market price or even receiving that land for free. Another subsidy could be to give an investor a building for the company and even helping the investor to construct a building using public money. Added to this are grants that an investor can use to buy technological equipment, staff training or financing facilities for research and development.
"There are possibilities for subsidies allowed by the law of state aid but, for the moment, these are not regulated in Romania," she says.
ARIS's new plan includes helping draft a new law, the first in five years, to establish the incentives that the Romanian state and the central and local authorities can give to investors. This is especially important because EU and Romanian competition laws seem at odds with large amounts of state aid that companies have received in the past ten years.
"The law applying to foreign investments is outdated," she says. "That's why ARIS tries to create new legislation in accordance with EU norms, which will include the meaning of state aid and subsidies that are encouraging regional development."
Missing out
Pharmaceuticals and some retailers are missing from Romania, says Cristina.
"Although GSK and now Zentiva produce here," she says, "some large pharmaceutical producers are absent and it is a national priority for ARIS to bring some of those pharmaceutical producers here. The consumption of medicines has grown in Romania, but they are still expensive. Most of them are imported and we would need a few big players on this market." As for who this will be and when, Cristina replies that she is "in discussions" with multinationals.
Retail has picked up recently. Kaufland, Real and Lidl have all booked their place in Romania and franchises in Ikea and Debenhams are on their way here. But what about Tesco? There is no word yet on whether it will definitely come to either Romania or Bulgaria. If the British giant set up shop, Cristina says its presence would "stimulate" the competition.
Flat hunt
The ruling coalition's one big idea – the flat tax of 16 per cent on profits and incomes - is heavily advertised on the website of ARIS in both English and Romanian. This is the agency's chief selling point. Though this tax may not be as low as Serbia and Montenegro, Cristina says it is a lightning rod for investment. "This has increased the speed and decision- making process of investors and should see higher results of investments this year," she says.
EU membership, which she believes is a certainty for 2007, will also be a huge advantage to investors from non- European markets. "The interest is high from Japanese, Chinese and Indians," she says.
But time is running out.
"There will be a rush of business coming into Romania this year," she says. "Investors can still take some advantages of the fact that we are not in the EU. It may be the last opportunity for many."
By Ana-Maria Smadeanu
POPPING IN AND SELLING OUT
Foreign direct investment in Romania:
2004: 4.1 billion Euro
2005: (Until the beginning of December): 4.4 billion Euro
2006: Predicted foreign investment: between 5.8 and 6.2 million Euro
Three largest projects signed under ARIS assistance in 2005:
Renault's project to build a gearbox factory at Pitesti (value: 215 million Euro)
Martifer's investment in biodiesel project, Ialomita (47 million Euro) Makinta's factory for portable devices, Branesti (25 million Euro)
Main sectors of investment:
2004: Auto-components, bearings, wood processing
2005: Telecommunications, wood processing, energy, the automobile industry
2005: Regions witnessing the biggest upswings in investment:
Bucharest and Ilfov county, central Transylvania and the Muntenia region.
Largest foreign investors in Romania:
OMV, Renault, Mittal, Erste Bank