ON THE TOWN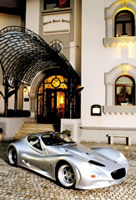 For too long in Bucharest, luxury has become a synonym for expensive. Many restaurants, residences and fashion stores trying to push the luxurious are only selling a price tag. Often, consumers are no smarter, believing that if it costs a fortune, it must be the best deal on offer.
Luxury boutique villa Carol Parc Hotel attempts to change this by offering taste to the Capital – including quality details imported from top European artisans with a vintage atmosphere and modern conveniences.
In a discreet drive close to Parcul Carol, the house boasts a three-metre long butterfly arcade, Veronese furniture, floral frescoes and a 14-metre tall Murano-crystal chandelier, weighing two tonnes and hung with 2,000 crystals. Inspired by Brancusi's Infinite Column in Targu Jiu, the design has two connected spirals similar to an illuminated double helix. Prices range from 300 to 1,500 Euro per night for the 17 to 19 rooms. There is also an executive board room and all-day restaurant with modern European cuisine that can house up to 80.
Situated at the highest natural point of the city, the hotel commands views over the Parliament Palace, Intercontinental Hotel and a sea of small 19th century villas in dire need of redevelopment.
Built in 1907 by King Carol I's friend, architect Suter, in a Brancovenesque style with art nouveau flourishes, its first use was a hideaway for a minister's courtesan. After World War II, it was the Russian army in Bucharest's HQ. Since then it has been an institute allocating apartments to the city's population.
Hotelier Adrian Petre and his wife, professional harpist Sylvia Petre, bought the property and spent three years transforming the building from a shell of walls and columns.
Sylvia Petre says the hotel targets a public person wanting a private getaway. "Discretion is very important," she says.
Carol Parc Hotel, Aleea Suter 23-25
---
Source : http://www.thediplomat.ro/shopping_1007.php