Property of the month
Prize location in need of revamp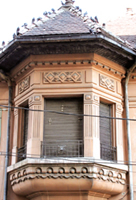 PIATA KOGALNICEANU - On a side-street off Piata Kogalniceanu, this 1922 Brancovenesque villa, in need of serious refurbishment, is available for two million Euro from estate agents Remax Invest.
Built for the wealthy Vines family after World War I, the villa was inherited by lawyer Ioan V Vines who lived in the residence during the 1940s.
Vines sold the house to a wealthy family of Macedo-Romanians called the Nachi brothers in 1951. During this period, the house enjoyed a glorious reputation and was a fun centre for social gatherings in the capital – the residence was then nicknamed Nachi House.
The aristocratic fun came to an end in 1959, when the state nationalised the house and rented it out to five families. But the Nachi brothers reacquired the building in 2000.
A huge advantage of the property is the central location, with excellent transport links, 100 metres from Cismigiu Park and half a kilometre to both the Opera and Piata Universitatii. The house sits on 400 sqm land and is built in the Brancovenesque style, with 17 rooms and a built area of 230 sqm, while the exterior has a wide yard overhung by vines.

INSIDE FACTS
• Price: two million Euro
• Built: 1922
• Land: 400 sqm
• Built area: 230 sqm
• Rooms: 17
The Communist owners separated it into new living spaces to accommodate more families than the initial design was meant to house. This has left narrow corridors and small rooms which will need a grand redevelopment if the house is to transform into an office or residence. Meanwhile the broken tiles and drainage on the roof play host to countless pigeons. The heating system now runs on giant terracotta stoves – which are charming, but horribly inefficient.
Vision is necessary to transform this into a classy villa in a top location by a customer willing to re-invest half of the house's price once more.
For more info call Costin Cepi at
Remax Invest on 074 506 6816
---
Latin quarter for west city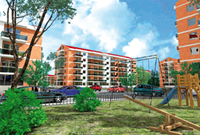 PRELUNGIREA GHENCEA - Victor Stoiculescu, general manager of Mixt Globus Ind Prod, is investing 450 million Euro in new apartments in west Bucharest scheduled for completion by 2011.
The 'Cartierul Latin' will be built on Prelungirea Ghencea – and will include apartments with prices ranging between 1,070 and 1,376 Euro per sqm depending on the finishings.
The first phase will include 980 apartments, 25,000 sqm of commercial space and underground parking of 20,000 sqm.
The second phase will comprise 1,700 apartments, a shopping centre of 20,000 sqm, underground parking of 40,000 sqm, kindergarten, doctor's surgery and a school for 1,000 kids.
---
Plaza Centers in shopping and entertainment blitz
SLATINA, IASI and TIMISOARA - Israeli developer Plaza Centers, part of Elbit Medical Imaging, has acquired a 20,000 sqm site in the north western part of Slatina, Olt county, where it plans to build a shopping and entertainment centre with almost 25,000 sqm of build area and 450 parking spaces.
The site has the option to develop approximately 10,000 sqm of residential accommodation, which the company may consider to sell to a third party. The total investment is expected to be almost 25 million Euro.
The company also acquired a retail development project in Iasi, where it will invest 115 million Euro in 54,000 sqm of retail space, 15,000 sqm of office space and space for 1,400 parking places. Here there is an option to develop a 70,000 sqm residential area that the company may consider selling to a third party. The centre is scheduled for completion in 2010.
In Miercurea Ciuc, Plaza Centers is investing 16 million Euro in a shopping mall and, in Timisoara, the company will invest 100 million Euro in a mixed use project comprising office buildings, a shopping mall and 600 apartments.
---
Retail palace set for Arad centre
ARAD CITY CENTRE - Israeli developer Africa-Israel will invest 50 million Euro in a mall in Arad scheduled for completion in 2010.
Arad Palace will be built on a 80,000 sqm land situated in the centre of the city and will have a rentable area of 38,000 sqm. The company is also in negotiations for developing another three shopping malls in Pitesti, Ploiesti and Galati.
---
Property: Bucharest
BUCHAREST PITESTI MOTORWAY French retailer Carrefour has signed a lease contract with Europolis for 45,000 sqm of warehouse and 2,000 sqm of mezzanine office area in Cefin Logistic Park, located at km 13 on the Bucharest - Pitesti motorway. The warehouse space will include 4,000 sqm of chilled area for storage of fresh products and a 1,200 sqm battery-charging room.
PIATA PRESEI LIBERE Austrian real estate investment fund Immoeast has bought S-Park office project close to Soseaua Bucuresti-Ploiesti for 101.5 million Euro. Developed by Primavera Development the project consists in four blocks with five upper floors, usable space of 45,000 sqm, 2,500 of retail space and 430 underground parking spaces. The project, scheduled for completion as we went to press, has an occupancy rate of 95 per cent. Tenants include ING, SAP, Heineken and Wrigley. Immoeast has 114 properties totalling 3.9 million sqm of usable space in Romania.
THREE OFFICE BLOCKS Deutsche Gesellschaft Fur Immobilienfonds (DEGI), the investment division of German group Allianz has bought three office buildings in Bucharest from European Convergence Property Company, owned by British investment fund Charlemagne Capital. The transactions, worth 111 million Euro in total, include Millenium Business Center on the junction of Blvd Carol and Str Armand Calinescu and office building Construdava on Sos Pipera-Tunari for 82.6 million Euro and PGV Tower on Calea Vitan for 28.8 million Euro.
LAROMET AFI Europe, part of Israeli developer Africa Israel has paid 77.5 million Euro for a 155,000 sqm plot of land in Sector 1 Bucharest, on the exit towards Buftea. AFI Europe will use the land, previously owned by the Laromet brass and copper factory, for the development of a luxury residential project comprising 4,000 to 5,000 living units, commercial spaces and leisure areas on a total built area of around 700,000 sqm.
Property: Romania
CONSTANTA Spanish developers Gea Prasa and Detea paid 60 million Euro for ten hectares of land in Constanta on the former site of local public transport authority RATC's sports grounds. Here they will invest 450 million Euro in a mixed use project including residential, hotel, office and commercial buildings. Works are expected to start in 2008.
BRASOV Israeli developers Aura Investment and Baron Group will invest over 160 million Euro in a 1,600 apartments residential project in Brasov. The two companies share equal ownership of the project estimated to be worth, when completed, 195 million Euro.
MOLDAVIA AND BUZAU Developers GTC and Aura Developments have received an 80 million Euro loan from the European Bank for Reconstruction and Development (EBRD) to build, let and manage shopping centres in eastern Romania. The first three centres will be built in Buzau, Piatra Neamt and Suceava. The social aim of the EBRD is to bridge the development gap between Bucharest and the regions in terms of quality retail offering. The 12 year loan will consist of a 35 million Euro loan for the EBRD's own account and a 45 million Euro loan syndicated to Raiffeisen Bank.
NATIONWIDE
Investment group AEW Europe/Curzon has launched the third closing on a 370 million Euro fund, PBW II Real Estate Fund, for real estate investment in Romania, as well as Poland, Hungary and the Czech Republic. The fund is looking to invest in retail and logistics in Romania at large and in the office market in Bucharest, according to Artur Mokrzycki, the group's managing director for central Europe. The final closing for PBW II will take place this month and allow for the completion of additional commitments of approximately 30 million Euro.
---
Source : http://www.thediplomat.ro/real_estate_0907.php