Risks in Romanian real estate
Bucharest or bust: Mihai Alexandrescu points out the bad dice to roll in the local property casino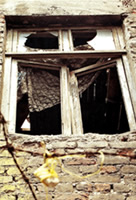 Thousands of speculators are flooding into Romania from Ireland, the UK, continental Europe and America, looking to get rich or die trying on Romania's property market.
Some estate agents will say it is impossible for investors to lose money in Romania, with claims that buying up land under a nuclear waste dump or a public toilet could see quadruple returns in the future.
So The Diplomat quizzes the real estate experts on the traps to beware.
Vlad Sabadus, managing director at real estate agency Asco believes apartments in blocks of flats built before 1977 and prices per sqm exceeding 1,000 Euro are a risky investment. According to Sabadus these apartments will drop in value when the new residential projects become available.
However, Sorin Lacusta from real estate agency Regatta believes that old apartments with a high risk of collapsing during an earthquake could become high value assets.
"Apartments with very good locations, such as Blvd Magheru and Calea Victoriei, if renovated, could be very valuable," he says. "The price for one of these apartments plus the restoration cost will never be as high as a new apartment."
Bad investments, according to Sabadus, include lands situated outside of the city in an area with no development potential. But this is hard to determine at the present time, because most developers are selling every field, village and rubbish pit outside of the city as a future Suburban wonderland.
But president of Perfect Casa, Jeni Dragomir, believes risky lands include industrial areas and those intersected by water and natural gas pipes, pylons or under the City Hall's projections to enlarge the highway. A check-up with the authorities is always necessary here.
Another trap is not to purchase land surfaces under 150 sqm, because a developer will not be able to acquire a building permit.
Even though new apartments offer more comfort and more outdoor facilities on paper, not all of them reach customers expectations. According to Sabadus the most common problems owners have with such purchases are bad materials used for construction, the discomfort of moving into a block where the other apartments are not finished and a lack of schools, kindergarten and shops in the area.
"We had a project of 16 new villas in Balotesti," says Lacusta. "Here the developer made the mistake of building where there was no public transport and the land was small (a 100 sqm house on land of 220 sqm). We only sold two in 18 months."
Prices for old apartments are in a real estate balloon, according to Sabadus, which could pop at any point. One fear is that many of the new properties are being purchased by speculators from abroad, who then sell on to the next generation of speculators, without having an end-user in sight.
The number of actual homebuyers for a three-bedroom flat in mid-price areas of Bucharest for 200,000 Euro may be few and far between. Such a boom has inflicted Poland, where the market's hopes of seeing a rising middle class overshot the reality. In Warsaw real estate developers are now splitting the dream apartments into two flats, and selling them separately, in order to find a market.
---
Property of the month
Strada Austrului - Furnished interwar villa in up-and-coming zone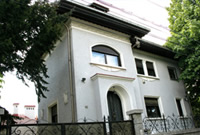 IANCULUI Flanked by two majestic lime trees on Str Austrului, this eye-catching interwar villa boasts a quiet environment and generous space, making it a choice for an ambassadorial residence or for someone with the cash and spirit to take advantage of its classic pleasures.
The street is quiet and green with nearby playgrounds in the vicinity of Piata Iancului. This is also not a shortcut for the main thoroughfares, so no cars choke the roads around rush hour. It could be the perfect inner-city choice for an exciting childhood or peaceful retirement.
Built in the 1930s in the NeoRomanian style, it served as residence for the Austrian consul during Communism and, after the revolution, was returned to its former owners, who invested in its renovation.
The house sits on 500 sqm land and has a total built surface of 350 sqm, plus a garage and guest house for the driver. There is also a wine cellar with a stable temperature of 17 to 18 degrees centigrade.
Hiding in the shade of aromatic lime trees with 12 rooms, three stairways and two entrances, the building is partitioned over a basement, ground floor, first floor and attic, with bathrooms at each level.
The inside has been refurbished with classic Italian furniture designed to match the Florentine columns in the dining room and a Moorish mosaic floor, plus original Chandeliers with Swarovski crystals.
The master bedroom is spacious with two large mirrored sliding doors that pull back to reveal a bathroom with jacuzzi. Due to its generous size, the dressing room on the same floor can be transformed into another bedroom, office or a gym.
The basement has a bunker, built to protect nobleman from potential bomb attack, and a huge De Dietrich heating appliance to keep at bay evil draughts. There is also non stop video surveillance system monitored from a panel inside the house.
The property is available either for rent at 12,000 Euro per month or sale at 2.2 million Euro from real estate agency Perfect Casa.
For more information call
Jeni Dragomir at
Perfect Casa at 0724 205 953 and
Amalia Ionescu
Arabesque Real Estate at 0788 429 323
---
New German flats face up to the sky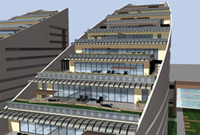 SOSEAUA PIPERA TUNARI German-Romanian Developer Rotary is investing over 100 million Euro in a mixed residential and business centre on 79-81 Soseaua Pipera Tunari.
The 'Belvedere' complex includes light and airy open-terraced flats in the style of a segmented ship's bow.
This will be developed on a surface of seven hectares, including four blocks of flats, delivering 600 apartments and 800 parking spaces.
This will also include a beauty and health centre, two pools, three restaurants, sports ground, playgrounds, kindergartens, a primary German school, shopping centre and docks.
The apartments will be with two, three and four rooms and duplexes with surfaces of over 200 sqm with 50 to 70 sqm terraces.
The residential complex is scheduled for completion in December 2009 and the business centre in 2010.
---
Irish in half billion Euro mall blitz
ROMANIA Irish developer Mivan announced that it will invest up to 500 million Euro in ten major shopping malls in Romania.
Mivan property director, John Houghton has confirmed that seven sites had been secured in Arad, Oradea, Brasov, Targu Mures, Ploiesti, Bacau and Sibiu, with three additional sites under negotiations.
All malls will come under the brand name 'Tiago Mall' and will each provide between 25,000 and 30,000 sqm of rentable area. Development of all ten shopping malls will be completed by 2010.
---
Giant 19-floor tower to overshadow press house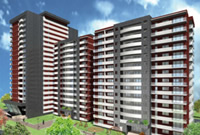 STRADA TELEGA Romanian-based real estate company Star Proiect Development is investing 45 million Euro in a residential project on Str Telega, near Piata Presei Libere, scheduled for completion by the end of 2008.
Metropolis Residence will consist of one building with ground floor and 18 upper levels and two buildings with a ground floor and 13 upper levels, totaling almost 37,000 sqm of built area.
The complex will include 27 studio flats, 112 apartments with two rooms, 121 apartments with three rooms and 13 larger apartments with four rooms.
---
Property: Bucharest
PIATA BUCUR Kota Construct is building a mixed residential and office project near Piata Bucur in Tineretului, scheduled for completion in March 2008. Bucur Residence comprises a six level block of flats delivering 30 apartments of two, three and four rooms, three office spaces at the ground floor and 48 underground parking spaces. Surfaces range between 117 sqm and 218 sqm, including terraces. Prices per unit range from 164,000 to 327,000 Euro. The total investment is six million Euro.
CALEA VICTORIEI British real estate investment fund Atlas Estates has bought the 82-room Golden Tulip Hotel on Calea Victoriei for 12 million Euro, according to Mediafax. The four-star hotel, built in 2005 was previously owned by Israeli company BNB Victoria Tower.
PIATA GEORGE COSBUC DC Communication and Headvertising are investing 3.5 million Euro in the rehabilitation of the former Bucharest Commodities Exchange building, in a move scheduled for completion by the end of the year. According to Teodor Frolu, architect and co-managing partner of DC Communication, the building, five minutes south of Palatul Parlamentului, will be transformed into an office for companies in advertising, communication, multimedia and arts. The office will have two floors and a ground-floor which will feature a small shopping arcade.
VOLUNTARI Developer Nannete Real Estate Group will invest 23 million Euro in a residential project in Voluntari, Ilfov county, after purchasing a 4,100 sqm plot of land according to Globes Israel. Nannete has also bought 10,000 sqm land in the Lacul Morii area, where it intends to build 310 apartments after an investment of 29 million Euro.
PANTELIMON Turkish company Pelican Com, part of Turkish group Gurtas, plans to invest almost 300 million Euro in five real estate projects in Bucharest, according to Mediafax. The company acquired land in Pantelimon where it will develop two residential projects delivering 210 apartments of 23 million Euro and a mall of 100 million Euro.
Property: Romania
PREDEAL Romanian developer Sorcha Developments will invest 50 million Euro in a residential complex in Predeal. 'Terasele 3 Brazi' will consist of 49 villas of six different kinds, delivering 822 apartments. The project will also feature a restaurant, shopping centre, swimming pool, sauna, tennis courts and gym. Work was scheduled to begin as we went to press.
CERNICA Austrian developer Joseph Ettinger Bau is investing two million Euro in a residential complex in Cernica, Ilfov county scheduled for completion at the end of this year. The project will consist of 26 villas with built areas ranging between 215 and 329 sqm, a mini-market, swimming pool and playground.
IASI American developer Adama, in association with Baron Development, is investing 20 million Euro in a residential project in Iasi on Dealul Copou, with the first apartments ready at the end of 2007. Copou Bellevue is a upper middle class project and consists in four buildings delivering 160 luxury apartments with prices ranging from 75,000 Euro to 226,000 Euro plus VAT. The complex will also include a playground, four gyms, deposit spaces, parking lots and security guards.
ARAD Austrian developer Delta Solutions will invest 300 million Euro in a residential project in Arad according to Ziarul Financiar. The project will be built on a surface of 52 hectares on the outskirts of the city and will be completed by 2009.
OLIMP
Romanian developer Real Estate Developer is investing 11 million Euro in a residential complex in Olimp, Constanta county, scheduled for completion in May 2008. Sara Sea View will include 126 apartments with two and three rooms. Prices will start from 850 Euro per sqm plus VAT and surfaces range between 82 and 178 sqm. Situated near the Majestic hotel at 100 metres from the beach, the project will include three swimming pools, a 5,000 sqm private park, playgrounds, restaurants, coffee shops and a mini market.
---
Source : http://www.thediplomat.ro/real_estate_0507.php