Coalition fears breakdown after Conservative Party quits
Government partner the Conservative Party (PC) has announced it will leave the Romanian Cabinet, triggering fears that the existing coalition will run a minority executive.
However a spokeswoman for the Party Daniela Popa said the PC would continue to "support the Government in Parliament to ensure political stability", as quoted by AP.
The PC is leaving the Government due to lack of support from its coalition partners for its legislative agenda.
PC's Economy and Trade Minister Codrut Seres and Deputy Prime Minister Bogdan Pascu will resign.
On paper, the National Liberal Party (PNL), Democratic Party (PD) and Hungarian Party (UDMR) now have a minority hold on the Parliament.
Relationships between the presidency and the PC, which is run by millionaire businessman Dan Voiculescu, have been tumultuous.
President of Romania Traian Basescu last year called a coalition with Voiculescu an "immoral solution".
The party has decided to leave the Cabinet because, it claimed, the four-party ruling coalition did not support its proposals to cut taxes on profits and food items.
This comes after the National Liberal Party (PNL) witnesses a fragmentation of its members – as former PNL members have set up an alternative political platform against the existing PNL executive, which it sees as "petro-liberals" only looking after the interests of its own businessmen members in the energy sector.
---
Ex-Prime Minister faces million-Euro corruption probe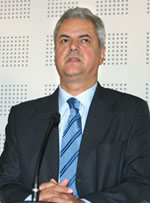 Former Prime Minister Adrian Nastase will be tried on bribery charges, receiving illegal campaign funds, blackmail and abuse of public office.
Nastase, who was in office from 2000 to 2004, is accused of receiving bribes worth more than 1.3 million Euro, including merchandise illegally shipped from China, from an official in charge of civil and industrial construction, prosecutors from the Anti-Corruption Department (DNA) said. The former premier is also charged with receiving illegal campaign contributions worth 817,000 Euro from a printing and a construction company.
Five other people, including his wife Dana Nastase, are being investigated in connection with the case. Nastase, a member of the Social Democrat Party (PSD), denied the charges, saying the investigation was politically motivated. He stepped down last year from his position as executive president of the PSD and president of the Chamber of Deputies after being charged with corruption in the same case.
---
Petrom contract negotiator charged by authorities
Dorin Mucea, the contract negotiator in the Ministry of Economy and Trade who liaised the privatisation contract for Austrian oil and gas giant OMV's takeover of Petrom, last month faced charges from the General Prosecutor Office, as a major investigation was launched among privatisation officials.
The ministry official was charged with crimes against national security.
According to the Public Ministry in Bucharest, DIICOT, the body dealing with major organised crime and terrorism cases in Romania, was notified in June this year about the existence of an organised crime group formed around Bulgarian citizen Stamen Stancev, a consultant for the Swiss bank that advised on the Petrom privatisation.
The network is said to include several dignitaries and public servants involved in privatisation processes. Mucea, two other Romanians and Stancev Stamen were facing prosecutors' questions last month.
In related news, Romania's Supreme Defence Council (CSAT) has urged holders of privatisation contracts in the energy sector to declassify them as soon as possible, President Traian Basescu announced.
Basescu said the controversial privatisation contract by which Romanian oil major Petrom was sold to Austrian company OMV would also be made public as "there are privatisation contracts affected by errors".
OMV officials did not oppose the move, neither did Gaz de France and E.ON, who have bought state-owned gas distributors Distrigaz Sud and Nord respectively.
---
Fragmentation of Liberal Party claims first Minister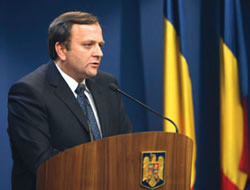 Prime Minister Tariceanu has sacked Agriculture Minister Gheorghe Flutur following the dismissed official's flirtation with exiled members of Tariceanu's National Liberal Party (PNL).
Flutur resigned as a vice president of PNL to create a new group within the party which was more sympathetic to the Liberal Political Platform (PPL), formed by breakaway members of the PNL Valeriu Stoica and former prime minister Theodor Stolojan.
President Basescu, who accepted his Prime Minister's choice, said he agreed to dismiss Flutur because he doesn't want to involve the presidency in PNL infighting, but warned Tariceanu this is the last time he would approve such a move, without seeing a back-up prepared. Tariceanu asked Flutur to resign one day after the PNL Executive Committee revoked his political support.
"I gave him the opportunity to present his resignation taking into account the fact that he no longer represents the PNL," argued the Prime Minister.
But Flutur refused to resign as Minister or PNL member.
Flutur has created a pressure group which bridges the interests of the PNL and the Liberal Political Platform, with a final end that could see exiles such as Stolojan and Stoica reconciled with the party.
Among the members of the initiative group are former Minister of Finance Ionut Popescu, former Minister of Health Mircea Cinteza, 13 deputies, eight presidents of county organisations and four mayors. Some of these are still members of the PNL executive committee.
Stolojan and Stoica set up the Liberal Political Platform to reclaim the centre right from the ideological vacuum and business interests the politicians perceived in the current PNL leadership.
---
Ceausescu's only daughter dies at 56
Zoia Ceausescu, daughter of former dictator Nicolae Ceausescu, died last month of lung cancer, aged 56, in Bucharest.
She was cremated in Vitan-Barzesti, Bucharest and is survived by her husband Mircea Opran.
Zoia was recently involved in a legal battle to exhume her parents' remains and test them for DNA to ensure that authorities were telling the truth about their place of burial.
The Government had said the couple were interred in Ghencea Cemetery, west Bucharest, but Zoia claimed that there was no paperwork to prove it.
A local court ruled against her request in 2005, but she had appealed. Zoia, a mathematician, was arrested in December 1989 with her husband, Opran, and brother Valentin. They were charged with undermining the national economy, but released eight months later.
Her youngest brother, Nicu, a Communist Party official, was charged with genocide in the death of 89 people in Sibiu and served three years of a 20-year prison sentence. Nicu died in 1996 of cirrhosis of the liver.
Valentin and Nicolae's brother Ion Ceausescu are both still alive.
---
SHORT NEWS
Anti-corruption effects not felt by public
Despite a Government programme committed to combat corruption, new figures from Transparency International (TI) show that analysts do not perceive the situation is improving. Romania ranks as the 84th cleanest nation from 163 countries, equal to Madagascar, Mauritania, Panama and Sri Lanka. In one year since the last report it has moved up one place, overtaking Mongolia. Romania was perceived as less corrupt by the same Corruption Perception Index in 1997. The poll is of business people and country analysts. Bulgaria was higher at 57, Croatia at 69, Poland at 61 and the Republic of Moldova was also one point ahead. But in this region of eastern Europe, Serbia, Russia, Ukraine, Macedonia, Albania and Bosnia Herzegovina all ranked lower than Romania.
Human rights activist charged with asking for bribe
Florentin Scaletchi, head of the Organisation for the Defence of Human Rights in Romania, was last month arrested and charged by prosecutors for demanding 20,000 Euro from a man to intervene in a court case and secure a reduction in the man's sentence. Scaletchi allegedly told the unidentified man that he had connections to officials in the Romania's Supreme Court of Justice and would be able to get the man a reduced sentence, a statement from the Anti-Corruption Department (DNA) said.
Ex-Culture Minister loses secret police appeal
National Council for Studying Former Securitate Files (CNSAS) has rejected former Culture Minister Mona Musca's appeal against a verdict that she collaborated with the secret police during Communism. Seven members of the CNSAS voted in favour, while three abstained, in condemning the collaboration of Musca, which included informing on foreign students when she was a teacher at Timisoara University in the 1970s. Musca is now an independent MP and NGO Civic Media has called for her dismissal. The public's view on Musca has fallen from and October figure of 39 per cent who trust her to 29 per cent in November. However, the public still has more belief in her than Prime Minister Tariceanu, according to an Insomar survey.
Capital to see major Communism exhibition on Ceausescu birthday
Minister of Culture Adrian Iorgulescu is in discussions with Mihai Rozeanu, director of the National Museum of Contemporary Arts (MNAC), to hold a pioneering exhibition about Communism in Romania. The exhibition is likely to take place in the basement of the Palace of Parliament [Ceausescu's former People's Palace] and will open on 26 January, the birthday of the former Communist dictator. Existing exhibitions of Communism include the Memorial for Victims of Communism and the Resistance in a former prison in Sighetu Marmatiei, Maramures and a small gallery of mostly Gheorghe Gheorgiu Dej-era memorabilia in the cellar of the Peasant Museum, Bucharest.
Hungary and Romania aim to offer same view on past
Romania and Hungary have agreed to establish a mixed group of historians to draw up a common history volume for the two countries. The academies from the two states will coordinate the activity of a special team of historians from the two countries. A presentation of the detailed structure of the volume is to be presented by 2010, while the content will be developed afterwards. This volume could be the grounds for a future history manual for the two countries.
Top magistrate body moves closer to working full-time
Only two members of the 14-strong Superior Council of Magistrates [CSM] now occupy positions outside of the public body which disciplines judges. The European Commission has criticised magistrates from the CSM who have other jobs in local courts, because if they discipline a judge who they also work with, a conflict of interests could emerge. The EC requires all 14 members to work full-time by 2009.
Geoana: PSD Government manipulated polls
Social Democratic Party (PSD) leader Mircea Geoana has declared that during the PSD leadership his party "also" manipulated the opinion polls. "We kept the Democratic Party (PD) and National Liberal Party (PNL) at eight to nine per cent," he said at a party meeting in Ploiesti. "It is hard to grow in surveys when newspapers print important corruption cases on their front pages."