Liberal dissidents launch new centre-right political body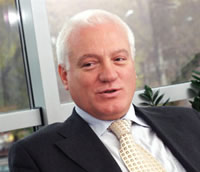 Exiled from the National Liberal Party they helped create, ex-Prime Minister Theodor Stolojan and ex-Minister of Justice Valeriu Stoica have created a new liberal body for the centre right, Platforma Politica Liberala (PPL).
"By the end of the year we will have groups of supporters in all the counties of Romania," Stoica told The Diplomat.
The platform aims to reclaim the centre right from the current PNL management, which Stolojan and Stoica see as ideologically bereft, obsessed with business interests and deficient in leadership.
"Today's PNL management wants a party devoted to Dinu Patriciu and its economic interests," alleged Stoica. "Instead of resolving the crises in health, education, justice and administration, the PNL has exaggerated them."
The PNL leadership was bullish in its attitude to the new group.
"With this platform [the dissidents] are trying to destabilise the PNL," said head of the PNL deputies Crin Antonescu in a press conference. "Their hope is to provoke division, with a haemorrhaging of members and political figures."
Stoica argued that the PNL has suspended internal democracy and free expression. "The PNL management hasn't express any idea in reference to the liberal right wing in Romania today," he added.
Stoica said that the platform intends to unify all the right wing tendencies under the PPL umbrella, cohering Liberalism with Christian-Democracy and Social Democracy.
Prime Minister Tariceanu also received much criticism from the new platform.
"He is a political figure without vision and coherence, who hesitates when he has to make a decision and does not involve himself too much in resolving the major problems that the nation confronts," Stolojan said at the party's launch in Pitesti.
Prime Minister Tariceanu called these criticisms "unpleasant" and said Stolojan has no idea about the meaning of a political platform.
Stoica also claimed that former Minister of Culture Mona Musca, who was thrown out of the PNL for allegedly working for the Communist secret police, is "supporting us in her politics".
---
Journalist kidnap plotter sentenced to death
One of the citizens involved in the kidnapping of the three Romanian journalists in Iraq last year, Mohammad Munaf, has been sentenced to death by an Iraqi court.
Munaf's lawyer and a spokesman of the American Justice Department confirmed the penalty.
Munaf has both Iraqi and American citizenship and is the first American citizen sentenced to death by the Iraqi court.
The convicted man's lawyers have appealed to the US Federal Court and asked for him to remain in US custody in order to avoid the penalty.
As we went to press, Munaf was in a US Defence department prison in the International Baghdad airport, which will hand him over to the Iraqi authorities to apply the penalty.
Meanwhile, Syrian businessman Omar Hayssam, who is also one of the alleged masterminds of the kidnapping, remains at large following his escape from Romania last June.
---
Former Culture Minister accused of spying on colleagues remains popular
Former Minister of Culture Mona Musca remains a popular and trusted figure in politics, despite the recent revelations about her secret service past, according to a new poll from Insomar, undertaken in October.
Musca managed to eclipse in popularity the president of the New Generation Party, Gigi Becali, head of the main opposition, Mircea Geoana and Prime Minister Tariceanu.
Members of the public also registered more support for the Democratic Party (PD) than the National Liberal Party (PNL), with 32 per cent in support of the PD and 16 per cent for PNL.
Meanwhile, support for the DA Alliance has dropped three percentage points from last April to 46 per cent, while the Social Democratic Party has increased its support by three points to 23 per cent.
But more or less, support for parties and politicians remains stable.
Which politicians do you trust?
57 per cent: President Basescu
43 per cent: Theodor Stolojan
39 per cent: Mona Musca
36 per cent: Gigi Becali
34 per cent: Mircea Geoana
27 per cent: Calin Popescu Tariceanu
24 per cent: Ion Iliescu
24 per cent: Cornel Vadim Tudor
Source: Insomar
Who would you vote for?
46 per cent: DA Alliance (PNL-PD)
23 per cent: Social Democratic Party (PSD)
12 per cent: Greater Romania Party (PRM)
5 per cent: Hungarian Party (UDMR)
5 per cent: New Generation Party (PNG)
2 per cent: Conservative Party (PC)
Source: Insomar
---
Ex-Defence Minister to take up top privatisation position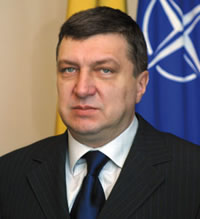 Former Defence Minister Teodor Atanasiu has taken up the job of president of the Privatisation Authority (AVAS), replacing Razvan Orasanu, whom Prime Minister Tariceanu has released from his function.
Earlier last month, Atanasiu was under investigation by prosecutors into allegations he ordered military intelligence to spy on presidential staff. He was suspended from his function pending the investigation.
But the prosecutors then cleared him of any misdemenours.
However President Traian Basescu said he did not want the Minister reinstated.
Atanasiu then resigned from his ministerial position to stop, he claimed, a political fight between his Ministry and President Basescu.
"The military is suffering from this political battle which I believe is dangerous," Atanasiu told reporters. "The smartest one surrenders first."
He first clashed with Basescu in June when he proposed withdrawing Romania's 700 troops from Iraq.
Orasanu has been head of the Privatisation Authority since the end of 2005.
---
SHORT STORIES
UK Home Office imposes tough curbs on Romanian workers
UK's Interior Ministry has issued work restrictions on Romania and Bulgaria which ex-communist nations that joined the EU in 2004 do not suffer. This follows an influx of an estimated 600,000 from the nations that joined in 2004 to the UK for work. Romanians and Bulgarians will have to join quota systems for working in food processing and agriculture. For skilled workers, they will have to apply to a highly skilled migrants programme to work in Britain. Romanians and Bulgarians will be able to work if they are self-employed or if they are studying in Britain, but only part-time. UK's Home Secretary John Reid was under fire from anti-migrant MPs and groups for not curbing work migration further. He was also criticised by pro-enlargement groups who said his 'managed migration' move was unrealistic, taking into consideration Romanians' preference for working in Spain and Italy.
Former Minister of Defence renews old role
Former Minister of Defence from the Mugur Isarescu's Government in 2000, Sorin Frunzaverde, 46, has been reappointed as Minister of Defence. Vice president of the Democratic Party (PD), Frunzaverde has previously been Minister of Environment (1997-1998) and Minister of Tourism (1998).
European elections due for 13 May 2007
Romanian elections for the European Parliament will happen on 13 May 2007, announced Prime Minister Tariceanu. As we went to press the most likely strategy would be a list for each party – with the electorate voting for their party of choice.
Ex-chief negotiator wins EU commissioner post
President of the European Commission, Jose Manuel Barroso, has confirmed Leonard Orban as Romania's EU commissioner, with a specialism in multilingualism. Orban, Romania's deputy EU Integration Minister, was put forward after Varujan Vosganian withdrew amid allegations of corruption and links to the former secret police. Barroso said Orban would be "a great member of my Commission. He was one of the main people responsible for Romania's EU accession," he added. Like all commissioners, Orban will have to be grilled by the European Parliament before he can take up his post. Orban, 45, has been a consistent presence in the negotiations for Romania's entry into the EU. He started working in the field of negotiations in 2001. The Social Democratic Government (PSD) appointed him deputy chief negotiator and, once the DA Alliance took over, he was appointed Chief Negotiator in the Ministry of European Integration. He is brother of the head of the Bucharest branch of the National Liberal Party, Ludovic Orban.
Government drafts open borders plan
Romania has approved the draft national strategy to join the open borders of most EU states, the Schengen area, which is expected during 2009 or 2010. The draft document, subject to Government approval, includes information such as eliminating controls for internal borders, adopting and implementing the Schengen acquis and acquiring technical means, special equipment and systems to adequately train the personnel engaged in the process. Romania's preparation to join the Schengen area will be mainly financed through EU funds, costing a total of 560 million Euro.
Nastase minister returns to governing coalition
Former Minister of Economy and Trade in the Nastase Government, Dan Ioan Popescu, has left the Social Democratic Party (PSD) to join coalition partners the Conservative Party (PC). In this party, he joins the current minister of the same department, Ioan Codrut Seres, thus creating a continuity of people responsible for the privatisation of the energy sector in the same political group.

Portugal Ambassador wins post of close ally to President
Former Romanian Ambassador to Portugal Teodor Baconsky is replacing Claudiu Saftoiu as the head of internal politics department in the Presidency. Baconsky, who has a PhD in history of religions and anthropology from the Sorbonne, has also been Ambassador of Romania to the Holy See. Saftoiu moves to head up the Romanian Intelligence Service (SRI).
Sweden labour market plans not to limit access for Romanians
Sweden does not plan to restrict the access of Romanian and Bulgarian citizens to its domestic labor market once the two Eastern European countries join the EU in January 2007, according to a spokesman in the new Stockholm government, quoted by AFP. Among the existing EU member states only UK, Ireland and Sweden opened unrestricted labour markets in 2004 to the workers from the ten new accession states. Incoming Swedish Prime Minister Fredrik Reinfeldt was yet to announce an official decision, by the time we went to press.