Secret service revelations claim senior coalition figures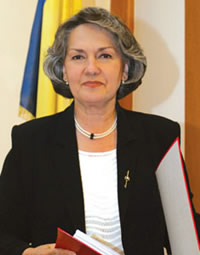 National Liberal Party (PNL) deputy and former Minister of Culture Mona Musca and leader of the Conservative Party (PC) Dan Voiculescu are the most senior figures so far revealed to be alleged collaborators with the Communist secret service Securitate.
This is a result of investigations by the Government-appointed National Council for Studying the Securitate Archives (CNSAS), which is also putting former Minister of Justice Rodica Stanoiu, allegedly codenamed 'Paula', under investigation.
The revelation of Musca's involvement comes as a shock due to her passionate backing of Romania's Lustration Law, which seeks to remove former members of the secret service from holding senior public office.
She also previously denied involvement with the secret police.
This revelation came one day after an Insomar survey stated that, of all the politicians in Romania, its citizens trusted the president first and Musca second.
Mona Nicoara [that was the name of her first husband] was assistant at the Romanian language department where foreign students learned Romanian.
The Securitate recruited Musca for her 'feelings and patriotic beliefs' in March 1977. She was supposed to supply information to the Communists about foreign students studying at Timisoara University and the university's teachers. She received the codename 'Dana'.
In 18 months since her recruitment 'Dana' supplied 15 informative notes about Greek students and a few teachers. But these notes are missing from her file as an informer. Instead, there are two notes about her Romanian colleagues.
"I don't remember writing them," said Musca. "Back then I was divorcing and I was so preoccupied with my own problems that I simply don't know when I wrote them."
After having moved to Bucharest, her recruiter asked the Securitate in 1987 to take her out of the informing network because she could no longer provide information about students in Timisoara.
Musca has been awarded a Member of Honour by the NGO Societatea Timisoara. Once her cooperation with Securitate was revealed the NGO took her back the title.
CNSAS has also made public a list of informers including Hungarian Party (UDMR) and PNL deputies and three journalists.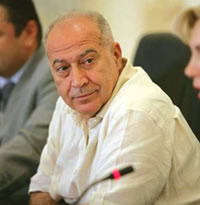 In 2000 CNSAS revealed the names of writer and diplomat Alexandru Paleologu and Mircea Ionescu Quintus honorary president of PNL. Quintus sued and won a trial against the CNSAS on grounds that he was not an informer.
The PNL is distancing itself from Musca and she risks expulsion from the party.
CNSAS revealed Dan Voiculescu's involvement as a collaborator, codename 'Felix', at the moment he was about to take up his position as deputy Prime Minister.
---
Government sacks heads of foreign investment agency over nothing
Prime Minister Tariceanu has beheaded the National Agency for Foreign Investment (ARIS) following a bust-up between its president Ana Maria Cristina and vice president Gabriela Vasile.
However, there seems to be no evidence of wrongdoing by either of the two women.
The Democratic Party (PD) has also decided to exclude both from the party.
Last August, Ana Maria Cristina said that Gabriela Vasile accepted a bribe from a foreign investor in 200 cigarettes and bed sheets.
Vasile fought back, claiming that, because Cristina was a 'business partner' in a chain of shops which merchandised clothes from abroad, this generated a conflict of interest with being the head of an Agency for Foreign Investment.
However, she produced no evidence of how this conflict of interest had manifested itself.
The foreign investor involved in the alleged scandal, Chinese company F&J, denied it gave a bribe.
"When (Ms Vasile) came to China with another two representatives from ARIS we gave them a welcome gift of bed sheets and tobacco," Roger You, standing vice president F&J Romania told The Diplomat. "We do this with everyone that visits us and the company. When I came to Romania I received a gift. This is how we do it, it is not bribery."
The retail value of the goods is estimated at about 15 Euro. PD had not appointed a new president and vice president at ARIS as we went to press, although PD member Marian Neagu has been rumoured as the executive replacement.
---
Escape of terrorist suspect sees secret service heads roll
Heads of the Romanian secret services and a top civil servant resigned last month after the disappearance of Omar Hayssam, a Syrian-Romanian businessman accused of masterminding the kidnapping of three journalists in Iraq.
Romanian Intelligence Service (SRI) chief Radu Timofte and Foreign Intelligence Service (SIE) boss Gheorghe Fulga quit after President Traian Basescu summoned them to a meeting with police chiefs about the flight of Omar Hayssam - shortly before he was to be returned to jail. After the meeting, they decided to resign.
Romania's chief prosecutor, Ilie Botos also quit.
According to Reuters, while awaiting trial, Hayssam underwent surgery for colon cancer. A local court released him from a Bucharest prison hospital in April this year to recuperate at home. He failed repeatedly to present himself at court, but a Bucharest court ordered him to be put him behind bars again pending trial. He then went missing.
Police issued an international search warrant for Hayssam. Several weeks later a video of Hayssam circulated showing him walking through Buzau, a city 100 kilometres north-east of Bucharest.
Prima TV reporter Marie Jeanne Ion, cameraman Sorin Miscoci and Romania Libera journalist Ovidiu Ohanesian were kidnapped in Baghdad on 28 March 2005.
During this episode police arrested Hayssam in Romania and prosecutors charged him and Mohamad Munaf, the journalists' guide in Iraq, with organising their kidnapping to help Hayssam avoid charges of organised crime in Romania.
Prosecutors said Hayssam had arranged the journalists' abduction, which Munaf, his business partner, had carried out, to allow Hayssam to pose as their rescuer. This would allow him to leave Romania, where he was banned from exit pending a criminal investigation. The alleged plot backfired and the journalists came under the control of a militant group, which threatened to kill them unless Romania pulled its 800 troops out of Iraq. The journalists were rescued after 55 days. However, there are still rumours that a payment was made to secure their release. As we went to press, Hayssam was still at large.
---
SHORT NEWS
Romanians favour Iraqi troop withdrawal
Romania should bring home its troops from Iraq, according to 62 per cent of the population in a recent poll by the Social Research Bureau (BCS). This follows Prime Minister Calin Popescu Tariceanu's proposal for withdrawal, a move opposed by President Basescu. However the country's Supreme Defence Council (CSAT) rejected the Prime Minister and Minister of Defence Theodor Atanasiu's proposal for a total recall. Basescu said that by November he will withdraw a battalion deployed for a peacekeeping mission in the Dhikar province of Iraq. He added that troop withdrawal and related issues will also be discussed. Romania has 628 troops in Iraq, and another two battalions in Afghanistan, Bosnia-Herzegovina and Kosovo.
Becali's party mergers with rightist group
Steaua football team owner Gigi Becali's New Generation Party (PNG) has merged with a breakaway group from the far-right Greater Romania Party (PRM), called the Popular Party (PP). The new party is named Christian Democrat New Generation Party (PNG-CD). Becali will remain president, while former PRM member Corneliu Ciontu will be vice president and represent the party in the Parliament.
Government to relaunch branding tender after no-show
The Agency for Governmental Strategies (ASG) will relaunch the pitch to choose a company to compile the task book for the 'Branding Romania' project, after no company was willing to participate in the first tender. Because of the lack of experience in country branding campaigns, ASG launched in August a tender for a company to draw up the task book for the project proposal. ASG will launch it again as soon as possible and intends to expand the criteria for the companies allowed to take part.
Tourism boss resigns in despair
President of the National Authority for Tourism (ANT) Ovidiu Iuliu Marian resigned for personal reasons. This follows an interview for Capital magazine where he allegedly stated that most of the owners of the hotels are working on the black market. "I can't do anymore the damn tourism. Let it be taken and ruled by whoever wants it," Marian told the magazine. A new president has not yet been appointed.
Basescu: no troops for Lebanon
Romania's Supreme Defence Council (CSAT) last month decided the country will not send its army forces to a UN peacekeeping force southern Lebanon, but will become involved in the country's post-conflict reconstruction efforts, should Romanian firms be selected.
UK to close open door policy on Romanian work migrants
Romania and Bulgaria were likely to face restrictions on working in the UK when they join the EU next year, as we went to press. This is a change of the 'open door' policy the UK gave to the ten new member states joining in 2004. But this change may force Romanians, who will be able to travel freely to the UK when Romania becomes a member of the EU, to work on the UK black and grey markets. This has been the practice in Spain, Italy and Germany where an estimated two to three million Romanians are currently working, many, if not the majority, without proper documents. At least 427,000 east European migrants have come to legally work in the UK since 2004, taking advantage of the 'open door' policy also granted by Sweden and Ireland.
While Romania could restrict labour markets for foreigners
Romania may retaliate to moves by European Union countries to restrict employment on its nationals by limiting the labour rights of workers from those countries in Romania, according to President Basescu. This comes amid calls from the UK, Ireland and Hungary to restrict Romanians from working on their territory once the country joins the EU. On a recent visit to Bucharest, Hungarian Foreign Affairs Minister Kinga Goncs said: "Hungary has always fought for the liberalisation of the labour market at a European level, but, at the same time, we have to take into account the high unemployment rate at the EU's eastern border, which is Hungary's eastern border now."
Priests: next in line for secret service revelations
Both Romanian Orthodox and Roman Catholic Churches have agreed to Basescu's proposal to de-classify Securitate files of priests as Romania continues to witness a massive disclosure of Communist informers. Orthodox Church officials said the church has agreed with declassification since 1997, while Catholic representatives said the move will only show the degree to which the Church was persecuted.