Calls for Szekler autonomous zone spark fear of extremism
On Hungary's national holiday March 15, Odorheiu Secuiesc in Harghita County saw 15,000 to 20,000 Szeklers and Hungarians gather to present a manifesto asking for autonomy for their region, in a move that has sparked extremist fears of Romania's fragmentation.
On the anniversary of the beginning of the 1848 Hungarian revolution against the Habsburgs, leaders of the Hungarian-speaking Szekler National Council (CNS) read out a manifesto asking for Autonomy for Szeklerland.
This autonomous region would comprise the counties of Harghita, Covasna and part of Mures.
However, though there is a majority of Hungarians in the first two of these counties, only 300 people declare themselves as Szekler.
"Without autonomy, it is difficult for the Szekler minority to maintain their ethnic identity, a Hungarian identity, because they do not feel at home," said Csaba Ferenc, vice-president of the CNS.
"This is an act of extremism," said deputy prefect of the Mures County Zamfira Pora. "It is the radicalism of some members of the Hungarian minority and the action has no chance of success."
Mayor of Odorheiu Secuiesc Jeno Szasz believes the Hungarian authorities should support the initiative of the Szeklers, in the same way the Austrian government engaged in a dialogue with Italy to negotiate the autonomous status of the majority German-speaking region South Tyrol.
Extreme right-wing Greater Romania Party (PRM) senator and former mayor of Cluj-Napoca Gheorghe Funar claimed: "The source of the problem is that Hungary and [Hungarian party of Romania] UDMR work continuously for the dismemberment of Romania."
He told The Diplomat the purpose is the reconstruction of a Greater Hungary, as it existed under the Austro-Hungarian Empire.
Related to the Hungarians, Szeklers have lived in the three counties since the 13th century.
"Szeklerland is a natural and historical region, as God allowed," said Szasz.
He added that 85 per cent of the people in Harghita are Hungarian-speaking, compared to 80 per cent in Covasna and 50 per cent in Mures.
In a 2002 census only 266 Romanians declared themselves as 'Szekler'.
Anca Pol
---
Constanta tipped as route for raw materials from Latin America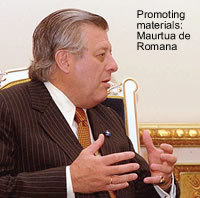 A greater European market for raw materials and the port of Constanta are of interest to Peru, Oscar Maurtua de Romana, the country's minister of foreign affairs told The Diplomat.
However the minister said there are still stumbling blocks in law and tax before solid bilateral relations can pick up.
"When Romania joins the EU, it will need more raw materials," argued Maurtua de Romana, on a recent visit to Bucharest. Peru is rich in copper, silver, lead, zinc and gold.
The nation is looking for export opportunities to the EU and could see Romania, due to the port of Constanta and its industrialised economy, as an anchor for further trade with new Europe.
But the minister said that he needs treaties in judicial guarantees for the goods and an end to double taxation – taxing in both countries for the same merchandise.
Total trade between Peru and Romania is around 17 million Euro, one half is steel from Romania and the other is fish products and coffee from Peru.
---
Prosecutors under attack for arresting journalist in possession of military secrets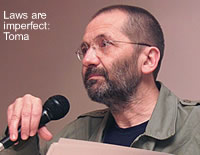 The recent arrest of a journalist for handling secret documents has blown open the issue of what information the press can receive without fear of reprisal.
In February authorities investigating the leak of secret documents on the movement of coalition troops in Iraq and Afghanistan arrested a journalist working for Romania Libera for potentially endangering national security.
He had come into possession of a CD detailing troop movements in 2003, but did not publish the information.
The General Prosecutor's Office also called another journalist working for Ziua newspaper to hearings.
The investigation is still ongoing.
"I don't know why they are investigated," said Ioana Avadani, president of the Centre for Independent Journalism.
"They didn't try hard to get this information."
Mircea Toma, president of Media Monitoring Agency, said that the journalists are not responsible, but the institution that leaked the document - in this case the Ministry of Defence (MAPN).
MAPN has made its own investigation into the leak and penalised 79 people, including three generals.
"Secret files are marked," said Daniel Anghel from the press bureau of
MAPN. "When a citizen possesses such a document, the citizen has to return the document to the origin."
But there is a grey area here. "No one has enough expertise to distinguish top secret information, except the authorised people," argued Toma.
"Even if the document has a mark, it doesn't mean that it is secret. It could have been a document which was secret in the past but no longer is."
In 2002 the Government passed a law on classified information which overlaps with and nullifies other laws.
"The classified information law from 2002 is imperfect," said Toma. "It allows each institution to make issues secret which should not be secret. It's hilarious. For example one local council declared its own meetings secret, but these should be in the public interest."
The 2002 law also overrides the national security law from 1991 and criminal law, says Toma. This means authorities who want to prosecute a journalist for endangering national security for receiving or even publishing a document may not even be able to do so.
---
EU concerned over corruption delay
Following President Basescu's stand on the anti-corruption issue, the Senate last month passed a law which empowers the National Anti-corruption Department (DNA) to probe senior politicians and judges.
This legislation was initially rejected by the Senate, mainly due to the absence of a large number of ruling coalition senators from the chamber. This turned the voting decision in favour of the opposition.
President Basescu called all Parliamentary parties for consultation and sent the bill back for a second reading.
This passed with only one senator registering opposition.
Although the EU sees this law as necessary in the war against corruption, some political figures are concerned the initial rejection shows that a significant number of parliamentarians are not serious about introducing new anti-graft measures.
In a recent speech, British Ambassador Quinton Quayle said that though he sees an "active fight" by Basescu and Minister of Justice Monica Macovei against corrupt tendencies in Romania, there is now an "active resistance" to these changes.
There are still no cases of top level businesspeople or politicians convicted in Romania of corruption.
---
News briefs
Former Prime Minister exits main political stage
Adrian Nastase has resigned from his position as leader of the Social Democratic Party (PSD) and from his post as president of the Chamber of
Deputies. PSD leaders voted against him in an extraordinary meeting of the party's county organisations, through a secret ballot of 37 votes for his resignation and 16 against. Nastase is under investigation by the National Anti-corruption Department, for alleged bribery and money laundering.
Cigarette businessman hangs himself
Florin Anghelescu, owner of a tobacco company and husband of President Basescu's former counsellor Stana Anghelescu, was found hanged in his residence in Baneasa. The police said Angelescu committed suicide. The businessman was under investigation in several tax evasion cases after the authorities found a huge quantity of cigarettes with fake stamps at the property of his company.
Bucharest sector mayor resigns from party
Mayor of Bucharest's sector 2 Nicolae Ontanu has resigned from the Social Democratic Party (PSD). He was a vice president of the party and on his second mandate as a PSD mayor. Ontanu said he made the decision because he prefers to deal with the administrative problems of sector 2, rather than participate in party in-fighting. Rumours say that Ontanu will join the coalition's Democratic Party (PD), but these were not confirmed as we went to press.
State official stabbed in office
Barna Tanczos, the head of the Government agency that administers state land, was last month stabbed in his office, by Alecu Chitaru, a Cotnari-based businessman. This is the first case of a high-ranking official undergoing such an ordeal. Reports said that Chitaru was a regular at the headquarters of the agency with different complaints each day, so the security service did not bother to search the man. Tanczos was alone in the office when Chitaru went in to get an answer for a previous query, but stabbed the official in the back when he was not offered a reply.
Prosecutor's office seizes Petromidia shares
Romania's General Prosecutor's Office last month seized Rompetrol Rafinare shares owned by Rompetrol Group, its CEO Dinu Patriciu and its American partners Phil Stephenson and Colin Hart. The Prosecutor's Office also proposed, without success, the arrest of the three men. Patriciu, Stephenson and Hart are investigated in the Rompetrol case for fraud, capital market manipulation and money laundering. The Bucharest Tribunal has rejected the prosecutors' request for detention of the three. Rompetrol Rafinare has appealed against the seizure of 5.46 million shares held by majority shareholder Rompetrol Group.
President declares day of Rroma
President Traian Basescu agreed to pass a new law which establishes 8 April as the 'Celebration of the Rroma in Romania'. This globally-recognised date commemorates 8 April 1971, when the first congress of the International Rroma Union took place, in London.
However Rroma groups are still frustrated with the Government because it seems to have no budget for its 'Rroma strategy' to combat prejudice and improve rights for the minority.
Hungary-Romania gas pipeline in advanced stages
In meeting Hungarian counterpart Ferenc Gyurcsany, Prime Minister Tariceanu said a proposed gas pipeline to connect Romania and Hungary is now 60 per cent complete on the Romanian side. The two prime ministers also discussed establishing a bilateral Romanian-Hungarian Chamber of Commerce.
Secret service files may reveal surprises about top politicians
President Basescu last month said the 1.3 million previously secret files handed over to the National Council for the Study of Securitate Archives (CNSAS) may reveal "huge surprises" about several high-level politicians, according to Mediafax. "I have been told there would be many surprises in those 1.3 million files, and the truth is that it's almost impossible not to find any surprises there," said Basescu on a trip to Cluj-Napoca.