Crisis in executive over allegations of judicial interference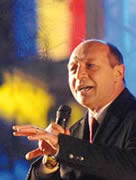 Romania is in the grip of a political storm as relations between President Traian Basescu and his Prime Minister hit rock bottom.
Basescu has accused Prime Minister Calin Popescu Tariceanu of trying to influence a criminal investigation on behalf of Dinu Patriciu, a close associate and CEO of oil group Rompetrol.
Former Presidential Counsellor Elena Udrea revealed that Prime Minister Tariceanu had sent President Basescu a note in 2005 asking the leader "to have a word with the prosecutors" investigating the affairs of the Prime Minister's friend and political ally, Dinu Patriciu.
At the time, Patriciu was accused of tax evasion and improper share dealings.
The President said that the moment he received the note, he lost all trust in the Prime Minister.
Tariceanu denied the note existed, but then Basescu unveiled its contents to the public.
Referring to the reason why he had not spoken about the issue earlier, and could thus be accused of suppressing evidence of political interference in the judiciary, Basescu claimed he feared he might jeopardise Romania's accession negotiations with the EU.
Tariceanu then stated the note did not imply that he was interfering in the justice process.
"The note is just a means of informing the president of a document, already a matter of public knowledge, which refers to possible abuses and illegal deeds which state representatives have undertaken when investigating Romania's most important company [Rompetrol]," said Tariceanu.
Dinu Patriciu, Rompetrol's CEO, argued that his firm was "transparent" and denied allegations of influence peddling.
The President said the PM was acting for "shadowy business groups".
The PM hit back, accusing President Basescu of trying to "undermine his Government and destroy his party".
Romania's prosecutor general Laura Kovesi said she would check the information on the scandal sparked by the note Tariceanu sent to president Basescu.
She said that she is waiting for the prosecutors to obtain the document, which "theoretically", would fall under the category of corruption crimes.
The row exposes deepening tensions between the main partners in the ruling centre-right coalition - the pro-presidential Democrats and the Liberals who support the Prime Minister.
As the president does not have the authority to sack the PM, the Government's fate will be decided by parliament. The main opposition Social Democratic Party (PSD) has already called for the impeachment of Basescu and the removal of Tariceanu.
Breaking an alliance:
The note's contents
Dear Traian,
Please find attached a document drawn up by Petromidia, concerning the investigations which are now taking place.

If you get the chance, could you speak at the Prosecutor's Office on the matter?
---
Calling someone nasty names ruled
punishable by prison again
Slander and libel will become criminal offences again, ruled the Constitutional Court of Romania, sparking fears of a new threat to freedom of speech.
Six months ago the Parliament declared defamation a civil offence, punishable by damages, but the highest court in the country has U-turned on this decision by making slander punishable by prison.
"This is a bizarre decision," said Ioana Avadani, executive director at the Centre for Independent Journalism.
She argued that a wave of journalists being rounded up and put in prisons for writing a falsehood are unlikely, but there will be criminal fines and those found guilty will receive criminal records. "The signal to the media is the same – shut up," she said.
This is also against the spirit of the European Court of Human Rights, which upholds the right to freedom of speech and understands slander to be a civil issue.
---
Greater Romania Party renews European power for far right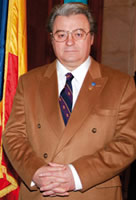 Owing to the representation of five MEPs from the Greater Romania Party (PRM) in the European Parliament (EP), the far right has formed its first Euro-party since 1994.
But this alliance could fall apart if the PRM fails to win enough votes in Romania's European elections this May.
'Identity, Tradition, Sovereignty', which has strong views on immigration, the European Constitution and Turkish accession hopes, has 20 deputies from five countries – the minimum it needs to form a party in the EP.
"All patriotic movements represented in the EP are welcome to discuss with us their affiliation," Andreas Moelzer, MEP from Austria's Freedom Party told The Diplomat.
But existing parties do not see a threat to the principals of the European Union.
"I don't expect them to influence EP policy-making," said Graham Watson, leader of the Alliance of Liberal Democrats in the EP. "They will not find allies in the EP and will remain on the sidelines where they belong."
France's National Front has contributed seven MEPs to the slate, including former presidential candidate Jean-Marie Le Pen. Other sign-ups are Mussolini's grand-daughter Alessandra, Italy's Fiamma Tricolore, Flemish party Vlaams Belang, Bulgaria's Ataka and British independent Ashley Mote.
"Westerners in ITS may have interests to promote," said Romanian Academic Society's director of research Sorin Ionita. "Easterners only play tactically, try to get visibility and respectability - of sorts – and enjoy being there. I give this group a 50-50 chance of survival in the next six months."
The party says it opposes a 'unitary, bureaucratic, European superstate.'
"Concerning same sex marriages and abortion, the traditional family is the natural unit within society and therefore must be saved from any zeitgeist-tendencies," said Moelzer.
However, ITS could split into different factions due to the nationalistic interests of each individual party - which at the same time all play on a pan-European stage.
"ITS was set up to give Front National's Jean-Marie Le Pen a European platform in the French presidential race," Watson said. "Once the elections have passed and it has served its purpose, I predict the group will be no longer."
But Moelzer said differences will be buried.
"In certain key points, the group will find and agree on a common position and so we will present ourselves as a strong unit," argued Moelzer.
The new party gives the members greater powers on European parliamentary committees, in appointments as rapporteurs and in external relations with countries outside of the EU.
But there are accusations that members of these parties have fascist and racist leanings. PRM and its incendiary leader, Corneliu Vadim Tudor, have inflammatory anti-Rroma and anti-Semitic comments on record.
"PRM is as racist as the tactical interests of its leader requires at a certain moment," says Ionita.
Romania will see European parliamentary elections in May this year, which will determine whether or not PRM can maintain five MEPs, allowing ITS to remain a party.
"Their group may be much smaller after that, or at least they will have to negotiate with the representatives of Gigi Becali [and his New Generation Party]," said Ionita.
President Basescu said in an interview with the Financial Times that extremist parties in Romania were no stronger than elsewhere in the EU and have lost support in the last five years due to economic progress and rising living standards.
But PRM's support remains consistent. The party won 13 per cent of the vote in the 2004 elections and, according to an Insomar survey last November, 12 per cent of Romanians would vote for the party in elections.
The European Parliament grew from 732 to 785 members following Romania and Bulgaria's accession. Nine of these MEPs are aligned with the European People's Party, 12 with the Socialists and nine with the Liberal wing, along with five for ITS.
Le Pen led groups of right parties in the European Parliament between 1984 and 1989 and 1989 and 1994.
---
Presidency breaks silence on Communist crimes
After 16 years of silence from the Romanian executive, President Basescu has called the 43-year Communist regime "illegitimate and criminal".
Meanwhile, over one in ten families declared they suffered persecution during the regime, according to a new poll.
The President condemned the regime as imposed by a foreign diktat, following the publishing of a Presidential Commission report analysing the Communist Dictatorship in Romania.
He also called for the establishment of a Communist Dictatorship Museum. One already exists in Sighetu Marmatiei, Maramures county and many ex-dissidents have been calling for the establishment of such a museum in Bucharest. Basescu also requested a monument to the victims of Communism – only a monument to those who died in the 1989 Revolution stands at present in the capital, in Piata Revolutiei.
Almost 12 per cent of Romanians said someone in their family had suffered political persecution during Communism, according to a recent Open Society Poll. This persecution includes dispossession of property, incarceration and restricted access to education and professional advancement.
The highest number of those affected included graduates and those from Transylvania.
---
New Christian Democrat and Liberal parties prepare for battle
Former Prime Minister and exiled member of the National Liberal Party (PNL) Theodor Stolojan has launched a new party, the Liberal Democrat Party (PLD).
Meanwhile, Ioan Talpes, former director of the Foreign Intelligence Service (SIE) and ex-Social Democratic Party (PSD) senator, has established his own party, Christian Social Popular Union (UPSC).
Talpes intends to cooperate with existing Christian Democratic Parties, none of which are currently in the Parliament.
By the time we went to press, the PLD had 60,000 signatures to the party and was waiting for a court decision to verify whether or not the party could be registered.
This party includes figures such as ex-ministers Mona Musca, Valeriu Stoica, Gheorghe Flutur and Mircea Cinteza, as well as up-and-coming younger exiles from the PNL: Raluca Turcan and Cristian Boureanu. There were also about 20 parliamentarians and leaders of local branches of the PNL.
"We estimate that the number of members for the beginning will be 60,000," says Raluca Dan chief counselor for PLD.
This will be a further headache for the PNL following the Conservative Party (PC)'s announcement last December that it will leave the Romanian Cabinet, triggering fears that the existing coalition will run a minority executive.
---
Short News
Prime Minister sacks tax boss
Prime Minister Tariceanu has sacked Sebastian Bodu, president of the Fiscal Administration Agency (ANAF), a Government body which collects taxes. Tariceanu sacked the president, who has the de facto function of a state secretary, after he made statements to a reporter claiming that a tax for car-owners to first register their vehicles is too high and could encourage tax evasion. Tariceanu said it was "unacceptable for a state secretary to challenge governmental decisions". Bodu is a member of the Democratic Party (PD).
Former Economy Minister faces information leak probe
Former Minister of Economy and Trade, Ioan Codrut Seres, has been indicted in a case investigating information leaks about high-level privatisations in the energy sector. The former minister is investigated for favouring Credit Suisse First Boston (CSFB) consultancy company to intermediate privatisations run by the Ministry of Economy and Trade. Four people have been arrested in the case, including Bulgarian consultant Stamen Stancev, CSFB representative Vadim Benyatov Don and two officials from the Office for State Assets Privatisation in Industry (OPSPI), deputy general manager Dorinel Mucea and Mihai Radu Donciu. The four have been accused of espionage and high treason through divulging confidential information, but were later released and will now face trial.
Left and right voters shows near-even balance
Over one in three Romanians cannot state whether or not they are left or right in their political persuasion. Of those who did reply 35 per cent said they were right or centre right, about 40 per cent in the centre and 25 per cent left or centre left, according to an Open Society poll. The left has gained most ground since 1997 – when 55 per cent stated they were 'centre', 15 per cent left and 30 per cent right. When asked how to define the political parties they vote for, the DA Alliance (National Liberal Party and Democratic Party) is a favourite of the centre and right, the Social Democratic Party of the centre and left, while voters of the New Generation Party (PNG) and the Greater Romania Party (PRM) are dispersed almost equally along the axis. Those who vote for parties which have been defined as 'far-right', such as the PNG and PRM, do not see themselves in this light.
Interior Ministry: no free movement for Romanians until 2012
Following his securing of half a billion from the EU to meet the Schengen area rules of free movement within Europe, Interior Minister Vasile Blaga said Romania was most likely to join the area on 1 January 2012 – three years after the proposed date of 2009.
Transnistrian leader consolidates lead until 2011
Self-declared President of the breakaway Moldovan Republic of Transnistria, Igor Smirnov, has built on his election victory of 2001 with an increased majority. Despite the clear win, critics of the regime claim that forces of democracy in Transnistria have not been allowed to flourish due to an authoritarian regime. Romanian Minister of Foreign Affairs, Mihai Razvan Ungureanu, called the elections "illegal and irrelevant from a political and judicial point of view". Smirnov won 82.4 per cent of the vote in the December 2006 election, an increase of 0.5 per cent on his previous scoring. Other candidates included Communist journalist Nadeshda Bondarenko, with 8.1 per cent and opposition journalist Andrei Safonov, with 3.9 per cent. Smirnov's presidency will run until 2011 and he claims he will "stand down" when the region is declared an independent country.
Consulates catch up with emigrants
Ministry of Foreign Affairs intends to expand Romania's consulate network to European countries where Romanian communities have a strong presence. For 2007 the Ministry will open two general consulates in the Republic of Moldova (in Balti and Cahul), one in Serbia at Zajecar and another in Ujgorod, Ukraine. In Italy and France Romania will be consulates in Turin and Lyon. The Ministry will expand to Seville and Castellon where the the largest Romanian community in Spain exists. A Romanian Cultural Institute has also opened in Madrid. The 15th such institute will open early this year in Lisbon.
Bulgarian-Romania border tax lifted
On the bridge over the Danube at Giurgiu, drivers who travel between Romania and Bulgaria will no longer have to pay a tax to the local council, which was viewed as a strain on relationships between the two countries. On 1 January all taxes for crossings into the EU were lifted - except Giurgiu, which introduced a new 'Tax to protect the environment', costing around 30 Euro. Following a strike by trucks drivers and Government intervention, Giurgiu council canceled the new tariff.
Opposition banks on youth to boost poor polling
Social Democratic Party (PSD) has opted for youth to head its operations over experience. Former Minister of Foreign Affairs Mircea Geoana retains the presidency, having beaten seasoned politician Sorin Oprescu to the post. Meanwhile, former spokesman of the party Titus Corlatean has beaten former Minister of Transport Miron Mitrea to the position of general secretary. The opposition party has been languishing in the polls since former Prime Minister Adrian Nastase's defeat in the presidential run-off in 2004 and a series of high-profile corruption cases involving senior politicians.
Ex-leftist Justice Minister turns conservative
Former Minister of Justice Rodica Stanoiu has joined the Conservative Party (PC), following in the steps of ex-ministerial colleague Dan Ioan Popescu, who served together in the last Social Democratic (PSD) Government. Stanoiu has also been under investigation for alleged links to the Communist secret service Securitate, where she reportedly used the codename 'Sanda'.