Gaining ground
As the giant holding company Tiriac Holdings moves into the real estate market, CEO Anca Ioan discusses the future options for Romania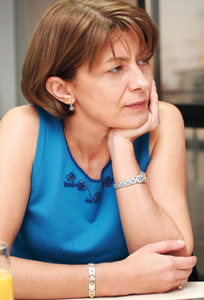 "Good afternoon, lady and gentlemen" is the only favouritism Anca Ioan has heard in her entire career.
The singular phrase came from the opening speaker of a Romanian business conference a few years ago. At that time a consultant, Ioan was the only woman among a room full of 150 men.
"Being a woman in business means to a woman exactly what it means for a man," Ioan tells The Diplomat. "Then again, it was said that the business world was made for men. But I always thought that business owners do not give away management positions to women just because they have to meet certain criteria, but based on their capabilities. I never felt advantaged or disadvantaged because I am a woman in business."
The 44-year old manager is now focusing on growing the business of Tiriac Holdings, a conglomerate of about 50 companies with activities ranging from car sales to developing real estate projects.
Built up by former tennis star and businessman Ion Tiriac, this huge holding company is a difficult beast to manage. Last year Tiriac himself stepped away from the front-line of the business, appointing Anca Ioan, who was working as a strategy consultant for Roland Berger, as the new boss.
Now, real estate seems to be the hottest potato in Tiriac Holdings' shopping basket.
WHO IS ANCA IOAN?
CEO Tiriac Holdings
Age: 44
Studies
1994-1995: Master of Business Administration
1980-1985: Automation Faculty, Polytechnic Institute of Bucharest
Work experience
2005 to present: CEO Tiriac Holdings
1999-2005: Director of the Romanian subsidiary of Roland Berger Strategy Consultants
1995-1999: Project manager, Roland Berger
1991-1995: Business development manager, The Training & Business Group
1989-1991: Responsible for the computer aided design of electronic plates, IEMI
1987-1988: Developer of a monitoring programme for fibre optic production, Glass and Fine Ceramics Institute for Research and Design
1985-1987: Developer of automated production flow monitoring programmes, at manufacturers, Gerom in Buzau
Recently the firm's property development company kicked off a 70 million Euro plan to build a German-style residential project in Chitila, north west Bucharest, dubbed Residenz.
"Our objective is to grow in all fields in which we are active," says Ioan, "and although business is growing in every segment, it seems that real estate enjoys a more dynamic growth. Besides the Residenz project in Chitila, we are also working on a mixed commercial and residential project in Timisoara, with Spanish-based Riofisa and another mixed project in Brasov."
The CEO argues the real estate field still has development potential in Romania.
"This field has increased significantly in the past years in Romania, with a focus on Bucharest and developed in stages," she says. "At first there were office buildings, then industrial parks combined with office parks and now the focus is on residential developments. This is a typical development, because the offer is smaller than the demand on the residential side."
This is also supported by the increase in Romanians' purchasing power in the past, as well as the growth and development of financial services to support this market, argues Ioan.
"Mortgages only developed a couple of years ago, and it is hard to grow projects without having the combination of financial support and consumer demand. Through banks offering financial services, the real estate market has been stimulated."
This sudden development is also applicable to retail, especially in malls and hypermarkets, both in and outside Bucharest.
"In real estate, investors from the EU and the US are now very interested, as a result of their experience in other countries in this region where prices increased after EU accession," says Ioan. "This is also a direct result of marketing. If a couple of years ago any German, British or American investor would have been told to invest in real estate in Romania for the long term, they would have been very reluctant. Now things look different."
Searching for lost time
However, Romania is still lagging behind nearby countries such as Hungary and Slovakia.
"I don't know if criminality was bigger in Romania than in Hungary or the political risks were bigger, but we missed the boat in the 1990s, when all the countries in this area were departing from the same line," says Ioan. "Romania should have had an advantage over the others, as it embarked from zero external debts, a better financial position and a comparable image to the neighbouring countries."
In its entrepreneurial mentality, Romania was weaker, argues the CEO.
"[During Communism] Hungary still had small craftsmen and it built [its new business environment] on that. We rank among the last because we missed this moment."
But not all is lost.
"Experience has shown us that people, when asked to change, adapt themselves to what was expected of them," says Ioan.
Human resources is an area where Romania can capitalise, she argues.
"I have heard too many times bad slogans [about Romania] on its mentality, work ethics and low productivity, but on the other hand, all expats leading multinationals here speak highly of the quality of human capital in Romania. Just as an example of how well prepared Romanians are, look at the number of Romanians that now lead multinationals in Romania or other countries."
These include Violeta Ciurel at ING Nederlanden and Mihai Albu at Interbrew, who both work in senior positions abroad, while in Romania, nearly all the leading multinationals are lead by Romanians, many of whom are women. This includes Mariana Gheorghe at Petrom, Liliana Solomon at Vodafone and Alexandra Gatej at Unilever Southeastern Europe.
Still a thrill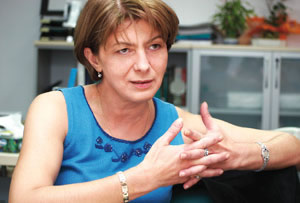 Working in Romania is also still a thrill, which attracts some of the more inventive business minds from abroad.
"It is more interesting to work in such a market than in a consolidated, stagnant and mature one," says Ioan. "The possibility to develop one's business, to grow it and to really contribute to its success is a fact that attracted many expat managers to stay in Romania. Another attractive element is the atmosphere. Romanians are open people, fairly cosmopolitan and with a hospitable attitude towards expats."
However, after 2007, Ioan is concerned Romanian firms may not be prepared to tackle the EU market.
"Competition will be different, the handling of imports and exports will change, procedures will also be different, even if they will be changed for the better. Nevertheless, it is still a change," she says. "It'll give everybody a terrible headache, until all get accustomed."
Some companies are looking to expand regionally as a strategy. This enables them to create strength in volume to ward off the EU trade and investment onslaught.
But Tiriac Holdings does not plan to expand into the neighbouring region in the short term, says the CEO.
"I like my job's diversity the most, as I couldn't have left a consultancy job, where I was dealing with a wide range of services, to focus on just one," she says. "The fact that we have more or less complex activities is what attracts me the most. We are constantly growing and this is also interesting."
But not everything about the job is so sunny.
"What I hate most is having to get up at 6:30 in the morning and drive half way across the city to get to work," Ioan says - then she perks up. "But the thought of joining my excellent team pulls me away from this 'late-starter' mood."
Corina Mica