Everything still to play for
With foreign banks still looking for an entry ticket to Romania, Corina Mica talks to Raiffeisen Bank's Steven van Groningen about the victors and the losers in the race for a stronger position in Romania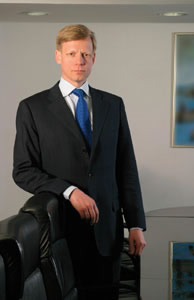 When Raiffeisen Bank took over Romanian Banca Agricola back in 2001 for 15 million Euro in cash, financial experts did not believe the plucky Austrian investors could transform the bank into a successful turnaround.
Five years later the bank ranks third in Romania in terms of total assets, with over three billion Euro.
"When we took the bank over it had 17 million Euro losses and a market share of about three per cent and right now we have a market share of eight per cent," says Raiffeisen Bank president and CEO Steven van Groningen.
Despite the fact that there are around 30 international banks in Romania, there are still global players that want to jump on the Romanian bankwagon, argues van Groningen.
"This process will only speed up now that Erste Bank has taken over Banca Comerciala Romana, and BRD - Groupe Societe Generale and ourselves are well underway on staying the top players," he tells The Diplomat.
But there may be blood in the financial waters.
"Such new banks want to gain a strong presence in Romania and that means that we will see the banks who are already here will try to maintain and improve that position, while the smaller ones will have the choice to invest a lot or regroup and tackle niche markets," says the boss.
Van Groningen adds that it will take four to five years from now, before it will be clear who are the winners and who has lost in the race for a stronger position in Romania.
With the announced merger between HVB Tiriac and Unicredit Romania, due for June 2007, threatening Raiffeisen's third spot on the local banking market, van Groningen is not showing too much concern.
"It is very tempting to add balance sheets and compare market shares, but this bank does not exist today," he says. "Comparisons should be made where they exist. Lots of things can happen within a year and I don't think it will be easy for a bank to grow as easy as Raiffeisen has in Romania," he adds.
"And then we should ask ourselves, why is market share important? It gives you a certain volume or critical mass, which makes it easier to produce in an efficient way. In my view it is more important to have more than two million customers and a market share of 15 to 20 per cent for certain products. For me now it is important to be both a retail and a corporate bank, and it's more interesting to look at the numbers of customers [more than two million], or products, payment services, such as credit and debit cards where we hold a market share of more than ten per cent. This is more important than the market share in total assets."
Not buying out
Although Raiffeisen failed in making the short-list for Romania's Savings Bank (CEC), the president says another acquisition is not on the bank's agenda.
Local retail banks still up for grabs include, arguably, Banca Transilvania and Banca Carpatica.
"We have no plans to acquire any other local bank, because we have a strong presence in Romania and prefer to grow organically," he says. "Banks that are for sale are more likely to be bought by banks that are not here, or small banks who want to increase their presence. Or you could say that, in a couple of years, when the banking sector will not be as profitable as it is today, we will see a different type of mergers, when a bank has two structures [one which is performing better than the second]. It will collapse one and combines the two to eliminate the costs. At present I do not see this as a productive strategy."
Instead Raiffeisen plans to grow on its own speed.
The finance firm aims to make a significant expansion of the branch network. It will open 100 more branches, bringing the total to 350-400 by the end of 2008.
"We plan to grow above market growth but also be profitable and efficient," Van Groningen says. "At the same time we don't intend to be as aggressive as other banks."
Balance sheet
Raiffeisen bank Romania resulted from the June 2002 merger between Raiffeisenbank (the local subsidiary of Austrian RZB Group) and Banca Agricola, which was acquired the previous year for 15 million Euro in cash. There was also a share capital increase of 45 million Euro. The Austrian bank, which has an eastward-focused growth strategy, has network banks in every country in the former east European soviet bloc and Yugoslavia, except Montenegro, Macedonia and the states east of Ukraine.
Raiffeisen Bank is a universal bank offering a complete range of products and services for private individuals, small and medium enterprises and large corporates.
Its estate includes:
End of first semester 2006:
Net profit: 17.5 million Euro
Total assets: 3.2 million Euro
Customers: two million clients
This includes 4,700 large and medium companies.
247 branches nationwide
850 ATMs
6,500 EPOS systems.
Phone banking (Raiffeisen Direct)
Mobile banking (myBanking)
Internet banking (Raiffeisen Online).
WHO IS STEVEN VAN GRONINGEN?
Although he denies his bank has an aggressive strategy, Steven van Groningen has a history of playing to win.
The banker is a former Olympic rower, having taking part, as a member of the Dutch rowing team, in two World Championships (1983 and 1985) and the 1984 Los Angeles Olympic games.
Steven van Groningen is a good connoisseur of the banking markets in central and eastern Europe.
For the past ten years, the 48-year old Dutchman has led west-European banks in countries such as Romania, Hungary and Russia. He launched the debut on the Romanian banking market of Dutch-based ABN Amro, and since June 2001 occupied the position of vice president of Banca Agricola Raiffeisen. He then became president of the bank in 2002.
After the merger he was appointed president and CEO of Raiffeisen Bank Romania.
With a degree in corporate law from the Leyden University in Holland, van Groningen is the fifth generation of bankers in his family, and speaks six languages: Dutch, Romanian, German, English, French and Russian.
The banking boss is also very fond of art and cites as his main interests photography, music and painting. He has settled in to the country, marrying a Romanian. The couple have two children.