Keeping on top of the game
As he prepares a retail offensive to launch a store in every county capital in Romania, Michael Bird caught up with Orange CEO Richard Moat, pilot of a market-leading one billion dollar local business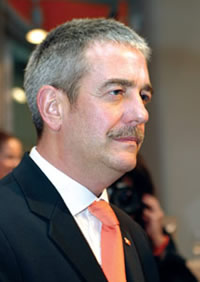 Richard Moat has stuck with the Orange brand since it begun in early nineties.
He was in the room when Hutchison Whampoa chose the name to launch its mobile phone operations. This was a time when analysts were still suspicious about whether the concept of people communicating to each other using walkie-talkies over long distances was a solid business model.
"When the Orange name was chosen it was a deliberate step away from jargon," says Moat. "It was divorced from technology and more customer-centric. This is how we have pursued the brand ever since."
When the Hong Kong-based firm first launched Orange in the UK, on 21 April 1994, after spending millions on advertising, Moat watched to see how many subscribers it had signed up on the first day.
Who is Richard Moat?
Richard Moat was born in 1954 in Nuneaton in the west midlands of England, a town not far from Birmingham.
After grammar school, Moat won a place to study law in St Catherine's College, Cambridge. But the bar was not his calling, and he worked in insurance for Lloyd's of London and then in the oil industry for USX/Marathon Oil. In 1992 he joined the Hong Kong firm Hutchison Whampoa as it began to launch into the field of mobile communications.
In 1994, the firm launched the Orange brand in the UK. After working on the operations side of the business, Moat was appointed CEO of Orange in Thailand for three years, and then in Denmark. Since September 2004 he has been CEO of Orange Romania.
      This was 428.
"It was rather a disappointment," says Moat.
Today, there are more than 86 million customers.
As Hutchison Whampoa refined the brand in the mid-nineties, Moat stayed on the operational side of the business. He stuck with the brand when it was first sold to Mannesmann in 1999 and then to France Telecom, in May 2000 for 39.7 billion Euro.
He was then hired to head up as CEO in Thailand in 2002.
"This was a greenfield investment," says Moat. "All we had was a piece of paper with the license on it and six people working for us. When we left, we had 2,500 staff." Orange Thailand managed to attract one million customers in seven months.
After three years he was taken by Orange to a different game, as CEO in Denmark. Here the brand was in trouble and posting losses – analysts said if the company closed down it could save up to 700 million Euro.
Moat and his team had to cut staff from 1,200 to 500 and eventually turned the brand cash-flow positive. Two years later Orange sold out for 600 million Euro. "We made a 1.3 billion Euro turnaround," says Moat.
Since 2004 he has headed up one of Orange's most profitable operations.
Taking control
"Romania was a very well performing business and I had to help take it on to greater heights," says Moat. "It was like walking into the cockpit of a plane in mid-flight and finding the right controls."
Now the firm is a one billion dollar business which has seen its subscribers rise from 4.8 million in 2004 to 7.2 million today. This year, the market saw mobile phone usage eclipse landline for the first time.
Moat is positive about the country's future and even more so than most about its present. "The Romanian economy is larger than public reports suggest it is," says Moat.
With a history of competent education in science and technology, Romania is a nation of consumers wised up to new ideas. Their willingness to turn on to mobile phones and to PC ownership in the past decade has risen astronomically – and can now comfortably compare with any country in the west.
"The Romanian consumer is very price conscious," says Moat. "This is natural because he or she does not have a large disposable income. They are very smart and can assess tariffs and compare across different operators... In some ways this makes it more difficult to sell, but it just means we need to be more innovative."
Moat says this makes the Romanians different from many countries in the west, where consumers are often swayed by more emotional factors.
In the last two years the firm has added 2.4 million more customers, but the challenge for Orange is now to maintain its profit margins as it increases its reach.
"The success of the business is that the average revenue per customer is almost the same as it was in 2004," says Moat.
The CEO predicts that mobile phone penetration will rise to 77 per cent by the end of 2006 and 87 per cent by the end of 2007.
The growth may slow down because of the increasing maturity of the market, although there are no signs of this yet.
What may be hard is to maintain for operators is the same average revenue per customer, especially as many of the users, yet to turn on to mobiles, are from rural areas and low income families.
"We have to find ways to address these segments profitably," says Moat "In order to reach our targets we will continue to personalise our offers, and to be as close as possible to potential customers by opening Orange shops all over the country."
Retail is one of the directions where Orange is extending its brand stretch, with a roll out planned to continue in 2006 and 2007.
"Our ambition is to open a shop in every one of the county capitals in Romania," says Moat.
Service drive
Content will be a major factor in new sales. This includes an increase in the amount of business and entertainment services on handsets. Orange launched its video telephony service 3G in June 2007, almost a year after rivals Connex (now Vodafone). Now the service is available in Bucharest, Timisoara, Brasov and Cluj-Napoca and intends to cover 20 cities by the end of the year.
"In my opinion, joining the EU in 2007 will result in significant growth in the business segment, and an increase in the purchasing power of the population as a whole," says Moat. "This will drive higher usage of data services, particularly integrated business solutions and content."
Going shopping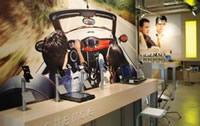 Now the firm has invested around one million Euro in its first concept store outside of western Europe. This showcase for the brand on Calea Victoriei, occupies half of the former Communist-era musical retail complex Muzica. The lush interiors use musically-themed designs of guitar and pianos, as well as a basement of tropical fish to sell mobile phones and services. The 'Concept' store also hopes to become an urban hub with an upstairs cafe and stage with a multicoloured disco floor showing stand-up comics, short films and live bands. "This is a landmark in the development of retail," says Moat.
Other stores in the Orange Concept family exist in Rotterdam, Paris, Lille and London.
"This is true to our brand value, it is not just a shop, although it does sell products and services, but creates a whole new experience," says Moat.
There are no counters nor mobile phones trapped behind locked glass doors. Instead there are casually dressed attendants showing off the latest handset gadgetry.
With such a large outlay and so much free entertainment, the store may not make a profit in its own right.
"It's a fun place to come, but we also want to sell," says Moat. "It's not a completely altruistic move."
What is Orange?
Orange Romania
Mobile phone telecom operator, part of the France Telecom Group
Turnover 2005: 870 million Euro
End of first quarter 2006: 239 million Euro
7.2 million customers
Forecast end of 2006: eight million customers.
Total investment: one billion Euro
Total investment 2006: around 200 million Euro