Home truths
Rebuilding a country with affordable housing will not be easy without a coherent vision, finds Corina Mica, as she talks to Ionut Costea, president of Raiffeisen Banca pentru Locuinte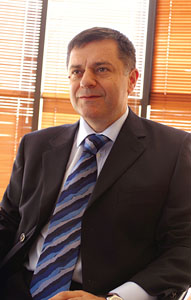 Take a Romanian citizen, young, married and with a combined family income of between 500 and 1,000 Euro.
They are looking to move out of their parents' apartment, situated in a cardboard and plaster block, before it crumbles into a heap in an earthquake or under the next road scheme.
But financing for a new house or flat is hard, especially when supply is low because developers seem obsessed with building luxury villas and (what they like to call) Class A office buildings.
Into this gap steps Raiffeisen Banca pentru Locuinte (RBL), a specialist housing savings and crediting bank for low and middle income customers.
"There is an acute need for housing and there are six million people in Romania who want to improve their living conditions," says RBL's president Ionut Costea.
Ionut Costea, president Raiffeisen Banca pentru Locuinte
Born: 1 April 1960
Education:
Ph.D in Economics: Bucharest Academy of Economic Studies (ASE).
Post graduate studies: 'Management, banking and commercial techniques' (ASE).
Engineering degree, Brasov University.
How he got here:
2000 - 2003: London: Alternate Director, Member of the Board of Directors: European Bank for Reconstruction and Development, Ukraine, Romania, Georgia, Moldova and Armenia Constituency
1999 - 2000: Deputy General Secretary, Romanian Ministry of Finance
1997 - 1998: State Secretary, Ministry of Finance
1992 - 1996: Counsellor, Ministry of Finance
1991 - 1992: Sweden: Economist, Leskell
1986 - 1991: Bucharest: Engineer, Carpati Building Company
Other jobs:
Costea is a non-executive member of the board of UK-based real estate investment fund Equest Balkan Properties.
"But the housing offer is small, and only now is it starting to diversify. The prices are very high, when the demand is high and the offer is low."
In Bucharest and its surrounding areas developments are beginning to blossom and new offers stretch from million-Euro apartments down to 100,000 Euro starter homes.
"New projects will appear and it will be very interesting to notice what the population's absorption power will be," says Costea. "This is an indication as to where the market is going. These will tackle mainly Romania's middle class, those that have a net income of at least 500 Euro per month. This tendency will increase throughout the country as well."
Costea says that Romania needs metropolitan areas, which are lacking outside of the capital.
"Bucharest is growing and expanding, right now this is towards the north, but other directions will also develop," says Costea.
"It only needs a coherent policy and infrastructure and utilities in place, as you cannot separate Bucharest from Otopeni or any other town that is on its outskirts. A unified view of Bucharest is needed, as the capital needs big investments in infrastructure. Entrances into the cities need to be put together, as well as fly-overs and wide streets," he adds.
But home-buyers will look to escape the capital and a traveller journeying on any road out of Bucharest can see the urban sprawl beginning to takeover Ilfov county.
"Suburbs have a future in Romania, but unfortunately some areas miss a valid urban plan, and we get an ugly mix of architecture styles and an incoherent drawing of streets," Costea adds.
The capital will also stretch higher.
"Bucharest will develop both on vertical and on horizontal lines. There will be high buildings and skyscrapers, as well as suburbs. It's a matter of time until we will see such projects popping up in Bucharest. But the ring-roads will be suffocated if no infrastructure is built."
Game plan
Twenty years ago Costea did not have grand ambitions to open a housing bank. Then a graduate in engineering from the Polytechnic University in Brasov, he moved on to a PhD in world economy at the Academy of Economic Studies in Bucharest.
"I just realised I was more attracted by economics than furniture making," says Costea. "So when I had the chance to switch, I just grabbed it."
His father had a long working relationship with Swedish partners, so, once Costea junior won a working visa in 1991, he left for the Scandinavian country and worked in every single position in that factory, from truck driver to accountant.
In 1992 he joined the Ministry of Finance as a referent and worked up the ladder until he became an expert without a management position.
Still wanting to study, he applied for, and won, a scholarship at the George Washington University at the end of 1996.
As 1997 began, Romania was forming a new Government. One day before he was preparing to leave for Washington, Costea received a phone call from Mircea Ciumara, incoming Minister of Finance, "He asked if I wanted the position of state secretary," Costea says "I had to make a choice: leave and study or stay and be in the Government. I chose to remain."
During his four year stint in the 1996-2000 administration, the RBL president issued the first Eurobond in 1997, worth 600 million Deutsch marks. "It was the first Government sovereign issue of Romania," says Costea. "It was a success, as people started talking about Romania from a different point of view."
Finally moving back abroad, Costea became a board member at the London office of the European Bank for Reconstruction and Development with a jurisdiction for Romania and a large swathe of the Commonwealth of Independent States. During this time, the bank invested over 3.5 billion Euro in the countries it operated in, with Costea serving on the approval board.
Raiffeisen Banca pentru Locuinte
Assets [end of 2005]:
40 million Euro.
Forecast for 2006: 80 million Euro
Average value of a savings/ crediting contract: 5,434 Euro.
Employees: 85 people at its HQ and 7,000 through its two distribution channels
After providing finance for new Europe to rebuild itself, Costea returned to Romania to find funding solutions for middle income citizens' housing schemes.
Established in June 2004 to offer an alternative to classic mortgage loans, RBL is owned by Raiffeisen Bank Romania and Schwaebisch Hall-Germany with 33.3 per cent each and Raiffeisen Bausparkasse Austria with the remaining 33.35 per cent.
After fighting with authorities including the central bank, Ministries of Transport and Finance to set up the business, Costea says he now has to be aware of fresh challenges.
"With competition appearing, we now need to find the mechanisms to grow the business. We always have to innovate, to get a head start for the moment when other banks of our kind will step in - one of them is Erste."
RBL is currently the market leader in its segment and the bank would not mind maintaining this position for some time to come.
"Competition stimulates," he adds, "and it's very stimulating when you see you are able to do what you planned."