Building an east European power base
Czech Republic is leading the new European states with half a billion Euro invested in Romania, finds Corina Mica as she talks to the latest Czech Ambassador to Bucharest, Petr Dokladal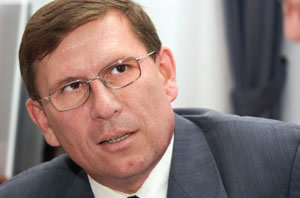 In the 1990s, many east European nations that fell out of Soviet influence focused on internal growth and nurturing trade and investment relationships with the west.
But in the last five years the new European countries have begun to look closer to home.
This includes building up some of the previous ties that occurred during Communism.
Who is Petr Dokladal?
Czech Ambassador to Romania
Age: 47
2001-2006: Czech Ambassador to Bulgaria
1999-2001: Deputy general manager, personnel department, Czech Ministry of Foreign Affairs
1994-1999: General consul of the Czech Republic in Montreal, Canada
1990-1991: Vice general consul of Czechoslovakia in Ho Chi Minh, Vietnam
Education:
1984: PhD in journalism at Charles University, Prague
1978-1983: Journalism Faculty, State Institute for International Relations, Moscow
Foreign languages: English, French, Russian, Bulgarian
Married with Jana (a philologist), two daughters
Interests: history, classical music, theatre, sports
The Czech Republic and Hungary have grasped the nettle of large foreign direct investment in Romania, with the former now clocking up the highest amount of FDI of all the new European countries in Romania: 500 million Euro, a figure not far below that of the USA.
"Romania's profile has changed. This is a country in motion. This attracted me very much [to the nation]," says Czech Ambassador to Bucharest, Petr Dokladal. "I am convinced it's high time to return to tradition and develop our trade and cultural contacts."
As Ambassador to Sofia for the last five years, Dokladal witnessed a growing interest in Romania.
"This materialised though a constant increase [between Romania and the Czech Republic] in trade of 30 to 40 per cent annually," says the Ambassador.
Some of the leading Czech companies investing heavily in Romania include pharma firm Zentiva, energy company CEZ and second hand car firm AAA Auto.
Dokladal feels Romania has always had solidarity with the Czech Republic in difficult moments in history.
"In the second world war the Romanian army participated in the liberation of Czechoslovakia and Romania was the only country in the Warsaw Pact not to take part in the 1968 Soviet invasion of Prague," he says. "In the past, we used to visit each other as tourists quite often and the collaboration was excellent even under the Communist regime. Now due to a modern technological infrastructure, a high industrial performance and extremely talented people, we know how attractive Romania is."
TRADE TALK
Czech Republic total FDI in Romania: 500 million Euro
2005 trade: 949 million Euro
3Q 2006 trade volume: 921 million Euro
2006 forecast trade volume: 1.25 billion Euro
About 500 companies with Czech capital active in Romania
Top Czech investors to Romania: CEZ, Zentiva, PPF, Hame, Hobas, AAA Auto
But there are still obstacles to the country's development, including its lack of confidence in its own ability. "This is a syndrome of the Communist era," he says. "Romanians underestimate themselves. There has been a difficult transition period, but they have to develop and take on responsibilities. They have felt frustrated during ten years of transition and it will be difficult to catch up - but in the last year this had got better. Romanians should be active and use the chances the EU offers. This is a big chance, but it depends on Romanians to use it wisely."
CEZ: power generation sector still lacks competition
CEZ Romania
Part of CEZ Group, bought majority stake in Electrica Oltenia power distributor in 2005
1.3 million clients in south western Romania
2005 turnover: 368 million Euro
2005 net profit: 19.7 million Euro
The power generation sector in Romania is not yet competitive, argues Doru Voicu, CEZ Romania business development manager, which last year bought out power distributor Electrica Oltenia.
That is mainly because companies that produce electricity in Romania are established on the basis of different resources (water, nuclear or coal), hence their marketing strategies are structured on the basis of these resources.
The final output does not offer a leveraged comparison.
"All power generators are in the hand of state, which doesn't encourage real competition in the sector," says Voicu.
Changes this year in Romania mean that a marketplace has been established allowing players to freely trade bilateral energy contracts.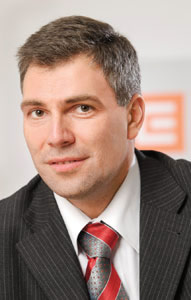 "This was the most important step that the Ministry of Economy and Trade implemented this year," he says.
However, because a lot of energy is traded outside of this marketplace, there is no accurate market price for energy in Romania. "A more functional market place is needed in order to set price references and to give fair information and opportunities to all actors," says Voicu. "This would lead to a more competitive and liquid market."
Once Romania enters the EU, Voicu believes the industry in general will face more competition. "Probably they will strive for new technologies, which will lead to a lower specific consumption of electricity," he says. "This could have as a consequence some stagnation of overall consumption in the industrial sector."
CEZ Group ranks among the largest power utilities in Europe, in terms of installed capacity and number of customers.
Zentiva: medicine consumption lags behind neighbours
Zentiva Romania
Pharmaceutical company
Develops, produces and promotes generic drugs.
Focus: drugs for circulatory and cardio-vascular systems, the central nervous system, gastro-intestinal pain and urology
Took over 51 per cent of Sicomed in 2005
Although the Romanian pharma market is mature, consumption needs to catch up the the level of the EU, argues country general manager of Czech-based Zentiva, Mariana Wencz.
"Romania's pharmaceutical market is mature from the structure point of view, as the majority of international pharmaceutical groups are already present here," says Wencz. "The range of products and services offered on the market is complex and competitiveness is constantly increasing."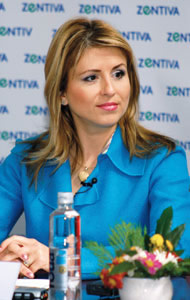 But medicine consumption is low and patients and doctors lack medical education, especially in family doctors (GPs), argues the manager.
"Romania has to catch up with regards to the annual value of medicine consumed per capita, versus neighbouring countries, not to mention western countries," says Wencz.
Chronic under-financing in the health sector means that the health system is still "short-circuited" by periodical crises, argues the country general manager. This can make the market's activity harder.
"But we are sure these deficiencies will remedy in time," says Wencz.
Europe's fifth largest generic medicine producer, Zentiva bought out 51 per cent of local pharmaceutical producer Sicomed in October 2005. Next year Wencz believes that the EU accession could see an increase in the supply of generic drugs and nutritional supplements on the local market.
Hame: processed food firm plans massive production drive
Hame
Processed meat producer
Has 12 per cent of local pate market
Employees: 300
2005 turnover: six million Euro
2006 forecast turnover: ten million Euro
Tulcea: where products sell best
Hame has large production and development plans for Romania, which it sees this as a future supplier for Hungary, Bulgaria and the Republic of Moldova.
As a brand Hame was present in Romania during Communism, where its products were imported from Czechoslovakia. Now the firm has bought a factory in Caracal from Romconserv, which was the Czech brand's former local distributor.
The total amount of money invested in the factory, warehouse and production unit until February next year will be seven million Euro, not including the purchase price.
"We destroyed all the buildings and created a new unit, which will be finished by the end of 2006," says Petr Subrt, general manager of the company.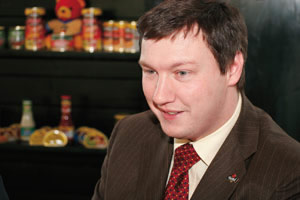 The company has been processing food since June in the Caracal factory and from January will increase production to 5,000 tonnes of food per year. Hame intends to use this factory for the next five years before building a second larger facility.
So far the plan of the company is to produce processed meat [pate and ready meals] but also vegetarian foods including soups and local delicacy 'sarmale' – cabbage rolls with meat inside. Meanwhile, Hame imports to Romania ketchup, mayonnaise and other sauces.
The firm is also discussing the possibility of opening another plant for jams, marmalades and tomato based products such as ketchup.
But the firm is unsure whether it will be a greenfield investment or it will purchase an old factory. "In the long term we would like to have on this market the same products as we have in Czech Republic" says Subrt.
He adds that Hame is interested in buying a Romanian brand and is preparing for negotiations.
"We have our eyes on several companies," he adds, "because we have very big development plans."
AAA Auto: used car market set to outgrow new sales by five times
AAA Auto
Second hand car dealership
2005 turnover: 8.21 million Euro
Forecast for 2006: 19 million Euro
Total investment: six million Euro
Future investment: 45 million Euro in new HQ
Employees: 130
Following the pattern of EU accession countries in 2004, second hand cars should be a massive market for Romanians in 2007.
Already present for over a year, used car dealer AAA Auto now plans to undergo a huge expansion programme to accommodate the expected boom.
"In 2007 we will invest 45 million Euro to relocate to the Bucharest West Logistic Park, where we will have a stock of 800 units," says Miodrag Stanoievici, country manager of AAA Auto in Romania. "We expect to double our turnover and sales volume in 2007 and to extend to two other big cities in Romania."

In second hand cars, Romanians prefer cars with low mileage and relatively new manufacturing years. Brands like Renault, VW, Citroen, Peugeot and Opel tend to be successful. "In the next three years the used car market will be five times bigger than the new car market," says Stanoievici. "It is a normal European trend."
AAA Auto has sold 2,700 units since opening last year and expects a volume of 7,000 sold in 2007.
The firm sells around 13-15 cars per day, all imported from western Europe.
It has a 15 per cent market share of the used car market and intends to increase this to 30 per cent next year and reach the same level as in the Czech Republic. AAA Auto is also present in Hungary, Slovakia and Poland and intends to reach other markets like Serbia and Bulgaria.
Tatra: eyeing road deals for cost-effective trucking
Tatra TRUCKS
Imported by Loreto Exim
2005 turnover: over five million Euro
2006 forecast turnover: 6.5 million
Employees: 37
New infrastructure deals should see a boom in the sale of trucks and Czech-based Tatra hopes to profit from this state of affairs with its cost-effective heavy-duty vehicles.
Starting in 2007, Tatra trucks' exclusive importer Loreto Exim intends to build a new service centre in Militari, Bucharest and equip all the dealerships with road assistance if the trucks break down.
The Czech-based heavy duty brand, 156 years old this year, has become an east European legend and is the only vehicle manufacturer to have a metal statue of a truck built in honour of its power and grace - in Siberia.

Imported in Romania by Loreto Exim since 1999, the firm has eight sales offices in Romania, where it sells a standard version of the truck that the firm can customise.
Demand in Romania is for trucks with a loading capacity of 16 to 20 tonnes but larger companies prefer dump trucks with a loading capacity up to 25 tonnes. Tatra's customers in Romania include Hidroelectrica and Rompetrol. "They need these trucks for access in rough terrain or to build their infrastructure," says Valentin Lolea, general director of Loreto Exim.
The best sold model in Romania is the Jamal truck, which sold 80 units in 2005. The model has diesel engines up to 410 BHP and will use a [gas emission level] Euro 4 engine starting next year with 450 BHP, with an air-cooled engine. "If our competitors try to offer the same equipment they will be a lot more expensive," says Lolea.
Prague looks to fly to other Romanian cities
Czech Airlines
Number of flights per week Bucharest-Prague: 12
From March 2007: 13 weekly flights
Air traffic between Bucharest and Prague has increased from five to 12 weekly flights in the last four years and now Czech Airlines (CSA) is looking at the prospect of flying to other cities.
"According to the market policy we anticipate the extension of CSA traffic to other cities in Romania," says Zdenek Kral, general manager of the airline in Romania.
Future locations could be Iasi and Cluj-Napoca. From March 2007 the company will increase the number of flights between Prague and Bucharest with one more.
"The Czech Republic is a very important transit point due to its extremely extended destination network," adds Kral.
Infrastructure deals could hype up pipe sales
Hobas
Pipe system firm
Turnover in 2005: 3.7 million Euro
Forecast turnover for the end of the year: 4.4 million Euro
Estimated turnover for 2007: five million Euro
Romania's accession to the EU should bring 30 billion Euro funds for the infrastructure development until 2013, if the country can absorb the cash, and sewerage and water irrigation systems should benefit from this situation.
"The demand for these kind of systems is currently rising, mostly because Romanian sewerage and water supplying systems are in a developing stage," says Claudiu Soare, managing director of reinforced piping systems manufacturer Hobas in Romania. "Future investments in the infrastructure will make the market very attractive."
Hobas is the only factory in Romania that produces centrifugally cart glass fibre pipes, which target these deals, and intends to expand its production capacity in 2007, following a feasibility study.
Raw materials for the production of include polyester resins, sand, calcium carbonate and fibre glass. Most of these raw materials are imported.
Business interviews by
Mihai Alexandrescu,
Corina Mica and
Ana-Maria Smadeanu