Race against time
Sibiu has a chance to showcase the cultural richness of Romania on an international stage as European Capital of Culture next year, but will it be ready for 2007?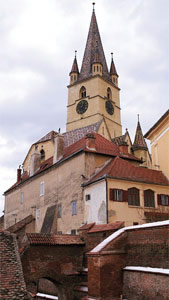 Sibiu has turned into a building site.
For the last two years the former capital of Transylvania has undergone a massive reconstruction programme to prepare the city for its status of 2007 European Capital of Culture, in partnership with Luxembourg.
This aim is to raise the profile of Sibiu and Romania, boost tourism and rebuild the infrastructure of the classic city.
But the race against time means that, although its main squares now look as beautiful as a well-preserved Bavarian or Alsatian city centres, many hotels and some buildings may not be ready for the first months of the year.
Around 100 million Euro is being spent to bolster Sibiu's status, the bulk of which comes from local Government. The aim is to enable Sibiu to stand tall among other preserved medieval cities, such as Bruges or York.
"Decades of Communism have lead to a degradation of the substance of the city, its infrastructure and cultural life," says Mayor of Sibiu, Klaus Johannis. "Restoration in all aspects was needed. Many infrastructure works are nearing completion. Regardless of the difficulties, we are surprisingly well prepared."
The international community wants to see the project work.
"Sibiu 2007 offers an amazing chance for Romania and, if they can get it right, it is an opportunity to totally change the perception of this country," says outgoing head of the EC Delegation, Jonathan Scheele.
There are more than 220 cultural projects, funded through public money, now under preparation and three events per day planned for the culture capital.
"This is the most important cultural and social event in post revolutionary Romania," argues Lucian Georgescu, managing partner at gav|Scholz&Friends, the advertising agency for Sibiu 2007. "Maybe only Pope John Paul II's visit has received more attention."
Possessing a rich architectural mixture of Gothic, Renaissance, Baroque and some Art Nouveau, Sibiu is a city of bijou treats: small theatres, cellar bars and cosy underground venues. This means that for larger events the main forum will be public spaces, the two squares Piata Mica and Piata Mare. Efforts are also underway to enlist Sibiu's historical centre in the UNESCO heritage.
"For almost 800 years Sibiu has been a regional capital, but the Communists did not adhere to the concept of 'alternative capitals', so they tried to overshadow Sibiu," says Johannis. "The former regime had a policy of constructing social housing and all the valuable lodgings in the city centre were nationalised and repopulated with members of the working class until 2000. Investment programmes only began in 2000."
Total costs for the cultural programmes are between ten and 12 million Euro – funded by the local and national Government and the Ministry of Culture. From the European Union, Sibiu receives between 500,000 and one million Euro - enough to pay for only the opening and closing shows.
Now many of the city's hotels are undergoing restoration – and will not be ready for the beginning of 2007. There are fears that the small town, of only 200,000 people, could become overcrowded. The constant development is also bringing traffic in the city to gridlock.
The label of the European Capital of Culture is also not without controversy.
Many previous capitals have been accused of catering too much to the middle class: spending lots of public money on esoteric multimedia, obscure jazz and incomprehensible performance art for the benefit of the few, using cash that could be spent on schools and hospitals.
Therefore, Sibiu and the Mayor have made efforts to underline the permanent benefits to the city. This includes 'hard' infrastructure, such as the rehabilitation of streets, utilities, housing, squares and street-lighting.
"We have invested money so that the entire city functions, not just its centre," says Johannis.
Works are underway at the city's detour ring road, but this will not be completed before 2008. About 15 million Euro has also been invested to modernise all the city's large boulevards, which should ease traffic. Passing through the city at present can take hours by car. The international airport is in an unfit shape, and there is now a 60 million Euro investment programme in place. But not until next Spring will there be a new terminal and only by the end of 2007 will the runway be rebuilt. However, flights will continue.
The average number of tourists in an European Capital of Culture is one million. Sibiu, which currently hosts around 100,000 tourists a year, does not expect this high a figure. "We estimate we will welcome between 400,000 and 500,000 tourists next year," says Johannis. "We expect more tourists in the second half of 2007, with a peak in the Autumn. Luxembourg will probably receive more tourists."
But will it turn a profit?
Johannis says Austria's Graz reported a profit of 25 million Euro after closing its project of European Cultural Capital.
Such a return on investment for the Transylvanian city would be equally welcome.
---
Book up now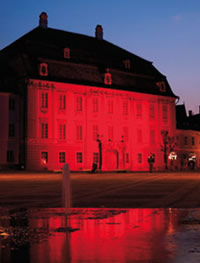 There are huge developments in the hotel industry in Sibiu, but few of these will be ready by January 2007. There are some fears that visitors may not be able to find a place to stay.
By the height of Summer, Marius Constantin, head of communication at the Sibiu City Hall, expects to have 2,700 beds ready for tourists in its main hotels.
Sibiu may also be able to lodge the predicted number of tourists, 500,000, if it takes into account the private guest houses on the outskirts.
Currently open is the Hotel Continental and undergoing restoration is the massive Hotel Bulevard, which will also become part of the Romanian-owned Continental chain, although this will not be finished in time for the Capital of Culture.
A new 80-room hotel with 150 beds will open on Str Scoala de Inot, near the main stadium, funded by Ana Oil. "We are now working on the internal courtyard and finalising decorations," says Ioan Ghise, general manager at the firm. "We hope to open this hotel by March 2007. This is part of our development plan, we didn't decide to open this hotel just for next year's event."
The Hotel Palace, on the outskirts of the city in the Dumbrava forest, is also seeing an extension to 120 rooms. This should be ready by May 2007.
The largest new development is opposite the Hotel Continental: a 20 million Euro greenfield development in a 12-storey Ramada, due to be ready by April 2007. This is funded by Atlantic Travels, part of Sibiu-based mixed interest group Atlassib Holding, with 120 rooms.
Currently undergoing restoration is also Hotel Imparatul Romanilor, which will be ready by the end of February 2007. Built in 1773, this decorative jewel has played host to a number of luminaries. Visitors here sleep in the same rooms where Franz Liszt, Johann Strauss, Danielle Mitterand or Prince Charles once laid their heads.
Report by Corina Mica and Michael Bird
Thanks to
Ioana Oprescu Gavaza
CULTURE: DO WE WANT IT?
SIBIU ON SIBIU 2007
Mihai Niculescu, 29, blacksmith
"When Johannis announced that Sibiu would be European Cultural Capital, we were all glad, because we first of all thought about new investments, more money, both for the city and the people. And this is now seen in Sibiu. People connect everything that happened in the city to this event. When Johannis was elected mayor, the large majority of people said we will get more investments because he is a Saxon. The truth is that it had nothing to do with it, he just happens to be a very good administrator. Money doesn't come just because the mayor has German origins."
Razvan Popa, 33, IT manager
"If it wasn't for Sibiu 2007, we would have needed about three more years to carry out the infrastructure projects. So many streets have been paved, the city centre looks great, we expect tourism to develop as a business in the city and outskirts at the guest houses. I don't see any disadvantages, except the fact that we are afraid we may fail in our endeavours due to the pressure we're under to finish everything in time."
Adrian Codreanu, 33, doctor
"The city's infrastructure has been redone, historic sites have been revived, buildings and facades have been refurbished. But because of so much work, it is almost impossible to travel by car in Sibiu at this point. The city's diameter is 5.2 km and it should take ten minutes to cross. Now it takes over three hours. Sibiu is also too small for the number of tourists it could face. Authorities expect a maximum of 500,000 tourists, and, if more come, we will have a hard time receiving them."
Claudia Apostu, 27, assistant manager
"More Romanian films and theatre plays will be promoted because the aim is to promote Romanian culture. All the museums have been renovated. The Astra Museum has new audio guide facilities, and they use native speakers in several foreign languages. This impressed me, as nothing like this has been done before."
Gelu Potzoli, 56, actor
"We are finally reaching out to foreign visitors. It is sad when we have to deal with so many foreigners who believe that, when they go to Romania, they are visiting bushmen from the desert. We have such a bad image, that such an event is a chance to prove who we are and what we can do. I believe the city infrastructure is 80 per cent ready. But I have serious doubts we will be able to lodge half a million tourists. And what will we do after 2007? Sibiu is not that famous worldwide to attract 500,000 tourists every year."
What's Luxembourg got to do with it?
In the 12th century colonists, known as 'Saxons', from the Luxembourg area arrived in Sibiu. Connections still remain. Eight in ten of the same words appear in the Luxembourg and Saxon dialects. In 1998 the National Monuments Bureau from Luxembourg helped finance the restoration of Luxembourg House in Piata Mica in the city as a hotel, bar and cultural centre. This led to a relationship culminating in the joint-bid for European Capital of Culture2007.
---
A short history of Sibiu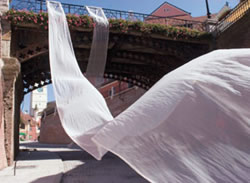 1150
'Saxon' settlers from Moselle, north east France received money from Hungarian rulers to settle on the site of Sibiu and its surroundings. There is a myth that the lines of the settlement of Sibiu were drawn out by the city fathers by two swords. These weapons now lie on the city's coat of arms. At that time called Villa Hermanni, it later became Hermannstadt. The Saxons then built seven fortified towns to ward off pillaging from Tartars and Ottomans. In 1438 Sibiu resisted a siege by Sultan Murad II, but in 1541 the Turks eventually conquered Buda in Hungary and placed Transylvania under their control.
1599
Prince of Wallachia, Mihai Viteazul, defeated the Hunga-rians and united the three main provinces of Romania – before losing them in 1601, when he was assassinated. Transylvania became part of the Austrian Empire.
1692-1790
Sibiu was made the capital of the pro-vince. The Saxons retained the Lutheran rite, while the Catholic church embarked on a counter-reformation campaign. This lead to the construction of baroque buildings in the city.
End of 18th Century
Governor of Transylvania, Samuel von Brukenthal, assembled a rich art collection and library, which he gave to the city. This opened in 1817 and is the basis of the now Brukenthal Museum.
1781
Other ethnic groups gained the right to live in the town alongside Saxons. Romanian Orthodox bishop Vasile Moga and his church settled in town. The Austrian-Hungarian Empire stripped the Saxons of privileges and administrative autonomy.
1867
Transylvania annexed by Hungary.
1918
Transylvania united with Romania.
1919
Saxons' Assembly voted to join the greater Romania. Sibiu remained the seat of Government before joining the greater country.
1945-1989
Communist Government nationalised factories in Sibiu and persecuted Saxons for allegedly collaborating with Third Reich. Many were deported to USSR in forced labour camps.
1970s
Many Saxons started to emigrate to Germany
1987
Nicu Ceausescu, youngest son of Ceausescu and a hell-raiser, was dispatched by mother Elena to Sibiu to relieve him of the temptations of Bucharest. He became leader of the Sibiu Communist Party, making him effectively the most powerful man in the city. However he did not come down with an iron fist on the people, making sure food was available in the shops and schools were built on time. He did not punish citizens making complaints about the general state of things being so bloody awful. Some Sibiuans argue he gave orders not to shoot at protesters in Sibiu in December 1989, and the military did not obey him. When it was clear his father was finished, Nicu fled the city and was caught hiding out in a laboratory for breeding animals in Cristian, Brasov county. In September 1990 he was sentenced to 25 years in jail for conspiracy to murder. Where the trial took place, many of the townspeople from Sibiu waited outside the building to give Nicu jars of jam and the vegetable salad dish 'zacusca'. He was released after three years and died from liver cirrhosis in Vienna in 1996.
1990s
Many Saxons continued to emigrate. But during the present decade, Mayor Klaus Johannis says the emigration has stopped. However there is not significant evidence to indicate that many are coming back. Today there are around 2,000 Saxons in Sibiu – about one per cent of the city's population.
---
Perfectly strange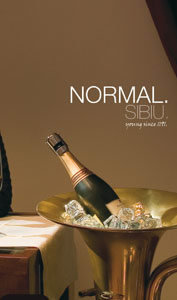 The initial promotion of Sibiu is not based around a series of events or a list of historical sites.
This teaser campaign aims to capture the flavour of Sibiu by selling the attitude of the city. Advertising firm gav|Scholz&Friends, with a communication budget of almost one million Euro, have thought up the tagline of 'Normal. Sibiu'.
The poster campaign is a series of visual puns: a champagne bottle in the opening of a tuba, instead of a silver service bucket and a set of traffic lights with multicoloured sweets in the place of amber, green and red lights.
What this project denotes is that the surreal, absurd or inventive is what is normal in Sibiu.
"We want to put forward the idea of 'normality through culture'," says Lucian Geor-gescu, managing partner at gav|Scholz&Friends.
The TV spots use Gothic imagery to highlight the medieval heritage of the city, as the advert follows a girl lost in the maze of winding, dimly-lit streets occupied by dancing orgiastic teenagers and a blacksmith forging the city's insignia. This seems to target the Gothic trend now putting Europe's youth under a grey cloud. Georgescu says the purpose is to generate "intrigue".
This campaign's potential audience are 50 million people living in Europe and 75 per cent of Romania's urban population. Young backpackers and students with far too much time and money on their hands are a particular target.
---
Event horizon
Light shows, festivals and a visit from Michel Houellebecq are among the highlights of Sibiu 2007. Ongoing will be chamber music, exhibitions, folklore, jazz, plays, seminars and gastronomic pleasures, with international artists heading to Romania. Many events will foreground the cultural links between Germany and Transylvania.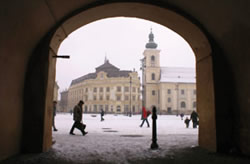 January
SPECTACLE
On 2007 New Year's Eve, as Romania enters the EU, French light gurus Groupe F will launch a pyrotechnic show with fireworks and flames in an audiovisual spectacle.
There will also be a concert including Philharmonie der Natioonen [Philharmonia of the Nations], conductor Justus Frantz's Berlin-based multicultural orchestra from 40 different countries. There is also a plan to light up 1,000 'Eyes' of the houses in Sibiu simultaneously at midnight.
THEATRE
'Ballhaus', Romanian history told through dance, music and mime, directed by Radu-Alexandru Nica, Radu Stanca Theatre.
February
ART
'Identities in Motion' Romanian art compound subREAL join with Austrian, Romanian, Finnish, German, Swiss and Swedish artists to combine forces in multimedia fun at the International Centre for Contemporary Art.
April
CHORAL MUSIC
Transylvanian composer Rudolf Lassel's St Matthew Passion was unfinished at his death. This has been completed in a contemporary style by Hans Peter Turk and will receive its premier in Sibiu by the Sibiu Bach Choire.
May
ART
'Colours of the Avant-Garde', Sibiu History Museum, modernist and avant-garde paintings from 18 museums around Romania, including work by Hans Mattis Teutsch.
FESTIVAL
13 to 17 May: 'Euroiudaica 2007' Festival of Jewish culture including music, dance, film, theatre and an exhibition of Jewish painters of Romanian Origin at the Brukenthal Museum.
June
CINEMA
'Transylvanian International Film Festival' (TIFF) New and the latest films from around the world shown.
CINEMA
'European Festival of Animation': The Foundation for Alternative Art: five days of exploring animation as an art form.
POETRY
'European Marathon of Poetry': three days and nights of verse with poets from Europe reciting their lines in clubs, bars, coffee shops streets. You won't be able to get away from them.
July
RROMA STUFF
'Attention Gypsies!: Story of a Misunderstanding', Astra Museum and Luxembourg History Museum exhibition detailing the fight against Rroma stereotypes.
August
ART:
Unknown Europeans, Evangelical Church, Sibiu, photographs by Kurt Kaindl and words by Karl-Markus Gauss on minorities' struggle for self-definition.
September
MUSIC
5 to 23: George Enescu International Classical Music Festival: international orchestras take on the classics in Sibiu.
September to December
CULTURE CONFERENCE
'The Experience of the Ego in the European Literature', with participation from writers including Norman Manea, Ana Blandiana, Andrei Plesu, Michel Houellebecq, Gunter Grass and Peter Handke.
October
JAZZ
'A celebration of contemporary music': four-day festival of improvisation and conferences on music with guests from USA and Europe.
---
City delights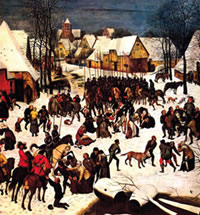 Brukenthal Museum Piata Mare
Established in 1817, the collection from the former Governor of the province, and rumoured lover of the Austrian Archduchess Maria Theresa, is rich in local art and Dutch and Flemish originals. Masterworks include Brueghel's 'Massacre of the Innocents' (right) and January will see a retrospective of Maramures bad-boy artist Dumitru Gorzo's violent and pornographic imagery.
Astra Museum Calea Dumbravii, Dumbrava Forest, on the road to Rasinari
Celebrate folklore with this 101-year old open air museum containing 350 buildings, including wind, water and floating mills and farmhouses. At 96 hectares, reportedly the largest open air museum in Europe.
Liars' Bridge(Podul Mincinosilor) Piata Mica
19th century Iron bridge linking two upper levels of the town. Rumours of the name concern merchants who sold their products under the bridge. When they were deciding prices, they used the bridge as a guarantee of the truth. If someone lied, the sellers argued, the bridge would collapse.
Evangelical Cathedral Piata Huet
Construction began in 1322 and ended in 1520 on the site of a 12th century Romanesque basilica. Famed for its nine metre high fresco of the crucifixion by Johannes of Rosenau from 1445 and its 17th century organ with 6,000 pipes – making it the largest in Romania.
Keeping watch:1,000 eyes all over the town
Visitors to Sibiu often have the presentiment that the buildings are looking at them. This is the 'Eyes of Sibiu': small horizontal windows on the tiled roofs that resemble hooded and suspicious-looking eyes. Their purpose was to ventilate attics to allow the space to remain dry for preserving cured meats and vegetables.