Clubbing together
With Romania housing the largest number of Hungarians abroad, Ana-Maria Smadeanu talks minorities and foreign investment with Hungarian Ambassador, Janos Terenyi on the eve of EU entry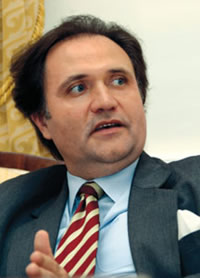 Hungary and Romania have a common history and most of the time have been under the impact of the same or similar historical forces.
Now their common interests fall under the umbrella of the European Union, which will form an entirely new framework for bilateral relations and development.
The enlargement of the European Union could therefore help boost cross-border cooperation, says Janos Terenyi, Ambassador of Hungary to Romania.
"Cross-border cooperation means closer networks of economic, social and cultural ties," says the Ambassador. "The network of such contacts between cities [close to the borders of Serbia, Hungary and Romania] like Timisoara, Szeged or Belgrade was more intense 100-150 years ago than today."
TRADE TALK
Hungary: 13th largest investor in Romania
Bilateral trade 2005: 2.75 billion Euro, in Hungary's favour
Hungary: has more than 6,000 companies active in Romania
Hungary exports to Romania: machinery including mobile phones
Hungary imports from Romania: salt, cement, ready-made garments and Dacia Logans
Largest investors: Mol and OTP Bank
FDI: 340 million Euro without the reinvested capital
Size of the Hungarian minority living Romania: 1.5 million
But now the relationship between the second largest Hungarian city Debrecen and Oradea, and also between Timisoara and Szeged constitute a powerful engine for accelerating Hungarian-Romanian cooperation.
With Romania and Bulgaria winning the green light for their entry date of 2007 at the eleventh hour, there is a suspicion among some EU commentators that nations joining up in 2004, such as Hungary, were more prepared than the two newcomers.
"We happily accept the conclusion of the last European Commission country report," says Terenyi. "Anyway, there was hardly any candidate country which entered the European Union 100 per cent prepared, perhaps not even the "older" member states."
Wage rise
In Hungary average wages have increased by 30 per cent during the last five years. If Romania follows such a pattern, it may be good news for the consumers, but maybe not for investors in labour-intensive industries.
"One thing is clear: the Romanian economy will move towards sectors with more added value," says Terenyi. "In the last years the textile and shoe sectors, which had low-added value, were the ones with high FDI. But now foreign investment in this sector will move more to the east because wage growth in Romania will be higher. Romania must create new possibilities for attracting FDI once privatisation is over."
Minority question
There are 1.5 million Hungarians leaving in Romania, making Romania the country with the largest Hungarian minority. There is around 80 per cent of first-language Hungarian speakers in the Harghita and Covasna counties of central Romania, and 50 per cent of the population of Mures county. Romania's Hungarian minority political party (UDMR) has a 'roadmap' for an autonomous region in the area, borrowed from precedents for autonomous or 'devolved' zones within the EU, such as South Tyrol, Wales or Catalonia.
"The Republic of Hungary feels responsibility for the Hungarian communities living in the neighboring countries, which is one of the pillars of our foreign policy," says the Ambassador. "It is closely connected to the policy of good neighbourhood we strive to conduct, because our aim to support the Hungarian minorities can be achieved exclusively in the context of a strong cooperation with the governments of the region. We are very satisfied to see that the situation of Hungarians in Romania has evolved in a very positive way, parallel to the overall level of confidence and cooperation between Hungary and Romania themselves."
Terenyi says that in shaping his nation's policy on Hungarian minorities, the starting point is looking at basic trends that define the evolution of a common region. "We must adapt our policies towards the changing realities, that is the enlargement of the European Union," he says. "With due attention paid to preserve the cultural and linguistic identity of the Hungarian minorities, we are keen to focus more on the reinforcement of their economic bases, making them apt to stand the challenges of modern times. Different forms of Hungarian-Romanian cross-border cooperation, relying partially on EU funds, will also play an ever increasing role."
International developments in dealing with minority questions also offer important precedents.
"Our government relies upon the legitimate representatives of the Hungarian minorities in the neighbouring countries to enhance the legal framework for minority rights – including the introduction of different forms of autonomy, both cultural and territorial - concrete, democratic solutions are to be worked out, tailored to the conditions and needs of each country, on the basis of negotiations with the representatives of the respective majorities," adds Terenyi.
Wheel deal

One of the most popular products from Romania is the Dacia Logan, which sells in Hungary for about 8,000 Euro.
This builds on the heritage of trade during Communism, when one of the main targets for Dacia was Hungary.
But since then things have improved.
"Dacia Logans have become very popular on the Hungarian market," says Ferenc Bogar, counsellor and head of Hungarian economic section. "They have a very good price and have a totally different image to the previous Dacia."
Last year bilateral trade between Romania and Hungary reached a record level of 2.75 billion Euro in volume. This means the turnover between 2000 and 2005 has doubled. From this value the Hungarian exports are 1.9 billion Euro and the remaining 0.85 billion Euro represents Romanian exports towards Hungary.
"There is an increasing tendency for manufactured products, machines and equipments, meanwhile raw materials, groceries and fuel and energy are decreasing," says Bogar.
There are no exact figures for Romanian investment in Hungary – but Bogar believes this to be around 50 million Euro. "From what we know the most spectacular investment in Hungary are the two Petrom gas stations, near the border," Bogar says.
Although the largest Hungarian minority in the world is in Romania, there are only around 10,000 Romanians living and working in Hungary, mostly in construction and health care. "I don't think there is going to be a boom in terms of Romanian migration to Hungary, but Romanian investment will increase once the country becomes an EU member," says the counsellor.
Bogar sees Romanian companies investing in logistics and the auto industry, while there is a huge interest from the Hungarian firm in the construction field and IT in Romania – with Hungarians preferring the idea of greenfield investments than buying out a market player. This should turn from interest to investment following the accession.
Hunting the volume
OTP Bank Romania
Took over RoBank in 2004, for 47.5 million USD (almost 38 million Euro)
2006 first quarter total assets: 396 million Euro
Country ranking: 18th
2006 estimated market share: two per cent
Number of branches: 70 by end 2006
Employees: 800 by end 2006
Hungary's OTP Bank is now in a head-to-head race with the National Bank of Greece for the takeover of Romania's Savings Bank, CEC.
But over here OTP Bank Romania CEO Frigyes Harshegyi believes it would be a bold move for a new bank to step into the market.
"It'll be extremely ambitious for any bank that wants to enter Romania to start from zero," he says. "Also, the Romanian banking sector lags behind the position of developed economies in volume. Though products-wise it is quite developed."
The CEO calls the local market 'unequal'.
"Three banks hold almost half of the market," he adds. "Then there's a group of about eight to ten banks with four to five per cent each and more than 20 banks with less than one per cent."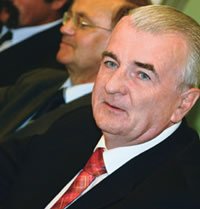 Adopting a little irony, Harshegyi says his bank managed to buy 'the smallest bank in Romania', referring to its 2004 purchase of RoBank for almost 38 million Euro.
"But our strategy is that in three years' time we will enter the group of banks with a five per cent market share," he adds.
When OTP took over RoBank there were 15 branches and virtually no retail activity. Now the firm has 53 branches and 70 by the end of 2006.
"Our target is to issue about 500 million Euro in loans, both for individuals and corporate clients," says Harshegyi. The universal bank is the template OTP is focusing on, including retail, corporate banking and project finance.
OTP can boast of its move as the first bank in Romania to introduce credits in other currencies than the traditional ones [Euro, USD, RON], namely Swiss Francs and the Yen – an area the bank is looking at developing.
Next year the bank will focus on services such as the card business, Internet and telephone banking. Recruiting and training people is also on the bank's agenda, with the boss looking at 800 employees for the 70 branches OTP wants to operate by end-2006.
"This in particular is an interesting exercise," he adds, "because the competition for people is fierce."
Refined future
Mol Romania Petroleum Products
Oil and gas company
Established in Romania: 1995
Market in ranking in petrol stations: fourth
Market share in sold volume: 13 per cent
Number of petrol stations: 138, three more to open by end-2006
2006 half year turnover: 263 million Euro
Oil and gas firm Mol Romania Petroleum Products is pledging 12 million Euro to expand and modernise its existing network next year. Having taken over Shell's 81 retail operations in 2003, the company now owns 138 petrol stations, making it the fourth largest market player in Romania.
"Next year we expect more revenue," says managing director Zsolt Szalay. "We will invest to harmonise the service between the two types of petrol stations and gain appropriate country coverage."
The company this year sold the aviation division it took over when it bought Shell operations to Petrom. The transaction also included the sale of 30 Mol filling stations and the buyout of 11 Petrom and OMV stations. The firm has so far invested over 150 million Euro in Romania, excluding the Shell deal, whose value was not made public.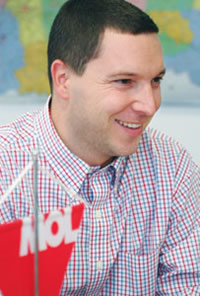 "We are famous for our oil quality, most of which is imported from Hungary," says Szalay.
Next year Mol will invest 12 million Euro to build eight new filling stations, in areas that the firm does not cover at present. It costs 100,000s Euro to build a filling station from scratch. All the stations are then kept under franchise.
"As a future potential, we are looking at areas which will be crossed by the highways. Things like this are planned three to five years in advance," says the managing director. "Romania's biggest plus is that there are so many cars on the streets and there are no highways. This means huge future potential."
Talk business
Combridge
Alternative telecom operator
Markets the carrier selection service Eufonika
2006 expected turnover: ten million Euro
Employees: 30
Six months after launching an alternative telephone service that runs on Romtelecom's infrastructure, Combridge now has a client base in the tens of thousands.
"We are still trying to convince Romtelecom to cooperate, rather than seeing them as an enemy," says executive director Levente Csenteri. "We want to treat them as healthy competitors."
Combridge is majority held by Hungarian operators Magyar Telekom, which is in turn owned by Deutsche Telekom. In Romania Combridge provides alternative telephony through carrier selection under the Eufonika brand.
Two months after launching, Eufonika reported 10,000 clients.
"We have experienced a rapid growth at the beginning, because we caught the attention of the most receptive clients, those interested in experiencing alternative services," says Csenteri. "About three months after that the growth stagnated, because the remaining potential customers were not that receptive any more and we had to educate the market."
In Hungary customers are accustomed to the carrier service, but in Romania Combridge are pioneers in this field.
"Because we operate on Romtelecom's infrastructure, it is amazing to see the accelerated decrease in the number of lines that the incumbent operator is witnessing," he adds. "They should really do something to stop such a massive decrease."
Currently, Combrige is not interested in developing carrier service agreements with other alternative telecom operators. "The main reason is the high interconnection tariff that such operators charge, and until the tariffs get lower we will focus on developing the relation with Romtelecom," he says.
Although it bought the task book to acquire one of the remaining 3G licenses, Combridge did not submit a binding offer. Could it be that the mother company – Deutsche Telekom – which is not present in Romania - may be looking to buy an already established telecom operator here?
"Nothing is impossible," says Csenteri, "although I would not like to speculate or launch rumours."
Industry hive
Epker
Construction firm
Turnover in 2005: nine million Euro
Estimated turnover for 2006: nine million Euro
Total investment in Romania: 1.47 million Euro
Number of employees: 20
Founded in 1997 in Oradea, construction company Epker Romania has built industrial developments such as shoe factory ARA Shoes in Valea lui Mihai, Bihor county, the Continental tyre factory in Timisoara and most recently, the ADA furniture factory in Salonta, south-west of Bihor.
The total investment of Epker in Romania is almost 1.5 million Euro, including an HQ in the historical centre of Oradea and land in the industrial area outside the town.
"I think in 2007 the real estate market will develop even further and will become more dynamic. That is why Epker is trying to diversify its services in real estate and founded Epker Invest," says Augustin Vass, general manager of Epker Romania.
Business interviews
by Corina Mica and Mihai Alexandrescu