We've only just begun
Having ratified Romania's treaty of accession to the EU, Belgian Ambassador to Romania Philippe Roland says that all fields are now open for business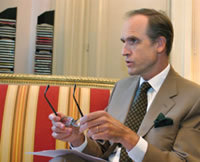 There has been a turnaround in Romania's fitness for accession in the last few months, argues the Ambassador of Belgium Philippe Roland.
"When you compared the results [of the European Commission report] issued in September with that from May or last October, it is a huge step forward made by Romania and Bulgaria," he says. "The Accession date [of 2007] has a highly symbolic value, but beyond this date one has to keep up with integration and then start implementing fully all the requirements related to the state membership of the Union. Romania and Bulgaria have a big gap to close in order to join and be at the average level of the other member states."
Migration of Romanians to Belgium is ongoing, but not high. The number of Romanians living in Belgium is around 5,000. Many are working in the construction and medical sectors. "Romanian doctors fill up a gap in our system," says the Ambassador.
There are now more than 1,000 companies with Belgian capital in Romania and the west European state is in the 20th position as local investor. The largest Belgian investors in Romania are beer company Interbrew, mixed interest group Solvay, retailers Delhaize and bakery firm Puratos.
Last year Belgium Bank Fortis showed an interest in purchasing Banca Comerciala Romana and took part in the due diligence process. But the Ambassador says Fortis felt that the price to buy BCR would have been too high for the return it would provide.
"I don't think that Fortis has any regrets for giving up the BCR race," says Roland.
Meanwhile Dexia Bank, which is the worldwide leading bank in public financing, also showed an interest in buying state Savings Bank CEC, but it allegedly gave up the race because the rumoured price (up to 600 million Euro) looked to be again too expensive.
But Dexia is present in public finance in Romania now, and has a heritage in a joint Belgian-Austrian venture, Dexia Kommunalkredit.
"It means that Dexia and maybe others will bet on organic growth rather than taking over fixed assets with all its drawbacks," says the Ambassador.
Another local bank which could be for sale is private-owned Banca Transilvania.
"I have not heard of any Belgian bank showing interest in this, but that is not surprising," says Roland, "Taking into account that when Fortis had an interest in BCR and Dexia in CEC, they didn't come and knock on my door. They just did it."
In which field could Belgians still improve its presence?
"Everything is missing because everything is still to be done," says the Ambassador. "All the fields are relevant."
Here for the beer
Interbrew Romania
Brands: Stella Artois, Becks, Bergenbier, Lowenbrau, Noroc, importer of Leffe and Hoegaarden
End of 2005: market share of 21.5 per cent
Turnover: 140 million Euro
First six months of 2006: 35 per cent increase in sales on same period 2005
Total investment up till end of 2005: 150 million Euro
Romanians are drinking more.
All categories are growing in a parallel development – with beer, wine, coffee and soft drinks all registering increases. Only strong alcohol is witnessing a decline.
Though Romanians have never been huge beer monsters, Mihai Ghyka, general manager of Interbrew Romania, predicts that the annual consumption per capita could increase to 80 litres - a rise from 74 litres last year. This puts Romanians closer to the drinking level of Poland and Hungary.
The beer market in Romania is tough and crowded. It has the "highest competition" in eastern Europe, says Ghyka, due to the presence of four major international brewers, all with local production and a total of 75 per cent of the market. Around 15 beer brands are now being advertised on television. "This is too many," says Ghyka.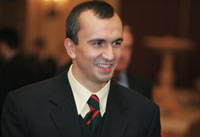 The next stage is one of consolidation.
In the premium sector, Interbrew holds over 30 per cent of the market with Stella Artois and Beck's, while Tuborg is the category leader. In the mass market, Interbrew leads with Bergenbier – which is also the biggest beer brand across all categories. This is the most fragmented sector, with the highest number of competitors – around 20.
"We expect consumption to focus on only a few brands in the future," says Ghyka.
Meanwhile wine consumption is registering a ten per cent increase per year – could these two categories be going head to head?
"Wine is not against beer," says Ghyka. "At least not in the next two to three years."
Now Romanians have more cash and more excuses to celebrate. This means that the restaurant and pub industry has seen a boom in and outside Bucharest.
"Before 1989 people only went to a restaurant if invited to a wedding or the birthday of someone who was rich," says Ghyka. "The rest could not afford to go. There was a feeling you were better off at home. Now you see more families and friends going out."
In the past, beer was not the preferred choice of women or the upper classes.
"It was just the working guy with his beer and same beer brand," says Ghyka. "Now people drink different beers for different moments and have many choices. It is more about socialising, not a choice for a social class. Rich and poor drink beer."
However the off-trade (shops) is growing faster than the on-trade (bars and restuarants).
"This is because hypermarkets are coming into the game very fast and are not killing existing small grocers or kiosks," he says. "But as new quality restaurants and pubs open, the old and poor ones die off."
Beer is still predominantly an impulse purchase – it is bought every two or three days on the way home from work rather than in bulk from a hypermarket. When shopping, Romanian men and women tend to go together much more than in western countries. "Women thus have a big influence on the beer the man brings home," says Ghyka. "Even if it is just for himself."
Supermarket sweep
Mega Image
Supermarket chain
Number of stores: 18 [15 in Bucharest, two in Constanta and one in Ploiesti]
Turnover in 2005: 65 million Euro
2005: First year of profit for Mega Image
Employees: 1,100
Delhaize Group's Mega Image supermarket mainly targets Bucharest, where 15 of its 18 stores are open. Next year the firm will open four to five stores, one in Berceni, south Bucharest.
"There is a lot of space for us to expand. Even the number of hypermarkets is not enough for Bucharest," says John Kyritsis, general manager of Mega Image. An investment in a store is up to one million Euro and its surface varies from 400 to 1,500 sqm.
Mega Image opened its first supermarket in 1995 as a Greek investment. In 2000 Belgian group Delhaize bought 51 per cent of the shares and completed the entire 100 per cent in 2004.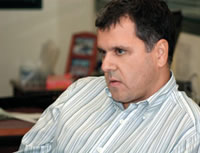 Now Mega Image is preparing to open its second logistic centre in Bucharest. At the moment the company has one over 3,000 sqm in the Militari area, but intends to rent a second space over 4,000 sqm. The company also has a mid-term plan to build its own logistic centre in the outskirts of Bucharest.
In the last year Mega Image has introduced onto the market the own-brand label of its owner Delhaize, '365', including products such as tea, cooking oil and corn flakes. One of the biggest successes has been waffles from Belgium.
"We can't import enough," says Kyritsis. "The demand for waffles is very high."
Educating customers with recipe suggestions is the next step. Two months ago, in the Blvd Titulescu supermarket, the company started to supply printed recipe ideas on some of its foods, as well as hints as to what drinks could complement the food.
"People want ideas of what to drink to a certain dish that they are cooking," says Kyritsis.
In keeping with a trend that is seeing more shoppers go to supermarkets for fresh products, Mega Image has also registered an increase in sales of fruit and vegetables.
Bake it big
Puratos
Bakery, pastry and chocolate ingredients producer
Employees: 183
Market share: 25 per cent
Turnover: 18 million Euro forecast for 2006
Customers: 5,000 including Vel Pitar, Loulis and all the supermarkets.
Bakery, chocolate and pastry ingredients producer Puratos is preparing to invest four million Euro in a 2,600 sqm production unit and warehouse on the Bucharest ring-road.
This adds to the existing 1,200 sqm head office and training centre. In Romania the company has a production unit in Bucharest and is preparing to open its tenth national branch in Baia Mare, Maramures county.
"We are about to finalise a new investment in margarine production and we are increasing our production capacity by four to five times," says Alain Hottlet, general manager of the company.
Puratos Romania has also started to distribute new products locally which belong to the Patis France arm of the Puratos group, targeting the HoReCa industry, which includes products for making pralines, which are very popular in Romania.
"There are more requests for different type of products, more variety and a little more competition," says Hottlet.
Sweet talk
Leonidas Romania
Owned by M'bei Chocolaterie
Distributor for luxury chocolate producer Leonidas
Opened the store: 2001
Employees: four
Total investment: over 200,000 Euro per store
Luxury chocolate producer Leonidas plans to enlarge its number of stores in Romania, from its standalone shop near Piata Univesitatii and its outlet inside the Howard Johnson Hotel.
In Romania, the market has a taste for pralines and coffee creams, with chocolate sales increasing by 20 to 30 per cent annually.
The first Leonidas store was opened in Romania in 2001 as a franchise and family business.
"It was hard at the beginning," says manager Jolyon M'bei. "People were contesting our prices but in the last two years the market started to be ready for luxury products."
Nevertheless he says that the luxury chocolate market in Romania is "without logic".
"For us the competitors are very dangerous because people do not recognise brands," says M'bei.
During the summer the firm imports an average of 100 kg chocolate every fortnight and, in the winter, 250 to 300 kg – but at Christmas time this increases to one tonne of chocolate. To increase the sales last summer, the family brought Leonidas ice cream on the market. "There is still place to develop this segment," M'bei adds.
Among the clients of the company are HVB-Tiriac Bank, insurance companies and advertising company Ogilvy, as well as former British Ambassador Quinton Quayle.
The total investment for the Leonidas store in Romania was over 200,000 Euro and the M'bei family intends to develop the franchise system for the mother company.
Home improvement
Reynaers Aluminium
Aluminium systems company
Entered the market: 1992, but re-launched in 2006 after a failed joint venture
Number of employees: three
Biggest projects: Henri Coanda Airport, Orhideea, Carrefour
Early this year aluminium systems firm Reynaers reopened its rep office in Romania, following an unsuccessful joint venture with Balkan Ro Industry in 2003.
The revamped Reynaers Romania has taken over the old company's customers, such as Orhideea, Carrefour, Bricostore, Plaza Romania and Generali Tower.
"Our targets are large construction projects such as office buildings and malls," says Daniel Popa country manager of Reynaers Aluminium.
The largest project so far is Henri Coanda Airport. The aviation authorities will expand the airport in the future and Reynaers hopes to be involved. New airports in Bucharest and Brasov are also targeted by Reynaers, which imports its systems from Belgium.
But the demand for aluminium systems in Romania is still not high enough for the firm to establish a local production facility, says Popa.
For the moment Reynaers is working on two office buildings in Pipera and a residential project which tests a relatively new system that combines aluminium and wood.
In 2007 there will be a boom in the residential projects, of which Popa hopes the firm will take advantage.
Chemical world
Solvay Pharm
Pharmaceutical company
Turnover 2005: 6.5 million Euro
Forecast turnover for 2006: 20 million Euro
Market share: 1.3 per cent
Employees: 60
Pharmaceutical company Solvay Pharm is preparing to launch a product on the Romanian market in hormone therapy in the first semester of 2007, which is already number one in the US.
Solvay has 12 branded products on its local portfolio and five others from pharma firm Fournier, which it merged with last year. Following the merger, Solvay has a 1.3 per cent market share.
Last year Solvay Pharm sold 50,000 more units of their anti-flu vaccine Influvac than the company predicted – with the total figure for 2005 a 30 per cent rise on the previous year.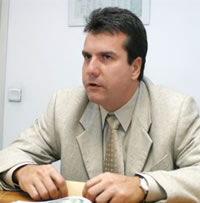 Sales have also boomed this year compared to 2005, says Mihai Diamandopol general manager of the company, who expects a threefold increase in turnover to 20 million Euro for 2006. Partly this is due to the merger with Fournier.
"After the EU integration the pharmaceutical market won't change dramatically," says Diamandopol. "The changes will happen step by step up, while the healthcare market will meet some higher standards."
Today the company hires 60 people but intends to increase this to 90 in the next year.
In the chemical sector the Solvay Group is represented by Inergy, a joint venture with French company Plastic Omnium and the plastics by Pipelife - a joint venture with Austrian Wienerberger.
Solvay Chimie
Chemicals producer
Total investment: 15 to 20 million Euro
Turnover 2005: more than 15 million Euro, 20 per cent increase for 2006 forecast
Number of employees: 86 including Inergy
Solvay Chimie manages the activity of Inergy company, which has a ten million Euro production unit in Pitesti that produces fuel systems for Dacia Renault. Initially this supplied the small sedan Solenza and is now the supplier for the whole family car Logan range. Next year Inergy will increase its capacity by 20 per cent.
"The unit was created to cover Dacia's needs, and as the company is increasing its production so are we," says Theodor Stoica, general manager of Solvay Chimie Romania and president of board for Inergy.
Dacia is not the only car producer with whom the company intended to cooperate.
Inergy was in negotiations to produce fuel systems for car factory Daewoo Craiova, but this did not reach the final stages. Now the car factory is back in the hands of the state and is looking for a multinational buyer such as Ford or General Motors.
"If there will be an investor for the Craiova factory, who will be able to develop high standard-projects, for sure we will be interested in cooperating with that firm," adds Stoica.
At present Inergy is involved in the whole internal production for fuel systems for the Dacia assembly plants in Romania and for Renault International in countries such as Russia, Morocco, Colombia and Iran.
Metal sandwich
Coilprofil
Metallic construction company
Employees: 38
Turnover 2005: 4.5 million Euro
Predicted turnover 2006: An increase of 50 per cent
Total investment: eight million Euro
In the spring of 2005 metallic construction firm Coilprofil started the expansion of the production facilities in order to develop their existing range of products.
The 7,000 sqm production space was finished this year in a 3.5 million Euro investment. This includes a new line producing sandwich panels, which will enter on the market this month.
"The market in which we are active is continually developing from the demand point of view," says Liviu Mistodinis, general manager of Coilprofil. "For next year the company intends to develop the dealer and collaborator network."
Coilprofil enter the market in 2002 as a greenfield investment and works with Heidi, Bricostore, Michelin, Posta Romana as well as building warehouses for Ford, BMW, Opel and Renault Nissan. Even with such customers Coilprofil is acting in a competitive market.
Rail estate
Transurb
Railway infrastructure consultancy
Entered the market: 1992
Turnover 2005: 25 million Euro
Employees: 50
Railways consultancy company Transurb, 80 per cent owned by Belgian railways, has participated in the rehabilitation of 90 km stretch of Bucharest-Campina railways and is now preparing the next stage of this project between Campina-Predeal.
Besides this, Transurb is the consultant in the large infrastructure projects such as European Corridor IV.
Presently the company is organising a tender to chose an entrepreneur for the Campina-Predeal project.
The works will start in 2007 and end in 2010.
"It is a very difficult project," says Francoise Heidebroek, commercial attache of Transurb. "It is an area with lots of curves and hard access. We are crossing the Prahova river 17 times and there are 150 bridges and small bridges. It is quite a challenge."
Energy drive
Tractebel Romania
Energy and environmental consultants
Part of the Suez group
Employees: 150
End 2006 turnover forecast: 3.8 million Euro
Energy and environmental consultants Tractebel Engineering, part of industrial and services group Suez, is currently assisting the Romanian-Bulgarian border access modernisation at Giurgiu and in the extension of the existing electrical substation for Renault - Dacia's automobile factory near Pitesti.
The company has also been a consultant for two years now on the improvement of the Danube's navigation system, where last year the firm helped pull out the 13-year old wreck of the Ukrainian ship 'Rostock'.
"One of our latest technologies is the computer simulation program, which we undertake before real works begin - this helps us a lot," says Daniela Scripcariu, CEO of Tractebel Romania.
In energy, Tractebel Engineering is involved in the rehabilitation of the Rosiori power station, one of the two stations which supplies the connection with Europe-wide Union of Coordination of Transmission of Electricity (UCTE).
The company is also partnering with Siemens in the rehabilitation of the biggest power stations in Romania, Bucuresti Sud, which supplies over 60 per cent of the capital's energy.
Assembly time
GDM Electronics
Electronic contract manufacturing
Employees: 110
Since 1997 GDM Electronics has been selling printed circuit boards, produced in Asia for the European market. Now, the firm has its own assembly lines in Slovakia and in Romania (in Curtea de Arges) and expands the Romanian plant, meaning a fourfold increase in staff.
For the formation of GDM Electronics, its director Guido Pauwels investigated the production opportunities of eastern Europe for years, before it started activities in Slovakia.
"Our most important customer wanted to outsource a complete production line at that moment and we only had three months to start up production," says Pauwels. "That is why we made an in-between step in Romania by purchasing an existing building of 2,400 sqm, so we were immediately operational."
In the meantime the production facility has expanded to its limit and the company now has a capacity shortage.
Five years ago GDM bought 12,000 sqm of land in Romania.
"We have decided however not to build there, since it's now too small. One year ago, we bought a land of 37,000 sqm, on which we are building a 15,000 sqm plant," says Pauwels.
As soon as the first phase the firm's new project is complete, GDM expects that towards the end of 2007, it will employ 300 to 400 people in Romania.
By Ana-Maria Smadeanu,
Michael Bird and
Mihai Alexandrescu