Work in progress?
Construction is witnessing a boom in Romania: can public works benefit? Corina Mica talks to Laszlo Borbely, Romania's Minister Delegate for Public Works and Land Management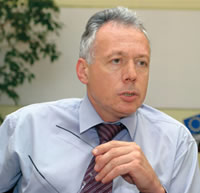 What sets Romanian apart from its European neighbours is the state of its infrastructure, and billions of Euro is available from Europe to remedy this problem.
But though public works has been at the centre of discussions, little has been achieved on the ground in bringing Romania up to speed with the rest of the EU in its infrastructure.
Public-private-partnership (PPP) is now the word of the day, with a plethora of financial institutions, local authorities and Government officials taking a closer look at this funding mechanism as a way of moving Romania's infrastructure forward.
But Minister Delegate Laszlo Borbely feels there is a misunderstanding in Romania about PPP, which has a number of different meanings around the world.
"A PPP means that the state budget is not burdened and an institution comes in with financing, while the state concessions the land," he says. "Another form of PPP is long-term credits, derived from the fact that the agent that provides financing has good credibility and is interested in the project."
To this end, he mentions two real estate PPPs in Bucharest: Esplanada, a proposed residential, office, retail and cultural project on Blvd Unirii, valued at between 800 million and one billion Euro, and the Casa Radio project, which includes the development of a Communist building intended to house the public radio station into a shopping and leisure centre – and of which the state holds 15 per cent.
"There have been many problems in the initial contract [for Casa Radio]," says Borbely, "but now we can say this will be beneficial to the Romanian state."
There are also PPPs in supplying water to hundreds of villages and building social housing projects.
Building boom
In building, Romania is in the largest construction phase it has seen post-Communism.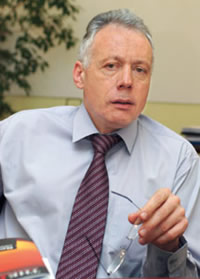 "The construction segment in Romania has increased by 16 per cent this year," says Borbely, "and in the future, if we really manage to adopt EU norms, we will have a stable legal framework and I believe Romania can become a success story [in public works and infrastructure]."
This will not come easy.
"We need more will and less fighting at the political level," argues the Minister Delegate. "It's feasible, because each and every political party realises it is important to stop fighting. This period should be used to the maximum and Romania has good chances of being one of the countries which could develop very well."
Moreover, this country can learn from Poland in terms of infrastructure in this part of Europe.
"Poland also experienced some problems in funds management and absorption," says the Minister Delegate. "We should learn from their mistakes."
This should be easier now, argues Borbely, as he feels there is more of a "sense of solidarity" between former socialist countries in the EU.
Water works
There were more than 8,000 villages without a centralised water supply in 1997. Borbely says that by 2004 the Ministry for Public Works and Land Management had begun to supply 700 of these villages.
Now all Romania's counties have water supply systems.
"But southern Moldavia is the most disadvantaged area," says the Minister Delegate. "There are counties where the centralised water supply is present in less than ten per cent of the villages or towns."
Funding will come from both external credits and from the central budget. Water has witnessed an upswing. In the 2001-2004 time frame the Government provided about 23.8 million Euro to water supply projects and in the 2005-2006 period increased this to 25.8 million Euro.
"In two years we have done more than was done before," says Borbely.
Paving the local and communal roads has also been an issue, where the state has spent about 30 million Euro between 2005 and 2006.
In infrastructure, a Government Ordinance has allowed the investment of up to one million Euro per project in rural areas for water supply, bridges and waste dumps.
"For the first time ever we have introduced on-line applications and so far there have been around 2,000 applications," says Borbely. "The good news is that everybody can access this portal and we can talk directly with the beneficiaries, without having to deal with intermediaries. We hope to be able to spend 100 million Euro for the remaining months of this year on this project."
Just last month the Government has approved an initiative which states that the Ministry of Finance is compelled to finance public works projects until 2009 to the tune of 283.4 million Euro, says Borbely.
With more money from central budget – it will be easier to get external credits.
"Now there is more money for co-financing, but I think we still have a lot to do to be ready," says the Minister. "With EU funds coming, we will be able to absorb the funds because Romania is a big country."
In parallel, the Ministry has initiated a series of discussions with local administrations, so that it can install water supply systems in towns with less than 50,000 inhabitants.
"Negotiations with the Development Bank of the Council of Europe are underway, we have received 340 million Euro in three years and will get around 16 million Euro next year, which will complement the money that comes from the EU," says Borbely.
Youth housing

There are also two programmes to build housing for young people (those under 35).
"We build about 4,000-5,000 apartments per year, and we are one of the only countries which does it financed by the budget," says Borbely. "Now we plan to build more affordable housing for the youth."
In public works, the Minister is also looking to finance the construction of sports facilities close to schools.
"We build about 90 such halls per year," says Borbely. These include 150-seater sports halls and one fitness gymnasium.
Although public tenders no longer need to be under the monitoring of the European Commission in 2007, Borbely says auctions will continue to be supervised by the EU, so there should be no concern that such tenders would lose transparency.
"Romania has established a special agency for public acquisitions, and this agency provides control pre and post EU accession," says Borbely. "The legislation is 100 per cent in line with EU requirements."
---
Top of the list
The following are priorities for the 2006-2008 time frame:
- Between Bucharest and Brasov via the mountains:
Bucharest - Ploiesti highway
Ploiesti - Comarnic highway
Comarnic - Brasov (Cristian) highway
- The connecting road between Cristian and Ghimbav
- Rehabilitation of the Bucharest – Pitesti highway
- Ploiesti West ring road
- Three projects for the Bucharest ring road.
- Financing for the Autostrada Transilvania (Transylvania highway)
This is a four lanes, 415 km long motorway between Brasov and Bors on the Hungarian border. Bechtel is currently working on 13 km of earthworks and structure between Cluj West and Campia Turzii. The firm aims to employ 4,000 at height of construction, 10,000 including subcontractors and finish the project by 2013.
---
Call of the road
Relationships between public and private sectors for infrastructure works have not always been a marriage made in heaven, 'The Diplomat' finds on examining the state of public works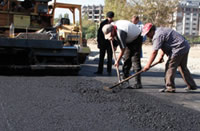 Romania should be a gift to infrastructure companies.
It is the highest growth market in central and eastern Europe and has a key strategic position between the east and west and the Black Sea.
"There are better chances to design projects from scratch, as Romania is practically a virgin country," says Roxana Lazar, CEO of public finance specialists Dexia Kommunalkredit Romania.
There are huge opportunities and massive needs – especially in upgrading the motorways and railways, improving water management and treatment systems and building good housing.
And the cash is available to do this.
"The most attractive element is the quantity of funds available and coming," says David Martinez, country manager of Spanish-based infrastructure firm Inocsa.
But there are a host of problems which means that Romania is not the number one target for some top infrastructure companies active in the region.
In the public sector, this is partly due to lack of political will and the absence of a consistent transport policy that transcends changing Governments.
In the private sector, some developers have constructed shoddy and half-baked projects that are, after only a few years, now in need of rehabilitation.
In the relationship between the two sectors, the Nastase Government's awarding to Bechtel a contract to build a highway in Transylvania worth in the region of three billion Euro in 2003 – without an open tender – did not help improve the transparency and openness of the public process.
Romania does not seem to have recovered from this controversy because since then no major projects in infrastructure have begun.
Delays, delays
Everything seems to happen at a slow pace in infrastructure development, from the preparation of a project, to the tender and to the development itself.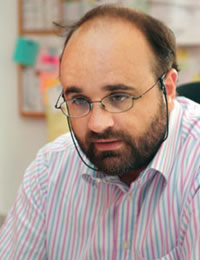 According to Dorina Tiron, general manager of the National Company for Highways and National Roads in Romania (CNADNR) mistakes in the past have included an unacceptably long period of time between the moment when an auction is held and the actual date of the works being carried out.
This can have a knock on effect.
"[There can be a] decrease in the financial power of the construction companies at the date of auction compared to the construction date," adds Tiron.
Cash is available, but spending it is the problem.
"The procedures are sometimes too slow in Romania," says Martinez.
Who owns the land?
There should be a more effective way of dealing with the process of acquiring land from private individuals. One problem here concerns mentality. Many members of the public are resistant to the concept of state bodies taking away their land because it recalls the forced acquisition during Communism. Others are more entrepreneurial. They will resist the state because, believing the hype which talks of how land will boom in value over the next ten years, they are holding out for a better offer. However the state does have the right to expropriate lands if this in the public interest.
Mistakes from the past also include the non-existence of land registry documents for plots of land, adds Tiron, and the fact that it takes too long to acquire plots of land.
One way of avoiding delays could also be for the Government to tender the works contracts when the land acquisition and utilities studies are completed and ready, argues Martinez.
Cheap does not mean best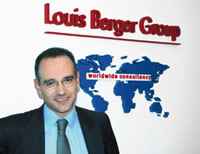 Private companies have complained that if the Government awards tenders to the company offering the smallest price, they will not always receive the best service. "Working contracts should stop being awarded to the lowest bidders, as this creates lots of problems and delays in execution," says Martinez.
In public works, some companies also offer unrealistic bids. "This lead to an escalation of costs and potentially poor quality of works," says Chris Germanacos, director for Europe and senior vice president of Louis Berger Group.
Lacking a masterplan
There is a lack of a consistent transport strategy which the country can stick to, despite the changes in Government, argue experts.
"In the last years [infrastructure] priorities changed from year to year and the result are public works that are not built properly and must be rebuilt," says construction firm Ashtrom's director Isaac Soffer. "This means more expenses and a lot of wasted time."
Coordination is necessary.
"Romania should have an integrated national programme regarding the entire infrastructure, so that the planning for it should be developed over a long period," argues Bogdan Mocanu, project manager at infrastructure firm Sedesa, which is redeveloping Bucharest's Historical Centre.
Absence of expertise
There is a lack of infrastructure expertise on the market.
"In Romania there is not the right mentality and the right coordination for these kinds of works," says Soffer of Ashtrom, "and I think we should appeal to international consultants and have projects that offer a minimum guarantee [of built quality] that would last at least five years."
Less Government interference?
Although Bechtel has renegotiated its contract with the Government and restarted works last summer on the Transylvania Highway, Minister of Transport Radu Berceanu still threatened to annul the contract because the Government is not happy with the speed of the work.
On one hand, the Ministry's pushy treatment of a massive company like Bechtel does not endear the Government to the private sector and also smacks of interference. It could also put off other multinational infrastructure groups' interest in Romanian public works. However, one could also argue that the Romanian Government is the customer of Bechtel and can demand what it wants.
How much should a Government interfere?
"[In general terms] a solution would be that the Romanian authorities would recognise the concept of 'project company' and to reduce its interference in the project," says Mocanu.
Bringing the private sector more into the collaborative process could also help to absorb EU funds more effectively, argues Mocanu. "They are used to the risks of the market," he adds.
Quality personnel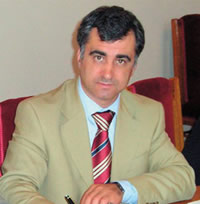 Many nations in eastern Europe are suffering labour shortage in the construction market. Added to this is also a lack of specialists in modern infrastructure design and realisation.
But Amilcar Guerriero, administrator at Lena Construcoes, which is involved in enlarging the DN1 between the Baneasa airport and the Otopeni bridge, does not agree that Romania lacks professional staff.
"I think that certain difficulties in the field are understandable, as a result of several years of slow increase in this sector in Romania and the fact that many valuable workers have left the country," says Guerreiro. "However, I am convinced that professionals in this sector will gradually adapt to the growing demands of the market."
Who can Romania learn from?
Romania needs to learn from countries which have successfully absorbed the funds available in order to boost their infrastructure.
Spain has managed to do this, argues Martinez.
"We have been able to use all the structural and cohesion founds available in the last 20 years, our public institutions are very strong and capable and we know how to use the EU funds," he says of Spain. "We have built in the last 15 years hundreds of new motorway kilometres and hundreds of new high speed railway sections."
Meanwhile, Guerreiro from Lena Construcoes says the pattern of development between Romania and Portugal is striking. "In the past 20 years Portugal has seen a steady pace in carrying out works, a result also driven by the EU accession," he says. "We hope this will happen in Romania as well."
CNADNR's Tiron agrees that the ideal country Romania can learn from is Portugal, because it managed to successfully absorb and use EU funds.
In utilising new buzzwords such as PPPs, Croatia has been successful, argues Germanacos of Louis Berger Group.
"Croatia has managed to modernise its road network through a combination of traditional contracts funded by the state and by PPPs which involved projects promoted by both the Government and contractors," he says. "Serbia is also moving fast in developing PPP schemes to upgrade its motorway network and Corridor X. Both countries are transition economies and in their regional and historical context could be relevant in some cases as case studies for Romania."
Where is the money?
Overall investments for Romania to attain the standards of the European Union in infrastructure could top 40 billion Euro, according to Reinhard Platzer, CEO of Dexia Kommunalkredit Bank.
Around 16 billion Euro will come from EU funds and the remainder from the local budget.
For the capital, most of the infrastructure needs will be covered through private-public partnerships, says Major Adriean Videanu.
Another funding source could be a new municipality bonds issue. Local authorities plan to do this no later than the beginning of 2007. Videanu is excited about such an initiative.
"I believe that besides international financial institutions, another excellent source of funding can be the internal market," says Videanu.
This bond issue would be in local currency and could be worth between 400 and 500 million Euro.
Videanu explains that the advantages of an internal bonds issue could be double.
On one hand, they could finance the infrastructure projects but on the other, they could be another method of stimulating local currency.
The World Bank last August issued its first bond in local currency (RON), worth 150 million Euro, while Bucharest City Hall last year sold a 500 million Euro bond issue on the international market.
Infrastructure financiers, like the European Investment Bank (EIB) can fund up to 75 per cent of the project costs of public works in the greater European interest.
If it had been in an open tender, the initial 3.8 billion cost of the Bechtel motorway could have been funded by a 2.85 billion Euro loan from EIB – though one minister has said that EIB funding for the motorway was never taken into consideration.
Last July the EIB approved a loan to the Ministry of Transport worth 450 million Euro (of a 945 million Euro project) to rehabilitate 1,100 km of national roads on the Pan-European corridors or as links to the corridors
Other Romanian transport projects with planned EIB involvement will include railway rehabilitation on Pan-European Corridor IV, worth 300 million Euro and co-financed through the EU's Ispa programme for and the construction of the Cernavoda- Constanta motorway – valued at 187.5 million Euro.
From 1990 to the end of 2005, EIB provided 4.3 billion for projects facilitating EU accession in Romania, 61 per cent of those in transport and 15 per cent in environment and flood damage reconstruction.
By Michael Bird,
Corina Mica and
Mihai Alexandrescu
---
Keeping it rail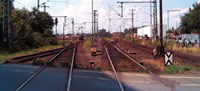 "In 15 years from now we will be able to say that the railway infrastructure system functions in Romania," says Francoise Heidebroek commercial attache at railway consultants Transurb. "I think that in at least ten years we can think about railway projects for fast speed trains in Romania such as the TGV."
The total network of railways in Romania is 14,000 km and should be a promising alternative for transport, compared to the piecemeal development of the motorways.
"We have to take the trucks off the roads and use more the trains," says Heidebroek.
Development will follow the European transport corridors. The railway route for Corridor IV currently exists, but to modernise this to European standards costs around two million Euro per kilometre. This aims to be ready by 2009 and will include passenger trains travelling at 160 km per hour and freight trains at 120 km per hour. Now there are preliminary surveys on the Simeria - Brasov and Simeria - Curtici lines.
There are no plans for rail transport Corridor IX yet.
Funded by the European Bank for Reconstruction and Development, state transport company CFR is preparing the modernisation of five large train stations: Cluj-Napoca, Craiova, Timisoara, Iasi and Constanta, which will grow in size by three times. All of them, except Constanta, are going to be finished in 2007. Constanta has a deadline of 2009.
"One of the biggest problems in the railways system is CFR's lack in terms of maintenance. The investments are made but these investments have to be maintained," says Heidebroek. This includes cleaning the drainage channels near the railways.
To improve transportation, Transurb has proposed a connecting project between Corridors IV and IX in Bucharest. This would link up transport coming from Hungary, Bulgaria, the Republic of Moldova and Constanta.
It includes the renovation of three of the central train stations: Gara de Nord in the north-west, Obor in the north-east and Progresul in the south. The two billion Euro plan will link these through an underground junction for passengers.
"The idea is to have in Bucharest a triangle with the three train stations," says Heidebroek. "At Bucharest level there is no connection between the two corridors except the ring road, which is already saturated."
Report written by
Ana-Maria Smadeanu
---
Linking to Europe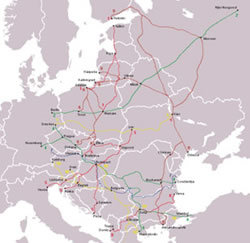 There are nine Pan-European transport corridors, which have been established during the 1994 Pan-European Transport Conference in Crete.
Three of these nine corridors cross Romania, as follows:
Corridor IV (green):
(Rail and road) Berlin/Nuremberg – Prague –
Budapest – Constanta –
Istanbul – Thessaloniki
Corridor VII (blue):
(Water) The Danube, including the Sulina branch and the Danube – Black Sea canal
Corridor IX (brown):
(Rail and road)
Helsinki – St. Petersburg -
Moscow – Pskov – Kiev- Ljubasevka – Chisinau -
Bucharest - Dimitrovgrad -
Alexandroupolis.