Looking to make a big impression
Turkey was one of the first to invest in small and medium-sized enterprises in Romania, but now large firms from Anatolia are preparing to enter the market
Thousands of Turkish business people flooded into Romania in the last 15 years, pioneering in many sectors such as shopping centres, construction and the metal products, as well as setting up small businesses.
Many of these investors built on the historical relations between the two countries to take advantage of freer trade.
Since then, the European Union has brought a greater consolidation of industries and more fierce competition from western brands.
But this does not mean Turkish business will shy away.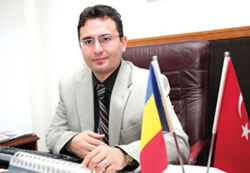 "Even if it will not be like the past 15 years, the Turkish will continue to be pioneers in Romania,"says Tackin Baris Ergun, commercial counsellor at the Embassy of Turkey.
"There may be fewer Turkish companies in Romania, but they will be larger."
One of the most eagerly-awaited companies on the local market is Turkish giant Sabanci Holding, which has established a representative office close to Constanta.
The company aims to invest in a cement factory close by, in the Dobrogea region. Sabanci is now completing the feasibility survey for an investment that could be more than 100 million Euro.
Turkish giant Dogan Media is setting up its own TV station, investing heavily and rumoured to be wooing the top TV talent from the existing commercial stations.
"I am absolutely sure they will be successful. They are very successful in whatever they put their mind to," says Ergun.
The firm has already spoken with local cable companies for the frequency. It should be on air starting next year.
According to Halit Ozturkmen, vice president of Turkish Businessmen Association (TIAD), the firm is not likely to drive aggressively into the market, but build up a solid commercial enterprise.
Ergun says that in construction and its related industries, such as electrical materials for buildings, Turkish companies will continue to enter the market, as will packaging, food and construction materials.
When Romania enters the EU, Turkey can also use its investments in Romania and Bulgaria as a springboard for entering into the EU markets. It will be possible to branch out from Romania eastward – to the Republic of Moldova, Ukraine and to Russia.
Romania has potential in raw materials as well, mining and recycling of iron – areas where Turkey has key knowledge.
The total FDI for Turkey in Romania, either directly or through a third country is around 800 million Euro. This is more than the USA. Ergun also argues that, half of this figure has been reinvested in Romania.
In energy, there is also an undersea electric cable planned between Turkey and Romania which is currently undergoing a feasibility study.
TRADE TALK
2005
Total trade: about 3.2 billion Euro
Romanian exports to Turkey: 1.75 billion Euro
Turkish exports to Romania: 1.45 billion Euro
2006 (forecast)
Total trade: about 3.8 billion Euro
Romanian exports to Turkey: two billion Euro
Turkish exports to Romania: 1.8 billion Euro
Total FDI: about 0.4 billion Euro
Indirect FDI: about 0.4 billion Euro
Largest direct investors: Prolemn (wood processing), Erdemir (metal), Kombassan (ballbearings)
"Many Turkish companies are interested in tourism, mainly winter tourism in the Prahova Valley," says Ozturkmen. "In agriculture, many have bought land in the Dobrogea area where they intend to grow cereals."
Meanwhile, Guven Gungor, general secretary of TIAD, says that Turks will also look into the timber and furniture fields.
Bucharest is already very crowded in terms of investments in real estate, so companies are orientating to markets such as Cluj-Napoca, Iasi and Constanta.
Even so, Turkish Anchor Group, which owns shopping centres Bucuresti Mall and Plaza Romania, is going to launch a residential project in downtown Bucharest called 'In city', with 500 apartments.
"The malls are the starting points which will attract the clients, after that comes the office buildings and last but not least are the residential projects," says Ozturkmen.
Due to high gas prices, some companies such as fertiliser producer Azomures, have faced a problematic development. "But they won't withdraw from the market now when Romania will be a European Union country," says Ozturkmen.
Of the 9,000 or so Turkish companies active locally, TIAD has 130 members. Of these businessmen, about 90 per cent of them have brought their family to Romania or made a home here. Today, the official number of Turks in Romania is 120,000.
*In Turkey, TIAD is organising a furniture fair with the Romanian Foreign Investments Agency (ARIS) to present opportunities of the local market between 6 and 12 November
Bearing fruit
RULMENTI BARLAD
Owned by Kombassan Turkey
Ballbearing producer
Total investments: about 32 million Euro (42 million USD)
Turnover 2005: about 51 million Euro
Forecast for 2006: 75 million Euro
Employees: 3,100
Ballbearing producer Rulmenti Barlad had a good year in 2005. The company invested about 15.6 million Euro in modernising equipment and machinery to increase production capacity and product quality. This year's investment budget is 7.8 million Euro.
Among the new equipment, Rulmenti bought its own electrical generator, which has helped the company decrease energy expenses and increase efficiency.
"The black-outs of the national electricity system and the power failures affected our equipment a lot and produced significant damages in terms of raw materials and instruments," says Harun Adiguzel, vice president of the board.
Rulmenti Barlad posted about 51 million Euro in turnover last year and its forecast for 2006 is between 58.6 and 75 million Euro. But taking into account the figures registered in the first eight months, Adiguzel says the turnover is likely to be about 54 million Euro.
"Because of the increasing of the prices for raw materials and equipment, we were forced to increase the sales prices for the bearings. This situation reduces our possibilities to compete with bearings brought from the Far East," says Harun Adiguzel. "If the right measures to ensure a fair, competitive environment and stimulate Romanian producers will not be taken, it will be harder to compete."
To face multinational leaders in the market, Rulmenti Barlad will need to increase its production. The company's aim for 2007 is to become global and to gain brand awarenesses.
Heavy metal
ERDEMIR ROMANIA
Steel products producers
2005 turnover: 31 million Euro
2006 turnover (forecast): 50 million Euro
2005: Losses of 800,000 Euro
2006 Jan to August: profits of 1.78 million Euro
Since starting out in Targoviste in 2002, silicon steel producer Erdemir Romania has invested more than 13.7 million Euro, including a new three million Euro Quarto Reversible Rolling Mill modernisation.
The company has also started the investment for hydro-geologic drilling and is in the process of making two other investments by purchasing a waste heat recovery boiler and neutralisation equipment.
The company's main products include electrical steel bands and strips for electrical motors, generators, ballasts, regulators and similar electromagnetic applications.
Erdemir Romania produced 40,500 tonnes of cold rolled non-oriented electrical steel strip in 2005, from which 50 per cent was exported to China, Turkey, Czech Republic, Bulgaria and Italy.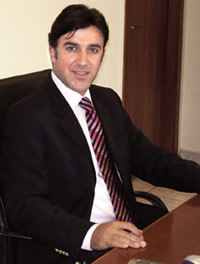 "In the last quarter of 2005 we also concluded new contracts with Poland, Hungary and France," says Serafetin Oner, general manager of Erdemir Romania.
The firm posted a total turnover of 31 million Euro last year and has budgeted 50 million Euro for 2006. In terms of profit, 2005 was not a very good year for Erdemir.
"Due to market conditions we lost China, one of our main markets. Raw material prices also increased so we posted a loss of 800,000 Euro," says Oner.
But this year the company has seen a significant improvement, by achieving a 1.78 million Euro profit by the end of August.
This year, Erdemir started trade activity with carbon and galvanized steel.
Brand unity
ARTIC
Home appliances producer
Taken over by Arcelik Group in 2002
Employees: over 1,800 in two locations: a Gaesti plant in Dambovita county and a Bucharest office
Turnover 2005: 150 million Euro
Forecast turnover 2006: 180 million Euro
At present, Arctic aims to remain the top player on the Romanian home appliances market and in the long term, the company's objective is to become the biggest refrigerator producer in central and eastern Europe.
Last year the company launched the Diffusion range, with a unitary design and superior technology at, what the firm calls, a competitive price.
Arctic is the leader of the Romanian home appliances industry, with a market share of 30 per cent. This accounts for 45 per cent on the refrigerators sector, 19 per cent of washing machines, and 20 per cent of the cooking appliances sector.
Ugur Kayali, general manager of Arctic, says the firm also has the highest awareness on the Romanian home appliances market, of 97.4 per cent.
"About 80 per cent of Romanian families hold at least one Arctic product," says Kayali.
Arctic registered a turnover of 150 million Euro in 2005, 20 per cent higher than the previous year and estimates a 180 million Euro turnover for this year.
Since the 36-year old Romanian company was taken over by the Turkish Arcelik Group in 2002, Arctic has tripled its export volumes and now more than 65 per cent of the local production goes abroad. During the first six months of 2006, Arctic registered an increase of 66 per cent in terms of volumes exported, compared to the same period of 2005.
"The spectacular evolution of Arctic exports has been determined, on one hand, by the company's development abroad through the penetration of new markets and due to the fact that new clients entered the Arctic portfolio," says Kayali. "On the other hand, the increase of the production capacity of the Gaesti factory in Dambovia county, following massive investment in modern technology, also played its part."
Europe continues to be an important area for selling the refrigerators produced in Gaesti, which mainly go to United Kingdom, France, Poland, and Germany.
"We have succeeded in entering new European markets this year, such as Italy, Finland, Estonia, and we have also begun to export our products to Middle East and Africa," the manager says.
Going electronic
SERVUS ROMANIA
Suppliers of electronic payment systems and service solutions for banks
2005 turnover: 6.6 million Euro
2005 Profit: 255,600 Euro
2006 predicted turnover: 9.5 million Euro
2006 predicted profit: 50 per cent more than 2005
Employees: more than 60
Once Romania joins the European Union, there will be a stronger focus on electronic payment systems (EPS) for consumers, argues Cem Yenigul, general manager of Servus in Romania.
Servus is currently market leader locally in providing POS systems with 74 per cent of the market, as well as a 14 per cent market share in ATM sales in Romania and provides maintenance for almost 40 per cent of ATMs installed in this country.
"We have budgeted that for two or three years we will not post any profit and instead invest to expand," says Yenigul. "To this end, we now have 16 national branches, will open two or three more by the end of this year and by the end of 2007 will have about 35 branches in Romania."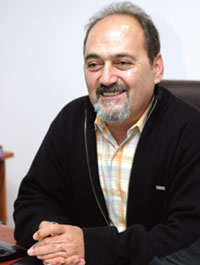 Servus provides for about 70 per cent of all Romanian banks.
Chip-and-pin technology cards are the next step for Romania.
"This is just a requirement that all banks should be prepared to be EMV (Europay, Mastercard, Visa) compliant and my opinion is that Romanian banks will not be able to meet these standards for the next three years," he says.
At this moment in Romania Pro Credit Bank and CEC work on chip cards, but the general manager says there are also projects on the cards from BRD-Groupe Societe Generale and Raiffeisen Bank.
Yenigul says card holders will need better products, services and security measures.
"Yes, there have been serious moves on this market," he says, "but the real boom is yet to happen. Compared to neighbouring countries, Romania is way behind. This will change dramatically in the next two to three years."
Thinking global
SYNERGY CONSTRUCT
Started in Romania: 2001
2005: secured contracts reaching 25 million Euro
Employees: more than 280 workers, supported by 45 employees in the HQ
Synergy Construct is a diversified contractor and is involved in projects, including new construction and renovation of hotels, shopping centres, office buildings, educational facilities, residential and industrial plants.
"We have a specialised engineering team, so that in addition to a general contracting service, we can also provide in-house installation design as well as execution," says Savas Gunata, general manager of Synergy Construct.
Since its foundation, Synergy has been the general contractor for firms including Finansbank, Zapp Mobile, Avon Cosmetics, HVB, Daewoo Bank, P&G, Bricostore, Plaza Romania, Wella Cosmetics and Hotel Bucuresti.
Currently, Synergy is building a 60,000 sqm logistics park for Pro Logis, a 30,000 sqm logistic centre for Rynart Transport and also a 10,000 sqm class A office building in Pipera, designed by Westfourth Architecture.
Synergy also owns Romanian companies MEP Construct International and MET Engineering, which offer mechanical and electrical services.
"Our main target is to transform Synergy into an international construction company," says Gunata.
Cleaning up
ASIL COSMETICS
Wet towels producer
Entered Romania: March 2006
Established a 27,000 sqm plant in Vanatori, Galati
ASIL Cosmetics, part of the ASIL-ASIL Paper group of companies founded in 1992, is now producing wet towels in Romania.
Following an investment of over two million Euro in March 2006 the company has established a 27,000 sqm plant in Vanatori, Galati county.
"The value of the annual production is 20 million Euro represented by three new lines of production, launched this year - baby line, lady line and family line," says Ali Yildirir, ASIL Group president.
Officials add that the group plans to open two new working points by the end of this year, in Brasov and Iasi, to improve the distribution process.
Getting real
Finans International Leasing
Leasing company
Entered the market in 2005 after taking over Finans Leasing
Five representative offices
number of employees: 46
Turnover 2005: 46 million Euro
After taking on the portfolio of clients and 3,500 contracts from Finans Leasing last year, new company Finans International Leasing has now established itself on the market.
The firm also has high hopes for the growing real estate market.
When the company participated in car exhibition SIAB, Finans International Leasing offered new customers a zero per cent management fee which, general manager Kerem Sekizyarali says, saw a substantial increase in sales.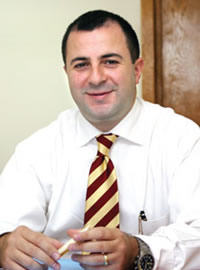 By the end of 2005 the hire-purchase company had exceeded its target of 46 million Euro in contracts.
Now the company has a target of 100 million Euro for 2006.
"But considering the sales in the first eight months of 2006 it is possible to exceed that target," says Sekizyarali.
The majority of these, 61 per cent, are in vehicles, while 29 per cent is in equipment and 11 per cent real estate.
"Real-estate leasing is becoming a widespread financing tool as the number of real-estate projects is on the rise," adds the general manager.
For 2007 the company aims to expand its network coverage. For the time being it has five representatives in Constanta, Iasi, Brasov, Cluj-Napoca and Timisoara.
"The Romanian leasing market is becoming even more active day by day," says Sekizyarali. "But [out of the hundreds] of leasing companies currently on the market, only few will survive after Romania joins the EU."
Making moves
Omsan
Logistics company

Entered the market: 2003
Total investment: two million Euro
Employees: 25
Market share: 15 per cent
Turnover 2005: 2.5 million Euro
Turnover 2006 (predicted): seven million Euro
Turkish logistics company Omsan, which transports Dacia cars from Romania to Turkey, Spain and Italy, is preparing to invest in a new 60,000 sqm car logistic centre in Mioveni, Arges county.
Omsan has contracts to transport Dacia vehicles to different destinations, so the company has bought land near the Renault-Dacia factory in Mioveni, where it plans to invest next year.
The land cost Omsan around one million Euro but the budget for the investment has not yet been established.
In the last year a new destination became available to Omsan: Iran. "We are planning to transport spare parts for cars to Iran," says Oguz Carikli, area manager for Omsan. "We are already doing this to Russia."
Last year Omsan has also invested one million Euro in buying ten trucks. The company provides storage and distribution services nationwide and transportation from Romania to other countries using ship, train and trucks.
Report by Ana-Maria Smadeanu, Mihai Alexandrescu, Michael Bird and Corina Mica